Os donos da casa são os primeiros a se classificarem para as oitavas de final da Copa do Mundo. A Rússia venceu o Egito por 3 a 1 hoje (19), em São Petersburgo, e chegou a 6 pontos. Ela pode até ser ultrapassada pelo Uruguai, que tem três pontos e joga contra a Arábia Saudita amanhã (20), mas está garantida pelo menos em segundo lugar no grupo.
A vitória veio após um primeiro tempo amarrado, sem grandes oportunidades de gol. A torcida russa só pode festejar no segundo tempo, quando a seleção fez três gols e garantiu a vitória. Cheryshev, que substituiu Dzagoev na primeira partida e fez dois gols, voltou a marcar hoje. Na última rodada da primeira fase, a Rússia enfrenta o Uruguai e o Egito enfrenta os sauditas.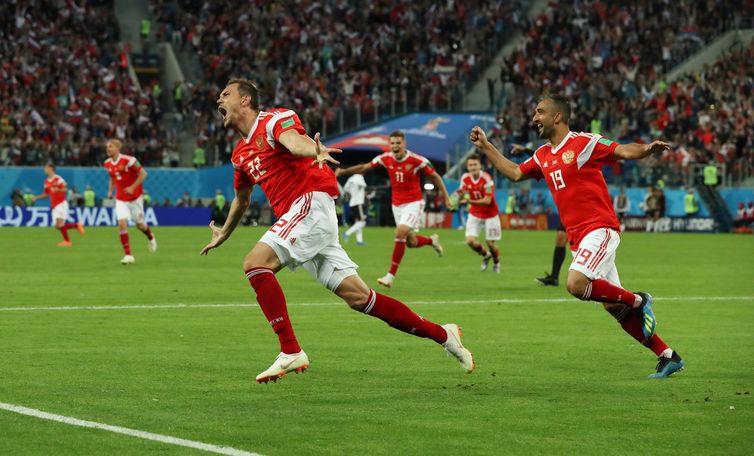 O jogo
O primeiro tempo trouxe russos e egípcios para mais próximos da realidade de cada seleção. Os 45 minutos iniciais mostraram que a Rússia não era tão boa quanto parecia ao golear a Arábia Saudita no primeiro jogo. Da mesma forma, foi possível ver as armas ofensivas do Egito, nulas contra o Uruguai, na última sexta-feira (15).
A presença de Mohamed Salah, ausente do primeiro jogo, deu mais qualidade no toque de bola e presença no ataque. Mas mesmo assim foram poucas chances de marcar. A Rússia, por sua vez, encontrou dificuldades para furar a defesa. O ferrolho egípcio só cedeu no segundo tempo.
Segundo tempo
O gol russo, tão aguardado pela torcida, saiu logo no segundo minuto. Mas foi mais por azar do Fathi, camisa 7 egípcio, do que por mérito do ataque. O russo Zobnin deu um chute a gol completamente torto, mas Fathi tentou afastar a bola e acabou colocando no canto do goleiro El-Shenawy.
Aos 13 minutos, Cheryshev mostrou que tem estrela. Recebeu um bom passe de Mário Fernandes na linha de fundo e bateu para o gol. A tão sonhada classificação às oitavas de final estava mais próxima. E três minutos depois, veio o terceiro gol. Dzyuba recebeu um lançamento longo vindo da defesa, usou seu 1,96 m de altura para dominar, proteger a bola e girar para, em seguida, bater no canto esquerdo do goleiro.
A partir daí, o jogo, que já estava difícil, ficou desesperador para a seleção africana. Tentando pressionar a defesa russa, ainda que sem organização, os egípcios conseguiram um pênalti a seu favor. Aos 26 minutos, Salah foi derrubado dentro da área. Inicialmente, o árbitro marcou falta fora da área, mas a arbitragem de vídeo alertou sobre o pênalti. Salah bateu forte, sem chances para o goleiro. Foi o gol de honra.
A derrota não elimina os egípcios, mas eles dependem de uma vitória da Arábia Saudita sobre o Uruguai amanhã, em um resultado que, se acontecer, é considerado uma zebra.
Fonte: Agência Brasil.
The news, reports, views and opinions of authors (or source) expressed are their own and do not necessarily represent the views of CRWE World.