O Japão conseguiu a primeira vitória de uma seleção da AFC (Confederação Asiática de Futebol) sobre uma seleção da Conmebol (Confederação Sul-americana de Futebol) em copas do mundo ao derrotar a Colômbia nesta terça-feira (19), pelo Grupo H da Copa da Rússia.
Até então, em 18 jogos, foram 3 empates e 15 vitórias dos sul-americanos sobre os asiáticos da AFC, incluindo a Austrália, que se filiou em 2006 à federação por falta de competitividade das seleções de futebol da Oceania.
Jogo anterior
Coincidentemente, a última partida entre as duas seleções que se confrontaram hoje tinha sido no Brasil, em 2014, com vitória da Colômbia sobre o Japão por 4x1.
O primeiro jogo entre sul-americanos contra asiáticos, incluindo a Austrália, foi em 1966, na Inglaterra, quando Chile e Coréia do Norte empataram por 1x1.
Confira todos os confrontos ente Conmebol e AFC em todas as Copas do Mundo.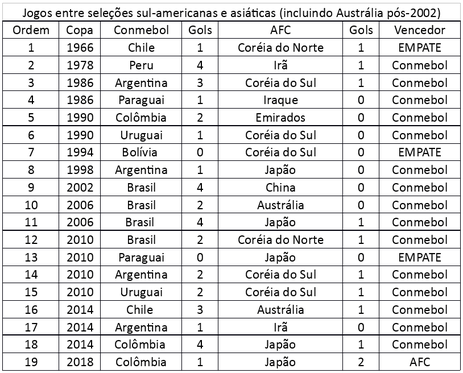 Fonte: Agência Brasil.
The news, reports, views and opinions of authors (or source) expressed are their own and do not necessarily represent the views of CRWE World.