O Senegal fez sua estreia nesta Copa do Mundo com uma vitória - 2x1 - contra a Polônia. A equipe africana volta à Copa depois de 16 anos ausente. Em 2002, a seleção do Senegal também vencera na estreia diante da França. Hoje (19), o time liderado pelo craque Sadio Mané venceu com a participação direta do adversário nos dois gols.
No primeiro gol, a bola desviou em um zagueiro e tirou o goleiro do lance. No segundo, o camisa 10 do time europeu, Krychowiak, fez um recuo inesperado para a defesa, o que beneficiou o oportunismo e velocidade de Niang, autor do gol. A Polônia depositava em Lewandowski as esperanças de gol, mas o centroavante, bem marcado, apareceu pouco.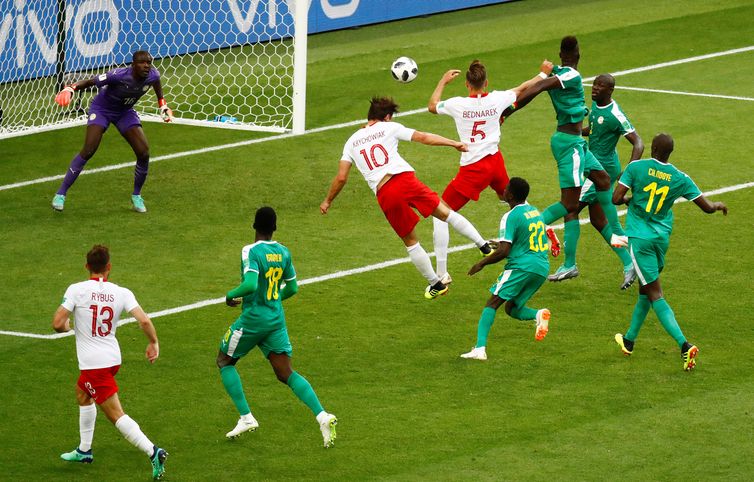 A Polônia investia em toques de bola, cadenciando o jogo, enquanto Senegal tentava atacar com velocidade, mas poucas chances foram criadas. A partir dos 30 minutos do primeiro tempo, a partida ficou mais aberta e os poloneses passaram a aceitar o jogo veloz proposto pelos africanos.
Aos 37 minutos, Senegal fez o primeiro gol do jogo. Em ataque rápido, com a defesa polonesa ainda se arrumando, Gueye arriscou de fora da área. A bola desviou no brasileiro naturalizado polonês Thiago Cionek e enganou o goleiro, que já saía para fazer a defesa no lado direito. A arbitragem deu gol contra de Cionek: 1x0.
O gol fez bem ao Senegal. O time do técnico Aliou Cissé se impôs até o final da primeira etapa. Mesmo sem ameaçar novamente o gol de Szczesny.
Segundo tempo
Os poloneses começaram o segundo tempo em cima dos africanos. O plano parecia ser empatar nos primeiros minutos da segunda etapa. Mas aí veio uma ducha de água gelada nas pretensões polonesas. Um erro de Krychowiak resultou no segundo gol senegalês.
Aos 15 minutos, o camisa 10 da Polônia deu um recuo estranho do campo de ataque, quando seu time estava todo na frente. A bola recuada pegou um zagueiro e o goleiro Szczesny desprevenidos.
Mais lentos, os dois poloneses não cortaram a bola a tempo e Niang aproveitou. Na velocidade, deu um toque na bola que tirou os dois da jogada e depois, só tocou para o gol vazio: 2x0.
A Polônia não desistia de chegar ao seu gol, mas o fazia sem organização, errando muitos passes. O artilheiro Lewandowski pouco produzia, muito bem marcado pela defesa africana. O jogo ficou tenso, com muitas faltas e discussão entre os atletas. Por duas vezes um senegalês caiu no chão e os poloneses, com pressa, não colocaram a bola para fora, para a entrada do atendimento médico.
Aos 38 minutos, Sarr simulou uma falta dentro na área e reclamou um pênalti. Os poloneses reclamaram da tentativa de Sarr de enganar a arbitragem e os dois times discutiram asperamente. Era o retrato do clima tenso do jogo.
Aos 40 minutos, finalmente a Polônia consegue marcar. Em cobrança de falta, a bola foi jogada na área e Krychowiak, que havia errado no segundo gol senegalês, cabeceou bem, no contrapé do goleiro N'Diaye. Não foi, porém, suficiente para evitar a derrota.
Com a vitória, Senegal fica empatado com o Japão na primeira colocação do grupo H, ambos com 3 pontos, dois gols feitos e um sofrido.
A Polônia se junta à Colômbia na parte inferior da tabela. As duas seleções se enfrentam no domingo (24). No mesmo dia, o Senegal joga contra o Japão.
Fonte: Agência Brasil.
The news, reports, views and opinions of authors (or source) expressed are their own and do not necessarily represent the views of CRWE World.