Não foi a estreia que a Colômbia esperava. A derrota para o Japão por 2 a 1 podia não estar nos planos do time sul-americano, mas também não estava previsto ficar com um jogador a menos logo aos 3 minutos de jogo.
Na base da raça, os colombianos chegaram ao empate, mas não seguraram o ímpeto oriental.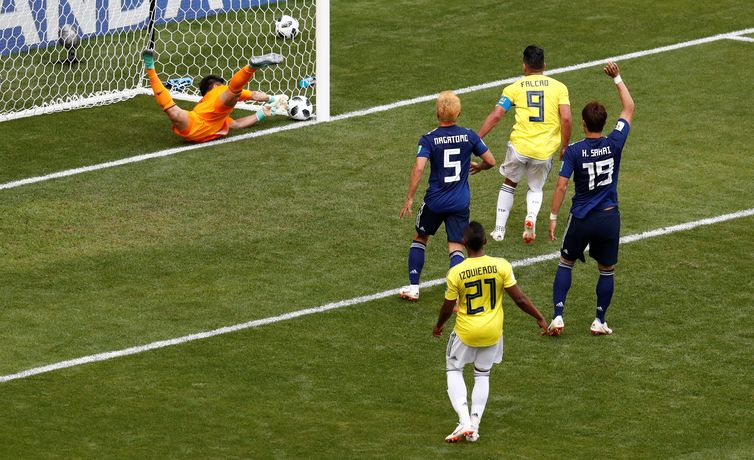 Os japoneses fizeram uma boa partida, com velocidade e volume de jogo, e, assim, surpreenderam os colombianos. Tiveram oportunidades mais claras de gol no segundo tempo até que foram recompensados.
A partida começou com muita intensidade, com o Japão marcando forte já no meio campo. Logo aos 3 minutos, em um contra-ataque rápido do time asiático, Sánchez desviou a bola dentro da área com o braço.
A bola ia para o gol e o goleiro Ospina já estava batido. Como manda a regra, o juiz marcou pênalti e expulsou o jogador colombiano. Foi a primeira expulsão desta Copa. Kagawa foi para a cobrança e fez o primeiro gol do jogo:Japão 1x0.
Com um a menos e atrás no placar, a Colômbia tentava atacar pelos lados do campo, explorando a velocidade de Izquierdo e Cuadrado. Mas o técnico colombiano decidiu, aos 30 minutos, tirar Cuadrado e colocar o volante Barrios, para recompor a defesa.
Aos 33 minutos, Falcão recebeu um bom lançamento na área, se esticou todo para alcançar a bola, mas conseguiu apenas um toque com o bico da chuteira, para fácil defesa do goleiro Kawashima.
Aos 38 minutos, a Colômbia chegou ao empate. Falcão caiu perto da área japonesa e juiz marcou a falta. Quintero, com inteligência, bateu rasteiro e a bola passou por baixo da barreira, que pulou esperando um chute alto. O goleiro só alcançou a bola após ela cruzar a linha. 
Finalmente, a torcida colombiana, que pintou as arquibancadas de amarelo, pôde comemorar.
Segundo tempo
Aos 8 minutos, o primeiro lance de ataque. Kagawa deu bom passe para Osako já dentro da área. Ele protegeu bem do zagueiro e bateu para o gol. O goleiro Ospina mandou para escanteio.
Aos 11, o Japão roubou a bola e atacou com velocidade. Inui recebeu na entrada da área e chutou no canto esquerdo de Ospina, que espalmou para o lado.
Aos 27 minutos, o Japão fez o segundo gol. Após cobrança de escanteio, Osako ganhou de cabeça, Ospina saiu mal do gol e a bola entrou: 2x1. O gol traduziu um maior volume de jogo dos japoneses. No lance que originou o escanteio, Sakai já havia ficado perto de marcar.
Aos 32 minutos, a Colômbia finalmente chegou com perigo no segundo tempo. James Rodríguez, que havia entrado na segunda etapa, recebeu na área com espaço para dominar e bateu para o gol, mas a bola desviou e subiu demais.
O Japão, com um jogador a mais, continuou tendo mais organização no ataque. Nos últimos minutos, a Colômbia tentou pressionar o adversário, mas de forma desorganizada. Falcão trombava com a defesa sem conseguir dar sequência ao ataque.
Os japoneses comemoraram muito a vitória, se abraçando e se emocionando. Com o resultado, chegam a três pontos no grupo H. A Colômbia é lanterna, com uma derrota. Polônia e Senegal fazem hoje a outra partida do grupo, fechando a primeira rodada da Copa do Mundo.
Fonte: Agência Brasil.
The news, reports, views and opinions of authors (or source) expressed are their own and do not necessarily represent the views of CRWE World.