A votação na comissão especial da Câmara dos Deputados do projeto que analisa o PL 6299/02, que trata do registro, fiscalização e controle dos agrotóxicos no país, foi suspensa há pouco pois começou a ordem do dia no plenário da Casa, o que interrompe automaticamente os trabalhos nas comissões. A presidente da comissão, deputada Tereza Cristina (DEM-MS), disse que pretende retomar a sessão ainda hoje (19), até o limite das 22h, mas a oposição vai questionar se a votação pode ser retomada ainda nesta terça-feira.
A sessão, que começou às 10h, foi tumultuada e teve críticas de celebridades, ambientalistas, órgãos de saúde e de parlamentares de oposição, para discutir e votar o substitutivo do relator Luiz Nishimori (PR-PR) ao texto apresentado em 2002 pelo ministro da Agricultura, Blairo Maggi (PP).
A discussão da matéria entre parlamentares ambientalistas e ruralistas e chegou a derrubar a sessão deliberativa do plenário da Casa, marcada para as 11h. Quando há esse tipo de sessão, todas as comissões são obrigadas a encerrar imediatamente as atividades.
Mudanças
Em uma tentativa de minimizar críticas, a última versão do texto, apresentada ontem (18) pelo relator, prevê, por exemplo, a alteração do nome "agrotóxicos" para "pesticidas", o que deve facilitar o registro de produtos cujas fórmulas, em alguns casos, são compostas por substâncias consideradas cancerígenas pelos órgãos reguladores. Antes, a proposta era alterar a nomenclatura para "produto fitossanitário".
As definições sobre as competências do Ministério da Agricultura (Mapa), Agência Nacional de Vigilância Sanitária (Anvisa) e Instituto Brasileiro do Meio Ambiente e dos Recursos Naturais Renováveis (Ibama) na análise dos produtos também foram alteradas. Na versão anterior, a tarefa era apenas de "homologar" os relatórios apresentados nos pedidos. A nova redação diz que os órgãos passam a "analisar e, quando couber, homologar os pareceres técnicos apresentados nos pleitos de registro".
Outra mudança feita por Nishimori foi no prazo para conclusão de pedidos de registros e alterações de produtos novos (formulado e técnico), que passa de 12 para 24 meses. Os demais prazos são mantidos.
 Apesar das alterações, a proposta não agradou seus opositores. Além disso, o texto mantém polêmicas como a criação da Taxa de Avaliação de Registro, cujo valor arrecadado será destinado ao Fundo Federal Agropecuário. Outro ponto polêmico é que o Ibama e a Anvisa continuam reponsáveis pelas análises toxicológicas e ecotoxicológicas dos produtos, mas terão a nova atribuição de apresentar uma análise de risco.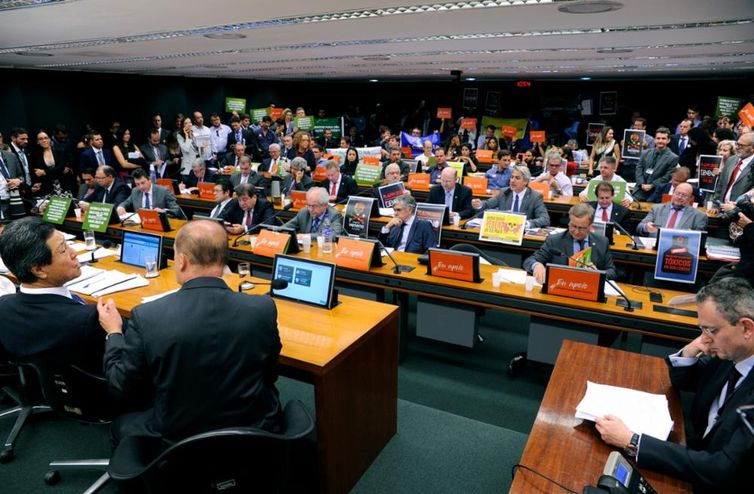 Críticas
Em nota técnica, o Instituto Nacional do Câncer (Inca), órgão do Ministério da Saúde que tem como missão apoiar o órgão no desenvolvimento de ações integradas para prevenção e controle do câncer, defendeu que o Marco Legal dos Agrotóxicos (Lei 7.802/1989) não seja alterado e flexibilizado.
"Tal modificação colocará em risco as populações – sejam elas de trabalhadores da agricultura, residentes em áreas rurais ou consumidores de água ou alimentos contaminados, pois acarretará na possível liberação de agrotóxicos responsáveis por causar doenças crônicas extremamente graves e que revelem características mutagênicas e carcinogênicas", diz o documento.
A Anvisa também condenou a proposta, por acreditar que o projeto não atende a população, que deveria ser o foco da norma. "O PL não contribui com a melhoria, disponibilidade de alimentos mais seguros ou novas tecnologias para o agricultor, e nem mesmo com o fortalecimento do sistema regulatório de agrotóxicos", diz a agência.
Outro lado
Em defesa da proposta o relator disse, por exemplo, que a ideia do texto é modernizar o setor. Nesse sentido Nishimori ressaltou que a proposta que está em debate é uma das melhores para o agricultor e para a população brasileira, pois os agrotóxicos que serão utilizados serão mais seguros por demandarem menos aplicações.
Entidades do setor agropecuário e ruralistas, que também defendem a proposta, argumentam que ela facilitará o comércio internacional, contribuirá com maior segurança jurídica aos usuários e beneficiários do sistema de registro e gerará maior segurança à sociedade. Entre os benefícios apontados está a maior celeridade nos processos de registros, por meio do estabelecimento de critérios, prazos, taxas, entre outros aspectos. 
Os apoiadores da proposta reclamam ainda que, atualmente, um agrotóxico, por exemplo, demora de cinco a oito anos no Brasil, enquanto em países agrícolas como EUA, Canadá, Austrália e os da União Europeia têm seus registros em até três anos. Outro argumento é o de que a legislação do Brasil, quanto à fabricação e utilização de agrotóxicos, é uma das mais rigorosas do mundo.
Tramitação
Até o fechamento dessa reportagem a matéria ainda estava em debate na comissão. Caso aprovada, a proposta também precisará do aval do plenário da Câmara. Como foi modificada, se vencer essas duas etapas, a PL retorna para análise do Senado, onde já havia sido aprovada.
* Colaborou Ana Cristina Campos
Fonte: Agência Brasil.
The news, reports, views and opinions of authors (or source) expressed are their own and do not necessarily represent the views of CRWE World.