O presidente Michel Temer viaja na próxima quinta-feira (21) para Boa Vista e Pacaraima, em Roraima, para acompanhar as ações de acolhimento aos imigrantes venezuelanos. Ele deverá ir a um local de triagem, a um abrigo e a batalhões do Exército. A programação ainda está sendo fechada.
Em Pacaraima, cidade que faz divisa com a Venezuela, Temer visitará o centro de triagem de imigrantes da Polícia Federal. Com desembarque previsto para a parte da manhã, o presidente também deve visitar o Serviço de Atendimento de Saúde, que fica às margens da BR-174, e fazer uma vistoria às instalações da Ação de Ordenamento da Fronteira Brasil-Venezuela.
Depois, o presidente deverá seguir para a capital Boa Vista para conhecer o Abrigo Novo Canaã, que funciona como centro de atendimento aos imigrantes. O local conta com apoio dos governos federal e estadual, além da da Organização das Nações Unidas (ONU).
Crise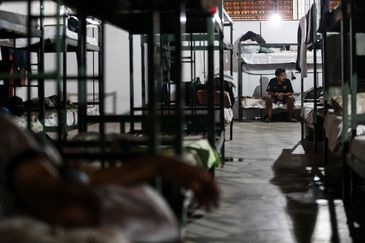 Nos últimos meses, Roraima passou a receber venezuelanos diariamente devido à crise econômica e política pela qual passa o país. Em fevereiro, Temer viajou ao estado, onde anunciou a edição de uma medida provisória de atendimento emergencial aos imigrantes, que foi aprovada em definitivo pelo Congresso Nacional na semana passada. 
Ao discursar nesta segunda-feira (18) no Paraguai, Temer disse que o Brasil continua "vigilante" em relação à deterioração das condições humanitárias no país vizinho. Segundo ele, além dos serviços básicos, o governo criou uma carteira de identidade transitória para que os venezuelanos possam obter trabalho.
Em Assunção, os representantes do Mercosul (Argentina, Brasil, Uruguai e Paraguai, pois Venezuela está suspensa desde 2017) divulgaram uma nota em que confirmam a preocupação com a crise humanitária na Venezuela. No comunicado, pedem ao presidente venezuelano, Nicolás Maduro, que atue para resolver o problema.
"Exortam o governo da Venezuela a coordenar com a comunidade internacional o estabelecimento de canais para o acesso de ajuda humanitária para paliar a crise social e migratória que vive o país. Alentam, ainda, a estabelecer um sistema para o intercâmbio de informação epidemiológica com os países da região."
Fonte: Agência Brasil.
The news, reports, views and opinions of authors (or source) expressed are their own and do not necessarily represent the views of CRWE World.