Uma série de palestras pelo país vai esclarecer e tirar dúvidas sobre a nova legislação trabalhista brasileira, sancionada em julho de 2017. Lançada hoje (19), na Câmara dos Deputados, as Jornadas Brasileiras de Relações de Trabalho vai discutir a reforma trabalhista em 14 estados com membros do Ministério Público do Trabalho, advogados, auditores-fiscais do Trabalho, professores e alunos de direito.
O coordenador-geral das Jornadas e ex-ministro do Trabalho, deputado Ronaldo Nogueira (PTB-RS), disse que a iniciativa tem o objetivo de debater de forma técnica a aplicação da reforma trabalhista. 
"A modernização, aqui no Brasil, foi discutida com as próprias centrais sindicais. Houve um consenso no que diz respeito a trazer segurança jurídica de acordos coletivos de trabalho. A modernização trouxe os seus resultados, que é o principal: proteção de direitos, segurança jurídica e geração de empregos", argumentou Nogueira. 
Saldo positivo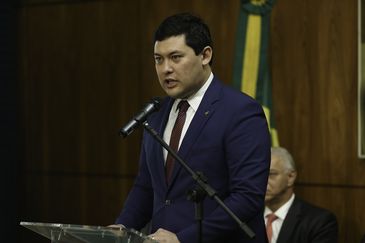 Segundo o ministro do Trabalho, Helton Yomura, em abril deste ano, o Cadastro Geral de Empregados e Desempregados (Caged) registrou 4.523 admissões em trabalho intermitente, com saldo positivo de 3.600 vagas de emprego. A expectativa da pasta é que o Caged referente ao mês de maio apresente o quinto mês consecutivo de resultados positivos na criação de empregos no país. 
"A modernização da legislação trabalhista brasileira trouxe modificações importantes para a recuperação da economia do nosso país. Destacam-se alguns pontos como a criação do trabalho intermitente e o trabalho autônomo", disse o ministro. 
Ao rebater críticas sobre a reforma trabalhista, Yomura disse que a nova legislação "não feriu direitos dos trabalhadores, está fundamentada em três eixos trabalhista e não feriu direito dos trabalhadores". "Ela foi fundamentada em três eixos: proteção de direitos, segurança jurídica e geração de empregos"
Exclusão de trabalhadores
Para o ministro do Tribunal Superior do Trabalho (TST), Alexandre Agra Belmonte, a revolução tecnológica excluiu trabalhadores do ambiente de trabalho. "Esperamos que essa legislação possa se adequar às transformações sociais, fazendo com que empregadores e trabalhadores se tornem parceiros no desenvolvimento do país", disse. 
Os eventos serão realizados pelo Instituto Brasileiro de Ensino e Cultura (Ibec). O calendário com a programação e os locais em que serão realizadas as Jornadas podem ser acessados na página do instituto. Segundo o ministro-chefe da Secretaria-Geral da Presidência da República, Ronaldo Fonseca, as Jornadas fazem parte de ação estratégica do governo para explicar detalhadamente a reforma trabalhista para a sociedade. 
Reforma Trabalhista
Aprovada pelo Congresso Nacional e sancionada pelo presidente Michel Temer em julho do ano passado, a chamada Reforma Trabalhista (Lei 13.467/2017) entrou em vigor no dia 11 de novembro de 2017.  
As novas regras alteram a legislação atual e trazem novas definições sobre pontos como férias, jornada de trabalho e a relação com sindicatos das categorias. Ao todo, foram alterados mais de 100 artigos da Consolidação das Leis do Trabalho (CLT) e criadas duas modalidades de contratação: trabalho intermitente (por jornada ou hora de serviço) e o chamado home office (trabalho à distância). 
A nova legislação trabalhista se aplica a todas as categorias regidas pela CLT e também àquelas que dispõem de legislações específicas – como trabalhadores domésticos, atletas profissionais, aeronautas, artistas, advogados e médicos – no que for pertinente.
Fonte: Agência Brasil.
The news, reports, views and opinions of authors (or source) expressed are their own and do not necessarily represent the views of CRWE World.