As músicas redescobertas pelo Glória ao Samba e outros agrupamentos, organizações que se dedicam a resgatar do esquecimento antigos sambas, são revividas para o público em rodas, sempre gratuitas, que homenageiam compositores da velha guarda ou escolas. "O que a gente quer é transmitir, da maneira mais fidedigna possível, aquilo que era feito. A gente só coloca na roda quando a gente tem certeza de que o samba é daquela maneira", disse Rafael Lo Ré, integrante do agrupamento Glória ao Samba.
As músicas são relembradas pelos antigos sambistas e levadas depois para as rodas de samba. De acordo com Lo Ré, às vezes a roda de samba também é feita para acertar detalhes da música diretamente com o compositor. "Nós fizemos um ensaio para poder colocar o samba [do compositor Binha do Salgueiro, que revelou a Lo Ré a canção Em 59, balançamos a roseira]. Eu mostrei para ele pelo telefone a forma em que estávamos cantando e ele deu uma corrigida no andamento", contou.
Quando o sambista homenageado já morreu, são convidados filhos, amigos e familiares. "A gente trouxe todos os quatro filhos do Silas de Oliveira. A gente faz de tudo pra fazer essas rodas e a maneira que a gente tem de agradecer é trazê-los para que eles vejam o trabalho que a gente faz de cantar o samba, a exaltação que é feita aos que produziram aquelas obras", contou Lo Ré. Djalma Sabiá toma esses momentos como celebrações da vida: "Até quando a gente virar saudade".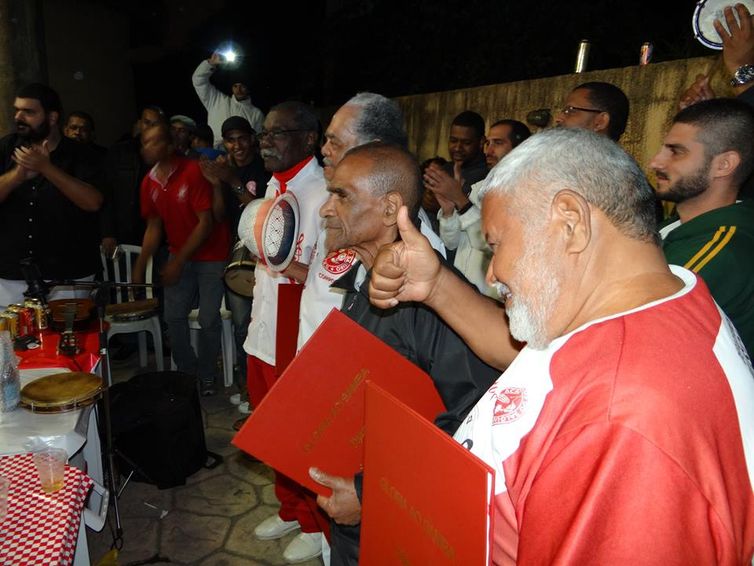 Escolas e compositores
Nas rodas, já foram homenageadas escolas de samba como Salgueiro, Império Serrano, Portela, Mangueira, e também compositores como Manacéa, Silas de Oliveira e Geraldo Pereira. Além disso, sambas de escolas menores, algumas já extintas, também são revividos nessas apresentações. "A gente quer cantar sambas desses desconhecidos, que não são comerciais, desses compositores que são grandes valores, mas que ninguém conhece. Estão aí perdidos", explicou Mathias.
Nos últimos dez anos, algumas homenagens foram feitas com os sambistas ainda em vida. Foi o caso da roda de samba que trouxe as relíquias do Morro do Salgueiro. Foram cantadas músicas do tempo em que a atual escola estava dividida em três: Azul e Branco, Depois Eu Digo e Unidos do Salgueiro. Jorge Cardoso, Jarbas Soares (o Binha), Jorge Bombeiro foram alguns dos grandes nomes presentes. "Vieram muitos para cá [São Paulo]. Eles se organizaram, pegaram uma van no Rio e vieram participar dessa roda. Quase todos já faleceram", contou Lo Ré.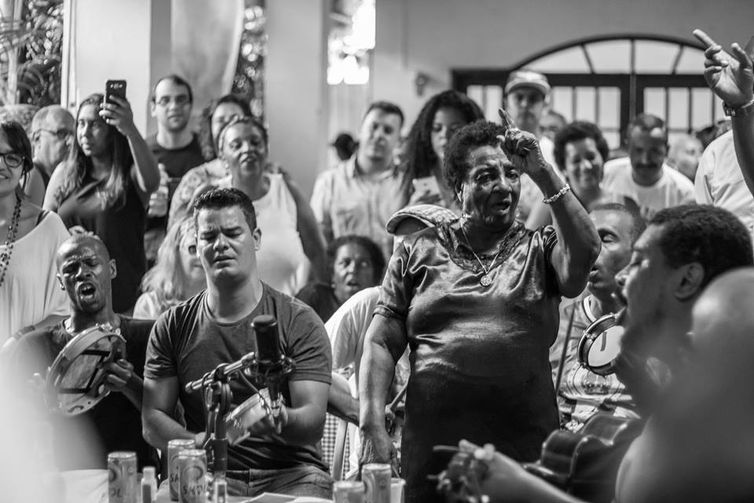 A cada apresentação, os cerca de 20 integrantes do Glória ao Samba aprendem as músicas que foram descobertas para exaltar o antigo compositor. "Imagina a homenagem do Salgueiro. Tínhamos 100 sambas inéditos para aprender em dois meses e a rapaziada foi. Todo mundo com o mesmo envolvimento. Cada um tem uma função, mas todos têm o mesmo envolvimento", reforçou Mathias. No agrupamento, não há quem esteja dedicado apenas ao trabalho como sambista. São advogados, jornalistas, filósofos, técnico de edificações, almoxarife, lustrador de móveis, soldador que se uniram pelo amor ao samba.
Instrumentos tradicionais
Nas rodas de samba, eles utilizam apenas instrumentos que faziam parte das apresentações do início do século passado. "A gente busca bater no couro. Não utilizar esses instrumentos trazidos a partir do final dos anos 70 pra cá. A gente gosta de tocar mesmo com tamborim, pandeiro, cavaquinho, violão, reco-reco, agogô", exemplificou Lo Ré. Também entram na roda o surdo e a cuíca. Ele explica que banjo, tantan e repique de mão, por exemplo, foram inseridos no samba no final da década de 1980. A cantoria também é no gogó e no coro dos participantes, assim como nos primórdios do samba.
Além dos instrumentos, essa "ambiência do samba antigo", como eles se referem, se expressa também na comida, nas gírias e no modo de conversar, criando uma identidade própria. "A rapaziada que gosta desse tipo de samba, não quero que soe pretensioso, mas é tipo um estilo de vida", afirmou Mathias. Feijoada, cozido, moela são exemplos do que é ofertado aos participantes das rodas. Tudo gratuito. "A gente também não está preso, ancorado, no passado. Eu não preciso meter essa beca de sambista das antigas, mas são valores", reforçou o músico.
Histórias das rodas
As rodas de samba ajudam também na caçada em busca de sambas perdidos, como ocorreu em muitas histórias contadas pelos integrantes do agrupamento paulistano. Uma delas se passa em um bar carioca na comemoração de um aniversário que reuniu nomes como Iranette Barcellos, a Tia Surica da Portela, e Jarbas Soares, o Binha do Salgueiro. Logo uma roda de samba se formou. Entre os homenageados em forma de música estava o compositor portelense Manacéa, morto em 1995. Não demorou para que eles fossem surpreendidos com uma presença na mesa ao lado.
"Vocês estavam cantando um samba do Manacéa. A família dele está aqui, eu sou genro. Vocês cantaram o samba que a dona Neném mais gosta", disse Marcos, até então, um desconhecido. A viúva do compositor, Yolanda Andrade, ouviu emocionada a música Tantas Mulheres Amei, uma declaração de amor a ela. "Eu vou fazer um almoço amanhã e queria que vocês fossem lá em casa", convidou dona Neném. "Nasceu uma amizade que resultou numa homenagem ao Manacéa, um ano depois", relembrou Mathias. Em 2010, o quintal dela, que já havia sido palco de ensaios da primeira formação da Velha Guarda da Portela, nas décadas de 1960 e 70, recebeu novos amantes do samba antigo.
* Colaborou Francisca Sousa, estagiária da Agência Brasil
Fonte: Agência Brasil.
The news, reports, views and opinions of authors (or source) expressed are their own and do not necessarily represent the views of CRWE World.