Um movimento de defesa do samba tradicional nasceu na cidade de São Paulo no início dos anos 2000 e vem se espalhando por outros estados. São agrupamentos de músicos empenhados em divulgar a obra de sambistas pioneiros, hoje praticamente anônimos, como Nilton Bastos, Antônio Caetano, José Ramos, Delphino Coelho e Éden Silva.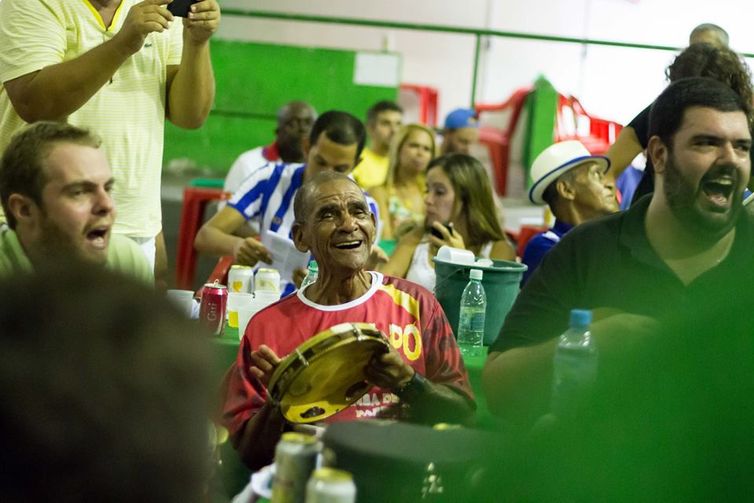 Seus integrantes acreditam que essa é uma página importante da música popular brasileira, mas que está esquecida. Esses agrupamentos – assim denominados para se diferenciarem de grupos apenas musicais – se apoiam em vasto material de pesquisa para buscar a revaloração do que afirmam ser os tempos áureos da nossa música. Suas fontes são antigos integrantes de escolas de samba, homens e mulheres que fizeram a história do samba e que agora são estimulados a revirar a memória em busca de composições que deixaram de ser cantadas ao longo dos anos.
"A gente se reúne, a gente pesquisa, corre atrás de informações e das composições hoje esquecidas desses grandes mestres que também caíram no esquecimento popular, e tenta traduzir isso em formato de roda de samba", contou Rafael Lo Ré, 35 anos, fundador do agrupamento paulistano Glória ao Samba, que acaba de completar 10 anos.
O trabalho de pesquisa gira em torno dos primórdios das escolas de samba. "Não tem escola grande ou pequena. A gente quer cantar samba desses desconhecidos, que não são comerciais, desses compositores, que são grandes valores, mas que ninguém conhece. Estão aí, perdidos", explicou Paulo Mathias, 38 anos, também fundador do Glória.
Começo de tudo
Discos e jornais antigos já faziam parte da rotina de pesquisa do agrupamento Glória ao Samba desde que o grupo se formou em 2007. Mas foi a partir do encontro com Djalma Sabiá, 92 anos, um dos fundadores da Acadêmicos do Salgueiro, que as recordações da velha guarda passaram a ser fonte para a descoberta de sambas inéditos – nunca gravados. Sabiá é o único integrante da primeira diretoria da escola de samba ainda vivo. Movidos pela paixão de fazer samba "como nos primórdios", os paulistanos do Glória superaram a primeira impressão ressabiada do carioca.
"Gente, estou com uns meninos aqui. Eles cantam os meus sambas, vocês não vão acreditar. Cantam uns sambas antigos nossos", disse Djalma após ouvir os sambistas que saíram de São Paulo para encontrá-lo no Rio de Janeiro. "Ele começou a chorar quando a gente cantou uma música dele. Pegou o telefone e começou a ligar para todos os outros compositores que também faziam parte da fundação do Salgueiro. Isso aconteceu em 2007, então ele saiu desenterrando todo mundo", relembrou Paulo Mathias, que é jornalista de profissão.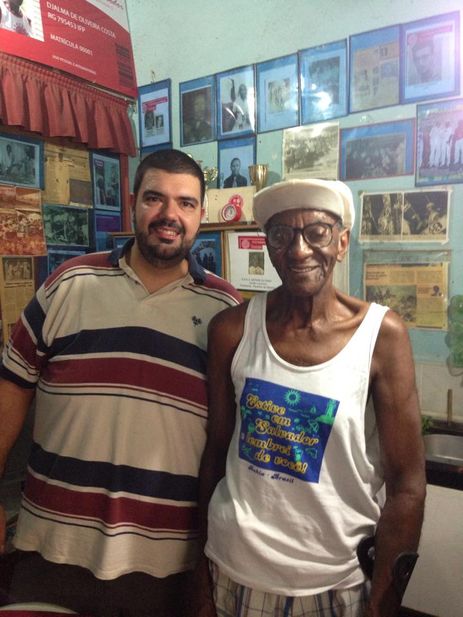 Da amizade com Djalma Sabiá, surgiram novos encontros com nomes da velha guarda de diversas escolas. "Aguçou aquela vontade de conhecer os compositores, de saber as histórias. É muito fácil você ver a história no livro, mas estar ali de frente com a pessoa que participou, que fez aquilo ali, é outra coisa", disse Mathias. Logo depois do sambista do Salgueiro, foi a vez de conhecer Hildemar Diniz, o mestre Monarco da Portela, hoje com 84 anos. "A partir daí, se abriu um leque muito grande de possibilidade na pesquisa", relembrou o jornalista.
Outros agrupamentos
Além do agrupamento paulistano, há também o Terra Brasileira na capital paulista; na Grande São Paulo, o Samba de Terreiro de Mauá; em Curitiba, o Samba do Sindicatis; e, no berço do samba, o Rio de Janeiro, o agrupamento Produto do Morro.
"As criações mais geniais sugiram no terreiro das escolas de sambas", disse Téo Souto Maior, fundador do Samba do Sindicatis. Ele avalia que há certa desvantagem por estarem em Curitiba. "Estamos, podemos dizer, na periferia dessa pesquisa, porque os acervos, os sambistas, os familiares dos sambistas, estão mais nesse eixo do Rio e algumas coisas em São Paulo, mas a gente tem se esforçado para contribuir de alguma forma", garantiu.
Caio Badaró, 23 anos, fundador do Produto do Morro, agrupamento que acaba de completar cinco anos, destaca a autenticidade como diferencial deste samba tradicional. "De uma certa forma, essa desconexão com algo apenas mercadológico, eu acho que isso contribui, passa uma sensação de verdade, de pureza e isso comove, de certa forma, todas as pessoas que escutam, porque poucas pessoas às vezes têm acesso a isso", afirmou.
O sociólogo Dmitri Cerboncini Fernandes, autor de Sentinelas da Tradição: a constituição da autenticidade no samba e no choro, da Editora Universidade de São Paulo (Edusp), aponta que, diferentemente de grupos de samba, os agrupamentos são comunidades de sambistas que se unem para cultuar o samba tradicional. "[Eles procuram] se afastar de todo signo de comercialismo, de mau gosto, que tenta 'resgatar' sambistas desconhecidos", explicou.
Nasce a escola de samba
O samba antigo defendido por esses agrupamentos têm as características dos primeiros anos do gênero, nascido no bairro do Estácio, região central do Rio de Janeiro, então capital federal do país, na década de 1920.
Os responsáveis pela forma definitiva do gênero musical foram homens de posição social simples, como o sapateiro Rubens Barcelos e o ajudante de caminhão Edgar Marcelino dos Passos. Com eles, nascia o samba batucado, com marcação, marchado, o que possibilitou o surgimento das escolas de samba.
O samba era de terreiro. "Naquele tempo, escola de samba não tinha quadra, era no terreiro, de terra batida, no chão", contou Djalma Sabiá, 92 anos, que iniciou como sambista em 1936 na escola Unidos da Tijuca e hoje é o único fundador da Acadêmicos do Salgueiro (1953) ainda vivo.
Dessas conversas, além de descobrir melodias de músicas que antes só se sabia a letra, é possível conhecer mais da própria história do samba no Brasil. As escolas, por exemplo, enfeitavam o terreiro onde ensaiavam com bandeirinhas de papel fino. "Às vezes, a gente convidava um político, um cara que pudesse gastar um dinheiro pra comprar umas cervejas no ensaio, para a gente angariar dinheiro. Fora isso, corria o livro de ouro, ali na periferia, no comércio, para arrumar dinheiro e poder botar o carnaval na rua", relembrou Djalma Sabiá em entrevista à Agência Brasil.
* Estagiária sob supervisão da repórter Camila Maciel
Fonte: Agência Brasil.
The news, reports, views and opinions of authors (or source) expressed are their own and do not necessarily represent the views of CRWE World.