O ministro do Esporte, Leandro Cruz da Silva, condenou hoje (20) o comportamento do grupo de brasileiros registrados, em vídeo, assediando uma mulher durante as comemorações da Copa do Mundo, na Rússia. O repúdio do ministro se segue às críticas divulgadas ontem (19) pelos ministérios do Turismo e das Relações Exteriores, Polícia Militar de Santa Catarina e Ordem dos Advogados do Brasil (OAB) em Pernambuco.
"Além de envergonhar nosso país, uma atitude como esta merece todas as reprimendas que pudermos fazer", declarou Silva ao conversar com jornalistas na Embaixada do Brasil, em Moscou. Ao classificar o comportamento do grupo de brasileiros como um "desserviço ao país", o ministro sugeriu que os brasileiros desdenharam da receptividade dos anfitriões.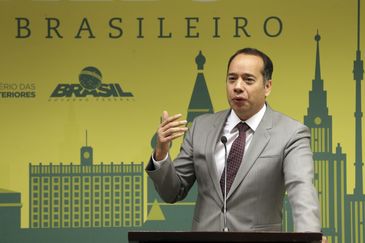 "Se tem uma coisa que vou levar daqui é o carinho que o povo russo está tendo com os brasileiros. O fato de os russos estarem absolutamente abertos a receber bem os brasileiros pode ajudar a explicar um pouco do que possibilitou esta covardia [por parte dos torcedores filmados]", comentou Silva.
A mulher aparece no vídeo confraternizando com os brasileiros que a ridicularizam, em coro e em português, sem que a moça entenda o sentido das frases que é incentivada a repetir.
"[Eles] Não são homens desrespeitosos apenas com mulheres russas. São homens desrespeitosos. Devem ser desrespeitosos com mulheres brasileiras, inglesas, francesas e com todos. São pessoas que prestaram um imenso desserviço ao Brasil", acrescentou o ministro.
Ontem, ao se manifestar sobre o assunto, a embaixada brasileira na Rússia destacou que a maioria dos torcedores brasileiros é tradicionalmente pacífica e respeitosa. A representação diplomática informou que, até o momento, não recebeu reclamações de cidadãos russos em relação a brasileiros. Entretanto, a quantidade de mensagens de brasileiros recriminando o episódio é grande.
O Ministério do Turismo também condenou a atitude do grupo filmado assediando a mulher. Em nota, a pasta afirmou que o machismo e a misoginia não são aceitáveis sob nenhum aspecto, muito menos em um evento como a Copa do Mundo, realizado para "promover a integração entre povos e culturas do mundo todo".
Também nesta terça-feira, a Polícia Militar de Santa Catarina (PM-SC) e a seccional da Ordem dos Advogados do Brasil em Pernambuco identificaram nominalmente dois dos homens que aparecem no vídeo que ganhou as redes sociais nos últimos dias.
Um deles é um tenente que trabalha em Lages (SC) e está de férias na Rússia e deverá responder a um processo administrativo disciplinar quando retornar ao trabalho.
O outro é um advogado de Pernambuco, inscrito na OAB. A entidade repudiou "veementemente" o episódio, alegando que "a preconceituosa atitude dos torcedores causa vergonha para todos nós, brasileiros, e vai na contramão do atual contexto de luta contra a desigualdade de gênero, em que cada dia mais as instituições públicas e privadas estão em busca de soluções conjuntas para que nenhuma mulher sofra qualquer tipo de violência ou discriminação pelo fato de ser mulher."
Fonte: Agência Brasil.
The news, reports, views and opinions of authors (or source) expressed are their own and do not necessarily represent the views of CRWE World.