Se Portugal for longe na Copa do Mundo, o país deverá agradecer a Cristiano Ronaldo. Hoje (20), logo no início do jogo, aos 4 minutos, CR7 mostrou vontade de fazer história e marcou de cabeça, após cobrança de escanteio. Ele é o artilheiro da Copa até agora, com quatro gols. Graças a seu melhor jogador, Portugal venceu, mas não convenceu.
Se nos primeiros minutos a impressão era de que viria uma goleada, a atuação da Seleção de Marrocos tratou logo de mudar o cenário. Pouco depois do gol,  Marrocos começou a jogar com garra e disposição. E mostrou mais consistência no ataque. Apostando na velocidade, ameaçou os portugueses com jogadas pelas laterais e cruzamentos na área.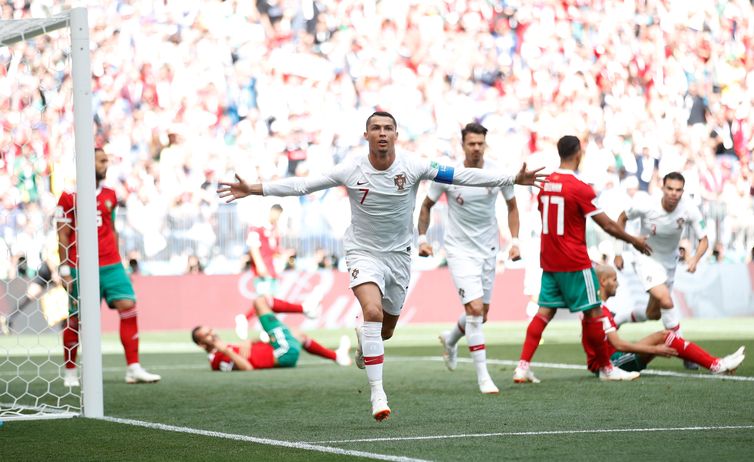 Portugal só chegaria novamente com perigo aos 38 minutos de jogo. Gonçalo Guedes recebeu bom passe de Cristiano Ronaldo, que o deixou diante do goleiro, mas El Kajoui fez a defesa, mostrando bons reflexos. A resposta veio pouco depois.
Por uma questão de centímetros, Benatia não empatou aos 46 minutos. Após cobrança de falta pela direita do ataque, a bola foi desviada para o meio da área por Belhanda e o zagueiro marroquino não alcançou a bola por muito pouco.
Segundo tempo
Na etapa  final, Marrocos mostrou que a justiça e o futebol nem sempre estão na mesma página da história. A seleção africana, que já merecia o empate, mostrou que também não mereceu ter perdido para o Irã na primeira rodada.
Com bom toque de bola, os marroquinos passaram a controlar o jogo e a criar chances reais de empatar. Aos 11 minutos, Belhanda cabeceou no canto, mas o goleiro Rui Patrício fez uma defesa incrível, digna de Gordon Banks, da Seleção da Inglaterra na Copa de 70, no México. Amrabat e Belhanda incomodaram a defesa adversária o jogo inteiro.
Marrocos tentou seu gol até o minuto final. Aos 45 minutos do segundo tempo, Ziyech entrou na área com velocidade pela direita e chutou com perigo, mas a bola não entrou.
O juiz apitou o fim do jogo e os atletas marroquinos não esconderam a tristeza. Jogaram com bravura e melhor que Portugal, mas somam duas derrotas e ainda não conseguiram marcar um gol no mundial da Rússia.
A atuação portuguesa irritou seu treinador. Em entrevista após a partida, ele não escondeu o incômodo de ver seu time errando passes e mostrando ineficiência ofensiva. Para ele, alguns jogadores perderam a confiança após cometer erros durante o jogo.
Com a vitória, Portugal chega a 4 pontos no grupo B e assume a liderança provisória, já que a Espanha joga às 15h de hoje contra o Irã, que tem 3 pontos. Marrocos tem duas derrotas e nenhum ponto ganho.
É o lanterna do grupo e não tem mais chances de avançar às oitavas de final.
Fonte: Agência Brasil.
The news, reports, views and opinions of authors (or source) expressed are their own and do not necessarily represent the views of CRWE World.