O deputado federal Arnaldo Jordy (PPS/PA) solicitou à presidência da Câmara dos Deputados nesta quarta-feira (20) que encaminhe um requerimento de informações ao Ministério das Relações Exteriores para que sejam prestados esclarecimentos sobre as ações que estão sendo desenvolvidas pelo governo brasileiro para atendimento às crianças que estão separadas de seus parentes nos Estados Unidos. Atualmente, 49 crianças brasileiras estão em abrigos e foram separadas dos pais ao ingressarem ilegalmente no país.
Em entrevista exclusiva à Empresa Brasil de Comunicação (EBC), o cônsul-geral adjunto do Brasil em Houston, Felipe Santarosa, disse que os dados foram repassados pelo governo dos Estados Unidos, mas não há detalhes acerca da idade das crianças nem da cidade em que estão abrigadas.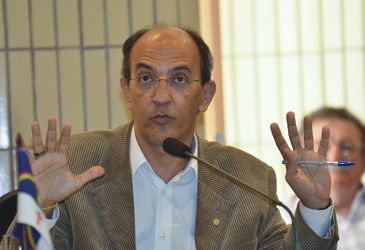 No requerimento, Jordy questiona as condições de assistência (saúde, educação, psicológicas) que estão sendo dispensadas às crianças e qual a providência será tomada para atender o adolescente de 17 anos, que conforme veiculado pela mídia, em data próxima completará 18 anos. Dessa forma, o jovem pode ser transferido para o sistema prisional local.
"Importante se faz que possamos ter informações oficiais dos menores, dos familiares, das providências que estão sendo tomadas para que " nossas crianças" possam voltar ao convívio familiar ou que possam retornar ao Brasil, caso esta seja a melhor solução", diz Jordy.
O deputado argumenta que em abril aproximadamente 2 mil crianças foram encaminhadas para abrigos que estão com 95% da lotação. "Anteriormente, as famílias eram mantidas juntas em prisões e liberadas enquanto aguardavam a decisão sobre seus casos, mas com a nova política do governo norte-americano para o tratamento do crime de travessia ilegal, os adultos têm sido denunciados imediatamente e encaminhados a presídios", disse o deputado.
A separação de famílias na fronteira dos Estados Unidos com o México é resultado da política de "tolerância zero" adotada pela administração Donald Trump. Os imigrantes ilegais, mesmo quem procura asilo, são presos e respondem por crime federal.
Segundo o regimento interno da Câmara, o requerimento de informações é o documento legislativo que tem como objetivo solicitar informações a ministro de Estado. O documento será encaminhado pelo primeiro secretário da Câmara, deputado Giacobo (PR-PR). Quando acionado formalmente, o ministro questionado, neste caso o chanceler Aloysio Nunes, terá até 30 dias para responder os questionamentos.
Fonte: Agência Brasil.
The news, reports, views and opinions of authors (or source) expressed are their own and do not necessarily represent the views of CRWE World.