Não foi fácil, e muito menos de goleada prevista por alguns, mas a Espanha venceu o Irã por 1 a 0 pela segunda rodada do grupo B, hoje (20), em Kazan. Esperava-se uma grande partida dos espanhóis, que jogaram bem contra Portugal, mas o ataque da Fúria foi contido na maior parte do jogo por uma defesa iraniana bem armada. A Espanha pressionou durante a maior parte do jogo, mas só chegou ao gol no segundo tempo, com Diego Costa.
Foi uma partida boa de se ver. A toda poderosa Espanha entrou com a grife que só as favoritas têm e saiu de campo com um 1 a 0 magro, mas suficiente. O Irã, todo na defesa, começou a jogar só no segundo tempo, depois que sofreu o gol. Arriscou-se no ataque e chegou a fazer um gol, bem anulado pelo árbitro. Continuou, à sua maneira, tentando empatar, no melhor jogo do dia.
O jogo
A Espanha tinha a supremacia total na posse de bola, mas não conseguia finalizar com perigo. Bem marcado, Diego Costa pouco fazia no ataque. Aos 16 minutos, um lance curioso, em um raro ataque do Irã no primeiro tempo. Mehdi passou pela defesa e recebeu uma bola pelo lado direito, completamente sem marcação. Ele, no entanto, parecia achar que estava impedido e não partiu em velocidade. Até entender que o lance estava valendo, a defesa espanhola já havia se recomposto e ao iraniano restou jogar a bola na área, sem perigo para o gol defendido por De Gea.
Aos 29 minutos, finalmente uma jogada ao estilo da Espanha. Uma troca de passes curtos e envolventes deixou Iniesta dentro da área, mas a defesa conseguiu jogar para escanteio. Na cobrança, a bola foi jogada na área e David Silva tentou um voleio para o gol, mas a bola foi por cima.
O clima era de desespero na área do Irã. A defesa afastava com chutões a maior parte das bolas que chegavam na defesa. Não havia contra-ataques do time do Oriente Médio. O jogador mais avançado, Sardar Azmoun, corria inutilmente para um lado e para o outro, tentando ligar um contra-ataque. As melhores – e raras – jogadas de ataque dos iranianos partiam da defesa, tocando a bola com paciência.
Aos 4 minutos do segundo tempo, o goleiro Beiranvand fez uma boa defesa em chute de longe. Ele espalmou a bola para cima e, já caído, deu mais um tapa para jogar a bola para escanteio. Aos 7 minutos, veio a resposta iraniana, na melhor chance do jogo até então. Karim pegou uma sobra na área e deu um bom chute. A bola estufou a rede pelo lado de fora e fez muita gente no estádio gritar gol.
A abertura do placar viria em seguida, mas do outro lado. Diego Costa recebeu a bola na área e o defensor tentou cortar, mas chutou a bola nas pernas do brasileiro naturalizado espanhol e a pelota entrou no canto direito de Beiranvand. A Espanha finalmente chegava ao seu gol.
Alegria iraniana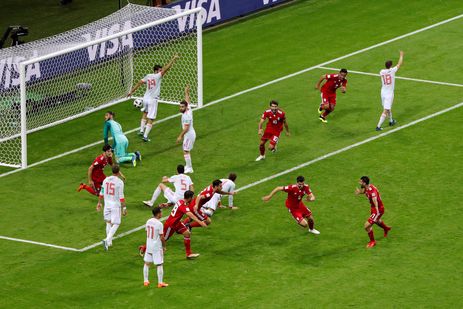 Aos 16 minutos, uma festa absoluta tomou conta do estádio em Kazan quando Ezatolahi marcou. Ele aproveitou a bola sobrada na área após uma cobrança de falta e estufou a rede. Os reservas e comissão técnica correram para comemorar no gramado com o camisa 6 iraniano, que chorava emocionado. Eles não viram, porém, que o juiz já havia marcado – corretamente – o impedimento de Ezatolahi. A marcação foi confirmada pelo árbitro de vídeo logo em seguida.
Mas o gol anulado animou o Irã. A defesa passou a evitar os chutões e passou a sair jogando a cada roubada de bola. Aumentou sua presença ofensiva, mesmo sem levar perigo a De Gea. Aos 36 minutos, Amiri desmoralizou Piqué na esquerda do ataque. O iraniano botou a bola debaixo das pernas do zagueiro do Barcelona e cruzou para a área. Mehdi cabeceou com perigo, por cima do gol.
O torcedor espanhol se sentiu aliviado quando o árbitro apitou o final da partida. Com a vitória, a Espanha empata com Portugal na liderança do grupo, com 4 pontos. O Irã, com 3 pontos, ainda tem chances de classificação. Na última rodada, Irã e Portugal se enfrentam, enquanto a Espanha joga contra Marrocos.
Confira a tabela de classificação da Copa do Mundo.
Fonte: Agência Brasil.
The news, reports, views and opinions of authors (or source) expressed are their own and do not necessarily represent the views of CRWE World.