Com Neymar em campo, a seleção brasileira fez mais um treino, na tarde de hoje, no estádio Slava Metreveli, em Sochi, preparando-se para a segunda partida da Copa do Mundo da Rússia, contra a Costa Rica. O técnico Tite comandou uma atividade técnica e tática utilizando apenas a metade do campo, para aprimorar a troca rápida de passes e a marcação sob pressão.
O treinamento começou às 15h, sob forte sol, em condições semelhantes às que a equipe brasileira vai enfrentar em São Petersburgo, na próxima sexta-feira (22). A equipe brasileira também trabalhou as bolas aéreas com origem em cobranças de escanteio e em jogadas pelas laterais. No fim da atividade, os jogadores treinaram cobranças de faltas e de pênaltis.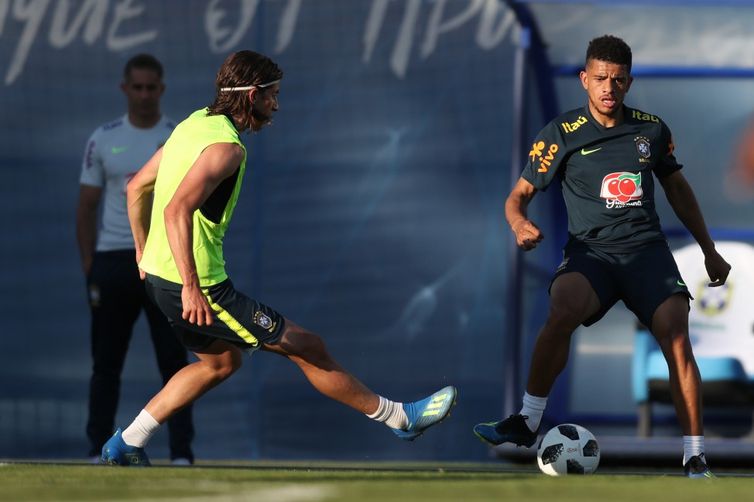 Neymar participou de todo o treinamento e não mais se queixou de dores no tornozelo direito. Desde a manhã de ontem (19), o camisa 10 esteve sob os cuidados dos fisioterapeutas da seleção, em processo de recuperação após as faltas sofridas na partida de estreia do Brasil contra a Suíça. Segundo a CBF, o jogador mostrou desenvoltura nos movimentos e participou ativamente do trabalho.
O auxiliar-técnico Sylvinho explicou que parte da atividade de hoje foi dedicada ao treinamento das condições que a Costa Rica deverá impor ao Brasil no próximo jogo. "Fizemos um aquecimento rápido, com ativação. Tínhamos um sol bem parecido com o que teremos no jogo de sexta-feira. Corrigimos algumas coisas, mas focamos no nosso estilo de jogo. A parte principal do treino foi um trabalho em meio campo, dois times, um gol apenas. Trabalho com componentes táticos e técnicos, onde se treina o posicionamento", disse.
Segundo Sylvinho, o treinamento seguiu a programação preparada pela comissão técnica brasileira. "O treino foi pausado, respeitando a recuperação dos atletas, já visando o condicionamento que a gente pretende para sexta-feira", disse.
A equipe embarca hoje à noite para São Petersburgo, a cerca de duas horas e meia de voo de Sochi - a base da seleção brasileira. Na véspera do jogo, Tite vai comandar mais um treino antes de enfrentar a Costa Rica. A partida está marcada para as 9h (horário de Brasília), de sexta-feira (22), pela segunda rodada do Grupo E da Copa do Mundo.
Confira a tabela de classificação da Copa do Mundo.
* Com informações da CBF
Fonte: Agência Brasil.
The news, reports, views and opinions of authors (or source) expressed are their own and do not necessarily represent the views of CRWE World.