Após a resposta da Fifa aos questionamentos da Confederação Brasileira de Futebol (CBF) sobre a atuação do VAR (do inglês Video Assistant Referee) no empate do Brasil com a Suíça, a entidade brasileira reafirmou hoje (20) a posição de que a arbitragem errou em, pelo menos, dois lances da partida, prejudicando o time brasileiro. Segundo a CBF, a falta no zagueiro Miranda, no gol de empate da Suíça, e o pênalti em Gabriel Jesus, ambos não marcados, ficariam evidentes se o árbitro assistente de vídeo tivesse sido acionado.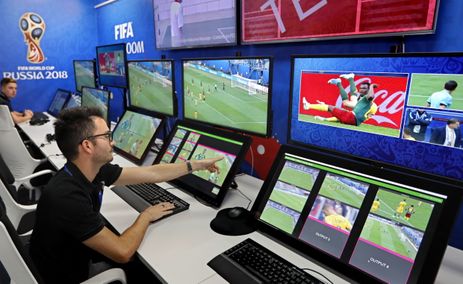 Conforme manifestação publicada no portal da entidade, a CBF considera "importante ter aberto esse debate" com a Fifa, para evitar "erros em procedimentos futuros, bem como colaborar para o aperfeiçoamento do uso da tecnologia".
Em ofício assinado pelo chefe da Comissão de Arbitragem, Pierluigi Collina, e pelo secretário-geral adjunto para o Futebol, Zvonimir Boban, a Fifa respondeu ontem à reclamação da CBF sobre os procedimentos adotados pelo VAR no jogo de estreia da seleção brasileira, no último domingo. Na resposta, a Fifa não entrou no mérito dos lances questionados pela CBF, mas afirmou que o árbitro de vídeo objetiva prevenir "erros claros e óbvios" e "sérios incidentes" não percebidos pelo juiz e auxiliares de campo e que os demais casos ficam sujeitos à exclusiva atuação da arbitragem de campo.
Diz a resposta da Fifa: "Como tem sido repetidamente comunicado, a pergunta que os VARs devem fazer a si mesmos quando o árbitro toma uma decisão durante uma partida não é 'a decisão do árbitro foi correta?'. Eles devem se perguntar se 'a decisão do árbitro foi clara e obviamente errada?', pois a interpretação do árbitro, em todas as demais situações, é e permanece a única relevante quando uma decisão é tomada."
A Fifa negou o fornecimento de cópia das gravações de áudio e vídeo do VAR relativas aos dois lances polêmicos, sob argumento de que, antes da Copa do Mundo da Rússia, ficou decidido que "as gravações das conversas entre os oficiais de jogo e os oficiais de vídeo não estariam disponíveis". A entidade informou à CBF que não fez nenhuma avaliação pública da atuação da arbitragem no jogo entre Brasil e Suíça, válido pela primeira rodada do grupo E.
A entidade mundial ainda desautorizou dirigentes que fizeram comentários sobre a atuação dos juízes na partida da Seleção Brasileira. Segundo o documento enviado à CBF, "no que diz respeito a relatos incorretos na mídia, observe que o Comitê de Arbitragem da Fifa não fornece comentários não oficiais sobre as decisões dos árbitros". Ainda conforme a Fifa, "se e quando o Comitê de Arbitragem da FIFA decidir comentar a decisão de um árbitro, isso só será feito oficialmente, por meio de uma declaração oficial ou durante uma coletiva de imprensa'".
Confira a tabela de classificação da Copa do Mundo.
*Com informações da CBF
Fonte: Agência Brasil.
The news, reports, views and opinions of authors (or source) expressed are their own and do not necessarily represent the views of CRWE World.