No sétimo dia de Copa do Mundo, o 1 a 0 foi o placar dominante. Justamente quando se projetava goleadas de Espanha, Portugal e Uruguai, o que se viu foram seleções sem tradição mostrarem valentia e defesas bem arrumadas. Os favoritos ganharam, todos pelo placar mínimo, em jogos que, se foram escassos em gols, conseguiram agradar a quem assistiu nos estádios e nas TV's.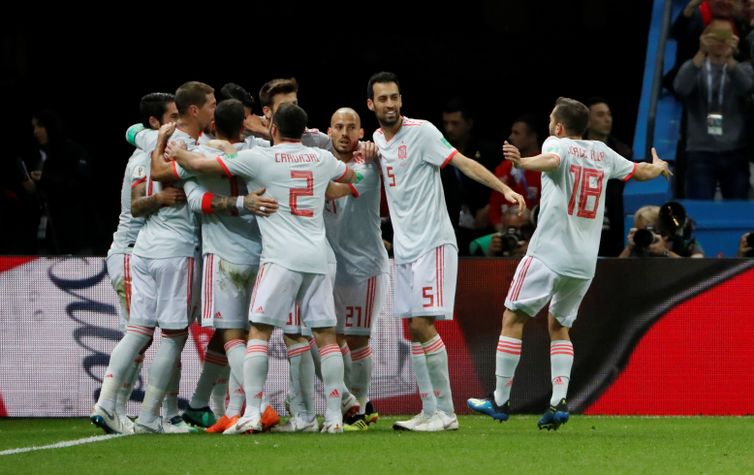 Novamente, com um início arrasador, Cristiano Ronaldo abriu o placar contra Marrocos aos 4 minutos de jogo. Quem apostou em goleada lusitana no bolão começou a esfregar as mãos, acreditando em uma chuva de gols. Mas não foi o que aconteceu. Portugal mostrou novamente o que já se vira contra a Espanha: um time muito limitado e dependente de Cristiano Ronaldo. No restante do tempo, ele ficou discreto e o time todo desapareceu do jogo.
Já Marrocos mostrou que não merecia o que o destino lhe reservou. Foram duas derrotas, ambas por 1 a 0, em partidas nas quais jogou bem, criou chances e buscou a vitória. Os africanos colocaram os portugueses nas cordas em muitos momentos e mereceram o empate. Contra a Espanha, na última rodada, lhes resta tentar pelo menos um gol para voltar com alguma boa história para casa.
Contra Marrocos, na primeira rodada, o Irã se defendeu o jogo todo e fez um gol nos acréscimos. Contra a Espanha, não teve a mesma sorte. Com boa atuação do sistema defensivo e do goleiro Beiranvand, os iranianos não permitiram o toque de bola envolvente, que fez famosa a atual geração do futebol espanhol. O gol salvador saiu em um lance de sorte de Diego Costa. A bola bateu em sua perna e entrou. As jogadas bem tramadas de toque de bola no ataque espanhol não aconteceram.
Apesar do placar magro, o jogo era bom, principalmente pela atuação do Irã. Os avanços esporádicos ao ataque causavam furor na torcida e, após sofrerem o gol, passaram a ousar mais. A possibilidade de um gol de empate tornou a partida mais tensa e movimentada. O gol iraniano, anulado por ter sido marcado em impedimento, mostrou, por um momento, que a grande maioria da Arena Kazan queria ver as estrelas da Espanha, mas torcia pelo time mais fraco.
Na coletiva realizada no dia anterior, o meio-campista do time árabe Taisser Al Jassam afirmou que o objetivo do time era melhorar a imagem, arranhada após uma goleada impiedosa aplicada pela Rússia no jogo de estreia. E isso de fato ocorreu. Muito mais organizada na defesa, a seleção árabe ofereceu um jogo duro para os uruguaios. Apesar da derrota, o que se viu em campo foi um time digno de disputar uma Copa do Mundo.
O gol uruguaio foi marcado pelo centroavante Luis Suárez, jogador do Barcelona. O gol foi carregado de importância. Além de dar a vitória, garantiu a classificação do time às oitavas de final e, de quebra, colocouo nome de Suárez na história da Celeste. Ele é o primeiro jogador do país a marcar gols em três Copas do Mundo. Já havia marcado nas duas copas anteriores, em 2010, na África do Sul, e no Brasil, em 2014.
Confira a tabela de classificação da Copa do Mundo.
Fonte: Agência Brasil.
The news, reports, views and opinions of authors (or source) expressed are their own and do not necessarily represent the views of CRWE World.