Morreu agora à noite no Hospital Getúlio Vargas, na Penha, o estudante Marcos Vinicius da Silva, de 14 anos, baleado na barriga por uma bala perdida, durante uma operação da Polícia Civil que resultou em tiroteio no Complexo da Maré, zona norte do Rio. O jovem chegou a ser operado na tarde de hoje (19) e teve o baço retirado, mas seu estado de saúde era considerado grave.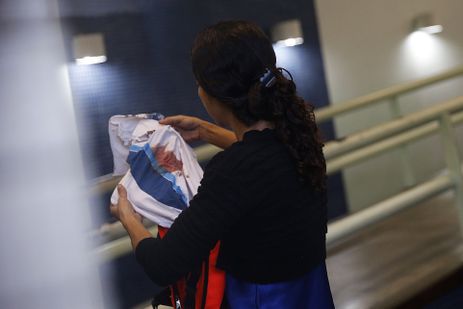 Marcos Vinicius estava uniformizado e seguia para a escola municipal na comunidade, pela manhã, quando foi atingido por um tiro, por volta das 9h. Nesta sexta-feira (22), o adolescente seria submetido a uma nova cirurgia. Até o fim da tarde, antes da morte do estudante, já eram contabilizadas seis mortes decorrentes da operação.
A Polícia Civil informou que o objetivo da operação era cumprir 23 mandados de prisão e prender os suspeitos de terem participado da morte do chefe de operações da Delegacia de Combate às Drogas (Dcod), que morreu com um tiro na cabeça na semana passada, durante operação policial, na favela de Acari, que é dominada pelo Terceiro Comando Puro, a mesma facção que comanda o Complexo da Maré.
De acordo com o Comando Militar do Leste, em nota, o "Exército apoia a operação da Polícia Civil logisticamente com dois veículos blindados, realizando o transporte em segurança dos agentes até os pontos assinalados por eles, como parte da operação".
Segundo relatos de moradores nas redes sociais, durante a manhã, a comunidade ficou sob um intenso tiroteio.
Secretaria de Educação
O secretário municipal de Educação do Rio, Cesar Benjamin, lamentou nas redes sociais à morte do adolescente Marcos Vinicius da Silva. "Chego em casa agora, 22h30, e recebo a trágica notícia de que nosso aluno baleado hoje no Complexo da Maré não resistiu. Foi alvejado quando ia para a escola, acompanhado da mãe. Sinto a dor dos pais dele", escreveu o secretário.
Cesar Benjamin também se colocou à disposição dos estudantes da região: "Minha agenda amanhã fica à disposição das escolas da Maré. Ainda não sei o que faremos, mas alguma coisa haveremos de fazer. A Secretaria Municipal de Educação  está de luto", afirmou.
Fonte: Agência Brasil.
The news, reports, views and opinions of authors (or source) expressed are their own and do not necessarily represent the views of CRWE World.