Os agrupamentos de samba - um movimento de defesa do samba tradicional - estão construindo seus repertórios de sambas das primeiras décadas do século 20 a partir de entrevistas com músicos da velha guarda. Para divulgar esse acervo de músicas, o agrupamento Glória ao Samba criou um instituto para lançar e relançar discos e livros, entre os outros meios que divulguem a iniciativa. "A ideia é atingir outras pessoas que não estejam no nosso meio e que possam ter contato, futuramente, com esse samba, com esses sambistas", informou Rafael Lo Ré, um dos fundadores do grupo.
A paixão pelo samba dos cerca de 20 integrantes do agrupamento paulistano rende descobertas de músicas nunca gravadas, mas também levou a encontrar um disco da Portela, de 1959, que não foi lançado comercialmente. "Era o unicórnio, o disco mitológico dessas escolas de samba, do selo Festa. Todo mundo procurava, todos os colecionadores, todos os pesquisadores", relatou Paulo Mathias. A descoberta foi por meio da dona do acervo do antigo selo. O material foi recuperado em fitas de rolo.
"Não tínhamos equipamento para ouvir. Acionamos todo mundo, seria um equipamento da época para poder reproduzir e ver o que tinha lá, um reprodutor de fita de rolo. Conseguimos. Quando tocou, estava eu e o Paulo lá no apartamento, no ateliê, começamos a ouvir. Não acreditei, não consegui me conter", contou Lo Ré.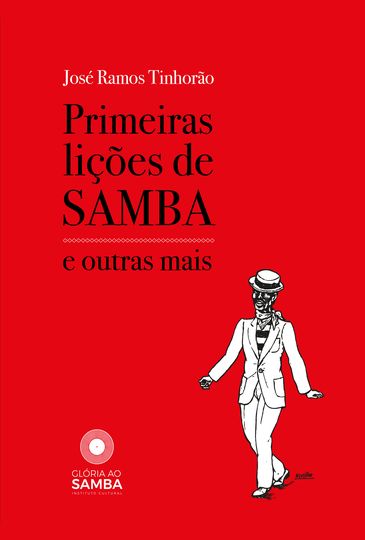 Foram localizadas sete faixas. "Era a máscara do disco que não chegou a ser lançado. Não sei o porquê, também não tem o disco inteiro. O disco normalmente tinha 12 faixas. Era a arca perdida dos discos de samba", relatou Lo Ré. Ele explicou que o LP consta nos registros de catálogos, mas não foi lançado. Agora, eles pretendem lançar, por meio do Instituto Glória ao Samba, o disco em formato de vinil e CD.
Livro de Tinhorão
Outra iniciativa do instituto é o lançamento do livro Primeiras Lições de Samba e Outras Mais, do historiador José Ramos Tinhorão. A obra reúne mais de 60 artigos do autor publicados entre 1961 e 1981 no Jornal do Brasil, Tribuna da Imprensa, Correio da Manhã, Diário Carioca e Jornal dos Sports entre os anos de 1961 e 1981. O historiador coletou depoimentos de grandes sambistas, como Ismael Silva, João da Baiana, Heitor dos Prazeres, entre outros.
"Eu comecei a escrever as primeiras lições de samba porque o Reynaldo Jardim, que dirigia o suplemento [no Jornal do Brasil], me chamou. Eles estavam acabando as Primeiras Lições de Jazz. Olha só, eu já vim em segundo lugar", ironizou Tinhorão, hoje com 90 anos. Eduardo Pontin, coordenador editorial do projeto, disse que os textos são "o primeiro grande estudo feito sobre o samba na literatura, mas que só foi publicado em jornal".
Nessa coletânea de artigos, Tinhorão relembra a convivência com os antigos bambas. "Descobri uma coisa sensacional: esses caras sabiam de coisas incríveis, porque eles começavam a conversar comigo, eles contavam coisas da vida deles, que para mim era como se fosse um livro que estava se abrindo", relembrou Tinhorão. Ele considera que teve sorte "de pegar vivos ainda toda essa geração de caras interessantes da música popular brasileira, e procurei fixar, conversar com eles e botar no papel", disse o pesquisador. "Esse livro é o resultado da minha experiência pessoal de convívio com a maior parte desses caras", afirmou.
Sambistas são lembrados
"'Primeiras Lições de Samba e Outras Mais' constitui o grande livro sobre samba que Tinhorão não escreveu, mas que foi construindo ao longo da atuação dele na imprensa. Para isso, ele colheu depoimentos com sambistas pioneiros como Donga, Heitor dos Prazeres, Bide e Ismael Silva", descreveu Eduardo Pontin.
A influência desses e outros sambistas lendários, com seus relatos pessoais, estão presentes no livro. Conheça alguns deles:
Heitor dos Prazeres - Sambista e artista plástico nascido em 1898, na Praça Onze, reduto de bambas da cidade do Rio de Janeiro, Heitor dos Prazeres vivenciou as fases de transições do samba do início do século 20. J. Muniz Júnior, no livro Sambistas Imortais, conta que ele era marceneiro de ofício e cavaquinista de vocação. Prazeres frequentou a lendária casa da Tia Ciata, onde se cultivava o samba ainda amaxixado – ritmo de sucesso na época –; a Festa da Penha, local onde os compositores divulgavam os sambas antes do nascimento do rádio; e participou, posteriormente, de forma ativa, do movimento das escolas de samba.
Bide – Considerado o inventor do surdo, Alcebíades Barcelos, o popular Bide, nasceu em 1902, em Niterói. O pesquisador Juarez Barroso, em texto publicado no Jornal do Brasil, revelou passagens da vida do batuqueiro. Em 1908, foi morar com a família no Rio de Janeiro, no bairro do Estácio, onde se tornou sapateiro, junto com o irmão, Rubem Barcelos. A Bide cabe a glória de ser o introdutor do tamborim no carnaval e de ter inventado o surdo de marcação. Assim como Heitor dos Prazeres, fundou, em 1928, a primeira escola de samba da história, a Deixa Falar.
Ismael Silva - Também de Niterói, no Rio de Janeiro, onde nasceu em 1905, Ismael Silva mudou-se, ainda criança, para a capital e morou em vários bairros, entre eles, o Estácio, onde regressou, em 1922, aos 17 anos. No livro Música e Cultura Popular, José Ramos Tinhorão relembra diversos momentos da vida deste bamba. No Rio estava sendo criado o andamento definitivo do samba, deixando para trás o vacilante ritmo da casa da Tia Ciata, onde o samba começou a nascer. Nesse reduto, imperavam Edgar Marcelino dos Passos, o Mano Edgar e Rubens Barcelos, o Mano Rubem, quando Ismael conquistou seu espaço. Malandro de profissão, sambista de direito e de fato, Ismael é, assim como Heitor dos Prazeres e Bide, fundador da Deixa Falar.
* Colaborou Francisca Sousa, estagiária da Agência Brasil
Fonte: Agência Brasil.
The news, reports, views and opinions of authors (or source) expressed are their own and do not necessarily represent the views of CRWE World.