Dois confrontos do grupo C  e um do Grupo D marcam a rodada desta quinta-feira (21) da Copa do Mundo Rússia 2018: Dinamarca contra a Austrália, às 9h, em Samara; e França e Peru, às 12h, em Ecaterimburgo. No oitavo dia de Copa do Mundo tem ainda um jogo decisivo para a seleção argentina, no Grupo D. O time de Messi precisa vencer a Croácia para manter as chances de classificação para a próxima fase. Pressionada, a Argentina enfrenta o adversário teoricamente mais difícil.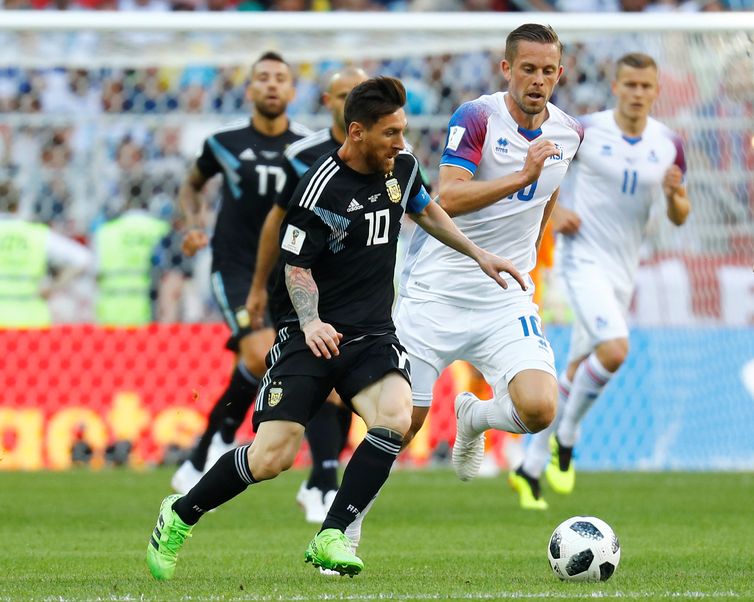 Dinamarca x Austrália
No grupo em que a França, com uma vitória, é a favorita para terminar em primeiro lugar, resta às demais seleções brigarem pela segunda vaga às oitavas de final. Nesse ponto, a Dinamarca tem vantagem, pois venceu o Peru na primeira rodada. A Austrália, por sua vez, ainda não somou pontos e precisa fazê-lo se quiser continuar na Copa.
O técnico da Dinamarca, Age Hariede, avaliou que jogo contra a Austrália não será fácil e que o importante é que seus jogadores entrem concentrados na partida. "Em 16 jogos, não experimentamos estar sob tanta pressão como estivemos contra o Peru. Eles criaram várias chances contra nós e, se o Peru pode fazê-lo, a Austrália também poderá. Precisamos estar completamente focados", disse, em entrevista.
O treinador assistente da Austrália, Ante Milicic, destacou a importância do time pontuar nesta rodada. "Sabemos que precisamos de um resultado para continuar vivos, e esta tem sido a meta desde o início. Não precisamos apenas de um bom desempenho, precisamos de pontos". Dinamarca e Austrália se enfrentam às 9h.
França x Peru
Uma das poucas seleções consideradas favoritas a ganhar na primeira rodada, a França – apesar da vitória sobre a Austrália – não jogou bem. O time precisará encontrar seu ponto de equilíbrio no ataque. Teoricamente, é um dos mais perigosos da Copa, com Mbappé, Dembélé e Griezmann, mas ainda não mostrou a força esperada.
O técnico do Peru, Ricardo Gareca, fez observações sobre o adversário, em entrevista coletiva nessa quarta-feira (20). Ele destacou a qualidade da França e seu favoritismo ao título mundial. "A França tem sua identidade, eles podem vencer a Copa, podem se adaptar a cada time que enfrentam. Está entre os favoritos, mas podemos ser um oponente duro. Temos nosso estilo e não deixaremos a França nos distrair". O Peru precisa vencer a França para pensar em passar para as oistavas de final.
O dia será especial para o goleiro francês Lloris. Ele completará 100 jogos pela seleção na partida contra o Peru. "Estou muito orgulhoso. Sempre tento dar o melhor e estarei 100% envolvido, não importa o que aconteça". França e Peru jogam ao meio-dia.
Argentina x Croácia
Depois de tropeçar na Islândia, a Argentina não pode pensar em nenhum resultado diferente da vitória contra os croatas. O time europeu tem três pontos no grupo e é preciso uma vitória para ultrapassá-los na classificação. Ganhar é fundamental para o time comandado por Messi.
O camisa 10, que frequentemente disputa com o português Cristiano Ronaldo o título de "melhor do mundo", sabe que uma derrota complica não só as chances de classificação, como também o legado desta geração. Apesar de contar com estrelas como Di Maria, Agüero, Mascherano e o próprio Messi, esses jogadores nunca ganharam um título sequer com a camisa "albiceleste".
A pressão vivida pela Argentina contrasta com a situação da Croácia. O técnico Zlatko Dalic fez questão de jogar a responsabilidade para o adversário. Ele disse que a situação de seu time é confortável, porque já tem uma vitória na competição.
"A partida contra a Argentina é o jogo mais fácil para nós na Copa do Mundo, porque temos três pontos e jogamos contra um grande adversário. Não temos nada a perder no jogo. Direi aos meus jogadores para eles apenas apreciarem o espetáculo", disse Dalic. Ao mesmo tempo, enfatizou que seu time precisará jogar bem se quiser a vitória. "Temos que mostrar nossa qualidade e este é um verdadeiro teste para esta geração".
Em tempos de futebol globalizado, em que times mais ricos arregimentam verdadeiras seleções mundiais, a Copa é o momento de encontros de jogadores que se conhecem de seus clubes se enfrentam. No jogo de hoje, Messi e Rakitic, companheiros no Barcelona estarão em lados opostos. "É difícil dar algum segredo sobre Messi para o meu treinador. Ele é o melhor jogador do mundo e é quase impossível bloqueá-lo", disse o croata. A partida entre Croácia e Argentina será às 15h.
Veja aqui a tabela de classificação da Copa do Mundo.
Fonte: Agência Brasil.
The news, reports, views and opinions of authors (or source) expressed are their own and do not necessarily represent the views of CRWE World.