A presidente do Supremo Tribunal Federal (STF), ministra Cármen Lúcia, criticou hoje (21) a organização dos partidos brasileiros, cuja pouca diversidade, mesmo com grande quantidade, seria um dos principais fatores da crise de representatividade política pela qual passa a democracia no país.
"Quem tenha tido o cuidado de ler os programas, e eu li todos mais de uma vez, vê que não tem muita diferença no que eles [partidos] oferecem, quais os seus objetivos, quais os seus principais compromissos", disse Cármen Lúcia. "E nós vemos partidos, portanto, que não têm a diversidade de programas que faria com que optando por um eu esteja dizendo não a outro."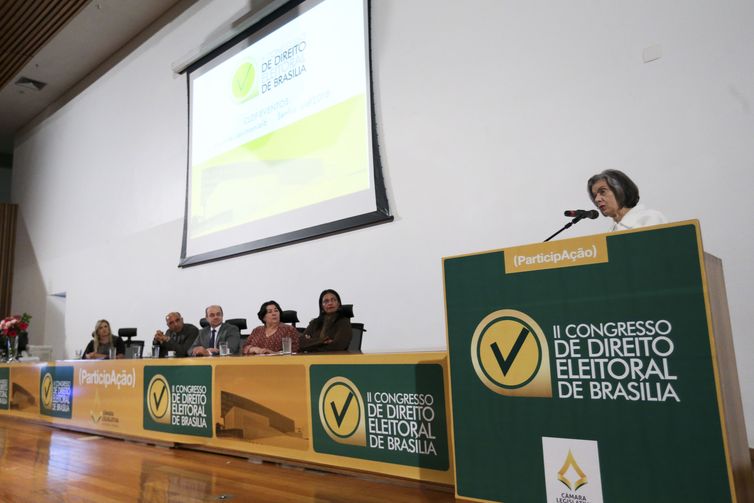 As declarações foram dadas no II Congresso de Direito Eleitoral de Brasília, na Câmara Legislativa do Distrito Federal, ante uma plateia formada em grande parte por deputados distritais e assessores legislativos.
"Nós precisamos ter partidos programáticos, como é no mundo todo, e não pragmáticos, como são muitas vezes os partidos políticos no Brasil", afirmou a presidente do STF.
Partido da Mulher
Ela citou como exemplo o Partido da Mulher Brasileira (PMB), que à época em que obteve seu registro na Justiça Eleitoral tinha em sua diretoria somente homens. "Não é que tivesse que ter só mulheres, mas se ele vai representar mulheres, que haja pelo menos a fala da mulher, para que ela saiba porque que precisa de partido, se é que precisa, com este nome, ou se mais uma vez se trata de retórica, ou seja, uma fala sem compromisso de conteúdo", disse a ministra.
A ministra destacou a grande quantidade de legendas como uma das dificuldades a serem enfrentadas por uma reforma política. "Termos mais de 30 partidos faz com que haja uma atomização de ideias, o que faz com que o cidadão não se sinta representado por nenhum dos partidos".
Demonizar a política
Apesar do discurso crítico à estrutura partidária brasileira, Cármen Lúcia voltou a afirmar o que já havia repetido em discursos anteriores, que não se pode "demonizar" a política.
"Nós podemos ser contra governantes, porque é da democracia a liberdade de opinar, de criticar e de se contrapor. Nós não podemos é ficar contra a política, porque o ser humano ainda não inventou outra forma de convivência no espaço plural de todos se não pela racionalidade que a política nos oferece", disse a ministra.
"Demonizar a política não faz com que nós não tenhamos o caos provavelmente em vários momentos".
Fonte: Agência Brasil.
The news, reports, views and opinions of authors (or source) expressed are their own and do not necessarily represent the views of CRWE World.