Austrália e Dinamarca empataram por 1 a 1 na manhã de hoje, em Samara, pela segunda rodada da Copa do Mundo. Com o empate, a Dinamarca chega aos 4 pontos e assume a liderança provisória do grupo C. 
A seleção australiana marcou seu segundo gol nesta Copa, o segundo de pênalti, marcado pelo mesmo motivo: bola na mão dentro da área. A Austrália soma seu primeiro ponto na Copa e ainda tem chances de classificação para as oitavas-de-final.
A Dinamarca começou melhor o jogo e não demorou a abrir o placar. Aos 7 minutos, Jorgensen deu um ótimo passe para o meio da área, achando Eriksen livre. O camisa 10 dinamarquês pegou em cheio e não deu chances para o goleiro Ryan.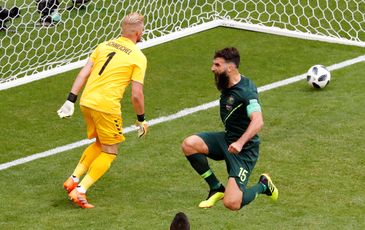 A Austrália tentou assumir as rédeas da partida e a Dinamarca adotava uma estratégia de apertar sua marcação com até cinco jogadores próximo à grande área do adversário. Isso dificultava muito a saída de bola dos australianos, mas, quando conseguiam, tinham um campo mais livre para atacar, uma vez que os dinamarqueses ainda estavam voltando para o campo de defesa.
Aos 35 minutos, o VAR entrou mais uma vez em ação para auxiliar o árbitro. Após cruzamento na área da Dinamarca, a bola bateu no braço de Yurary Pousen, mas o árbitro não viu. Segundos depois, porém, ele parou a partida e conferiu com o árbitro de vídeo. Nesta Copa, nos casos em que árbitro de vídeo é consultado para um possível pênalti, a penalidade acaba confirmada. E foi o que ocorreu. Jedinak cobrou e empatou o jogo para a Austrália.
O segundo tempo foi mais equilibrado e o jogo ficou mais aberto. Os dois times tinham chances, mas erravam o último passe ou eram barrados pelos goleiros, que não foram muito desafiados.
A Austrália ofereceu mais perigo nas poucas chances que teve.O goleiro Schmeichel teve que trabalhar aos 42 minutos para garantir o empate. Em chegada perigosa, Arzani entrou na área pela esquerda e, em vez de cruzar para o meio, chutou forte direto para o gol. Schmeichel espalmou e, na sobra, Leckie arrematou para o gol, mas o goleiro pegou firme, garantindo o resultado.
Fonte: Agência Brasil.
The news, reports, views and opinions of authors (or source) expressed are their own and do not necessarily represent the views of CRWE World.