Marcus Vinicius da Silva, de 14 anos, não queria perder a aula de ontem (20). Ele acordou às 8h, atrasado, e saiu apressado em um caminho que não durava mais de 20 minutos. Correndo como naquele dia, seriam só 15 minutos, mas ele foi baleado e morreu no Hospital Estadual Getúlio Vargas, na noite de ontem. Para a família, o Estado é o culpado pela morte.
Minutos depois que o estudante saiu de casa na manhã de ontem, teve início uma operação da Polícia Civil no Complexo da Maré, onde ele nasceu e foi criado. Segundo a corporação, a ação buscava cumprir 23 mandados de prisão e prender os suspeitos de terem participado da morte do chefe de operações da Delegacia de Combate às Drogas (Dcod). Houve tiroteio, e outras seis pessoas morreram.
Morador da Vila Pinheiro, o adolescente percebeu que não conseguiria cruzar a comunidade em meio aos tiros e chegar até o Centro Integrado de Educação Pública Operário Vicente Mariano, onde estudava. Ele decidiu voltar para casa, mas foi atingido nesse percurso.
A história é narrada pelos pais de Marcus Vinicius, que foram hoje ao Instituto Médico Legal (IML) liberar seu corpo. José Gerson da Silva, de 37 anos, trabalhava como pedreiro quando recebeu a notícia, de uma vizinha.
"Ele já estava próximo de casa. Só precisava andar mais uns 100 metros e já estaria seguro", conta ele, que só conseguiu ver o filho quando já estava entubado, no Hospital Getúlio Vargas, na zona norte do Rio.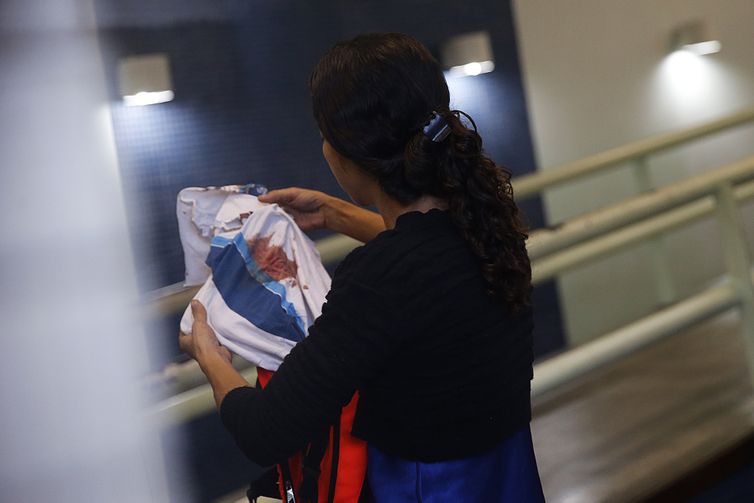 A mãe, Bruna da Silva, de 36 anos, conseguiu conversar com o filho quando ele estava na Unidade de Pronto Atendimento, pelo telefone.
"Ele falou 'ô, mãe, eu nunca mais quero sentir essa dor na minha vida'. Eu falei 'meu filho, fica quietinho e não fala, pra não entrar ar'. Ele disse 'mãe, eu to com sede'. Meu filho morreu com sede".
Indignada, a diarista culpa a polícia pela morte do filho. Os pais do estudante afirmam que testemunhas disseram a eles que os tiros teriam partido de um blindado, que se deparou com Marcus Vinicius na rua e atirou. Bruna afirma ainda que a polícia chegou a impedir que a ambulância entrasse para socorrê-lo na comunidade.
"Não pode mais isso acontecer, chega de alvejar criança. Eles entram na comunidade para destruir famílias", disse a mãe, que tem uma filha mais nova. "Tenho uma caçula de 12 anos, e minha filha está chorando e falando 'eu não tenho mais irmão, tiraram meu irmão'. O que eu posso fazer?", disse.
A mãe do adolescente afirmou que pensa em processar o Estado e não pretende se calar diante do crime. "Eu espero Justiça. Eu não sei se vai haver. Calaram meu filho, mas a mãe não calaram e por ele eu vou falar. Se eu tiver que processar o estado, eu vou processar. Pra não ficar impune".
O pai conta que o filho era alegre e queria ser MC. "Ele gostava muito de funk mas não deu tempo", lamenta José, informado. "Ele estava uniformizado. Como uma pessoa não vai enxergar um uniforme?"
O secretário municipal de educação, César Benjamin, foi ao IML acompanhar a liberação do corpo do adolescente, que estudava em uma escola municipal. Segundo Benjamin, o Palácio da Cidade , sede da prefeitura, está à disposição da família para o velório. O enterro deve ser no Cemitério do Caju.
Fonte: Agência Brasil.
The news, reports, views and opinions of authors (or source) expressed are their own and do not necessarily represent the views of CRWE World.