Em visita hoje (21) a Roraima, o presidente Michel Temer reafirmou a posição de que não é possível fechar a fronteira entre Brasil e Venezuela para evitar a entrada de imigrantes. Segundo Temer, seria "inapropriado" esse tipo de atitude.
Em abril, a governadora do estado, Suely Campos, pediu ao Supremo Tribunal Federal (STF) que determinasse o fechamento temporário da fronteira. Na ocasião, Temer criticou a proposta.
"Não temos como fechar a fronteira, isso seria inapropriado. Estamos todos de acordo que não há como fechar a fronteira, mas também não há como abandonar a necessidade de Boa Vista, Roraima e de todo o Estado", disse Temer hoje ao responder à pergunta de jornalistas na capital Boa Vista. Na cidade, Temer visitou o abrigo Nova Canaã, que recebe imigrantes venezuelanos.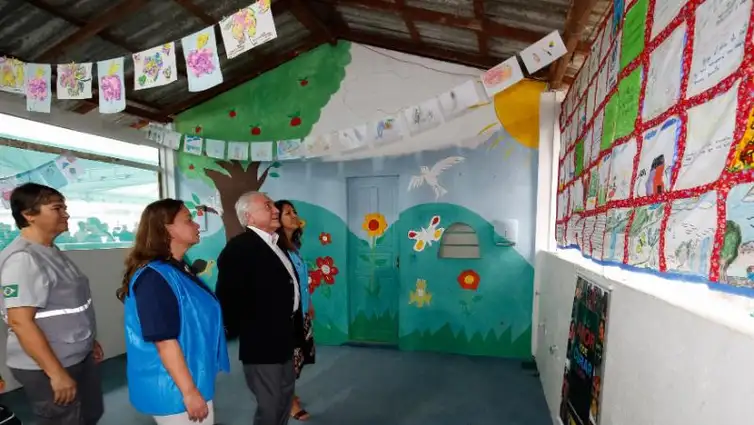 O presidente disse aos jornalistas que recebeu os pedidos da governadora Suely Campos sobre recursos e medidas para enfrentar a situação da entrada permanente dos imigrantes e afirmou vai examiná-los com "muita atenção". Ele lembrou que o governo federal já destinou recursos e adota medidas para a região. "Estou com o pedido da governadora com vários temas que são importantes. Aqui já encaminhamos vários recursos para acolher os venezuelanos e para Roraima", disse.
Em abril, o governo deu início a um processo de de distribuição de imigrantes venezuelanos concentrados em Roraima para outras unidades da federação. O chamado processo de interiorização foi uma estratégia adotada para proporcionar melhores condições aos imigrantes venezuelanos que querem viver e trabalhar no Brasil. 
Ao ser questionado por jornalistas sobre a quantidade ainda pequena de imigrantes que foram transferidos de Roraima para outros estados, Temer respondeu que os venezuelanos não podem ser "despejados" em outras regiões sem antes terem garantidas condições de vida na nova localidade. E explicou que esse trabalho, a cargo da Casa Civil, demanda tempo. De acordo com informação divulgada pelo Palácio do Planalto, atualmente 4,2 mil pessoas estão abrigadas em Roraima e 527 foram interiorizada em Manaus, Cuiabá e São Paulo.
"A imagem que as pessoas têm da interiorização é que você pega os venezuelanos, coloca em um ônibus, um avião, e despeja em outro estado. Não é assim que você faz. Por aí você viola exata e precisamente os princípios humanitários", disse.
Em Roraima, Temer visitou o abrigo Nova Canaã, em Boa Vista. Em seguida, em Pacaraima, ele faz visita ao posto de identificação e recepção dos imigrantes que chegam à cidade fronteiriça. O presidente visita também o posto de triagem da Polícia Federal que oferece ações para receber, identificar, regularizar e imunizar os imigrantes na fronteira.
Fonte: Agência Brasil.
The news, reports, views and opinions of authors (or source) expressed are their own and do not necessarily represent the views of CRWE World.