Antes de iniciar o último treino preparatório para o segundo jogo da Copa do Mundo da Rússia, o técnico Tite anunciou hoje (21) a escalação da seleção brasileira que enfrentará a Costa Rica, em São Petersburgo. No próximo jogo, o zagueiro Thiago Silva usará a braçadeira de capitão, mantendo o rodízio adotado por Tite.
Inicialmente, o Brasil entraria em campo com o mesmo time que começou a partida de estreia, contra a Suíça. No entanto, no fim da tarde, foi anunciada a substituição de Danilo por Fágner, uma vez que o lateral-direito foi diagnosticado com uma lesão muscular na região do quadril direito. A escalação então será: Alisson, Fágner, Thiago Silva, Miranda e Marcelo; Casemiro, Paulinho e Philippe Coutinho; Willian, Neymar e Gabriel Jesus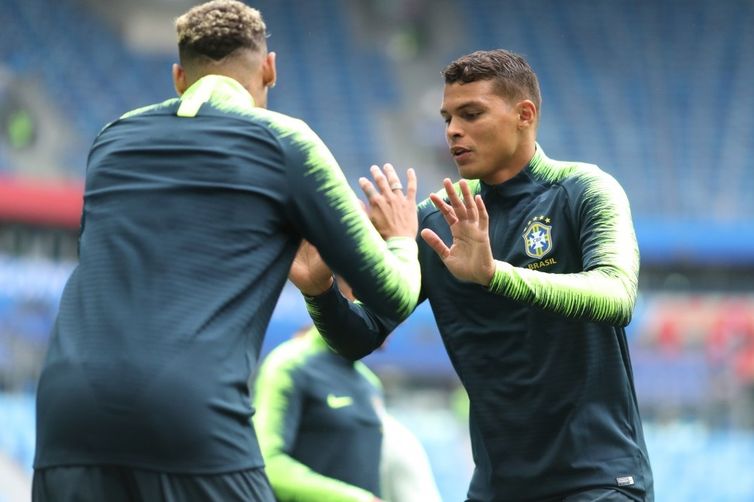 A escalação da equipe brasileira foi anunciada em entrevista coletiva do técnico, na Arena Zenit, em São Petersburgo, palco da partida válida pela segunda rodada do Grupo E da Copa do Mundo. O técnico cobrou uma boa atuação de seus comandados e afirmou que foram feitos ajustes táticos para buscar a primeira vitória na Copa da Rússia. "[É preciso] ser efetivo. Transformar as oportunidades em gol. Continuar proporcionando muito poucas oportunidades ao adversário. Eu também estava na expectativa do primeiro jogo. Hoje, já tem foco maior, abstração maior. Alguns ajustes, vamos continuar fazendo, de posicionamento", argumentou.
Para o zagueiro brasileiro, sua atuação em campo não depende de ser ou não o capitão do time. "Fico bastante tranquilo. É dar o máximo para a seleção brasileira, independentemente de estar com a braçadeira ou não. A gente consegue dividir essa responsabilidade dentro de campo. Temos características diferentes, mas estamos muito bem servidos [de líderes]", afirmou.
Thiago Silva era o capitão brasileiro no Mundial de 2014, quando seleção foi eliminada pela Alemanha, pelo placar de 7 x 1. Para Tite, o zagueiro teve maturidade para recuperar seu espaço no time após o vexame na Copa do Mundo do Brasil. "Se pegássemos todo mundo que foi criticado na última Copa do Mundo, teríamos terra arrasada. E a vida, o futebol não são assim. Coloquei, coerentemente, que havia uma série de atletas com maturidade suficiente para continuar esse rodízio. Thiago é um deles. Quando ele buscou titularidade, não foi por nível baixo. Os três estavam jogando muito. Tem maturidade suficiente para saber da necessidade de resultado, mas antes a necessidade de desempenho", afirmou.
A seleção fez, nesta tarde, um treino de reconhecimento do estádio. Seguindo o protocolo da Fifa, a atividade foi cronometrada: uma hora exata de treinamento. Tite comandou um trabalho tático que ele chama de "treino fantasma": os 11 titulares atuam sozinhos, mas recebem orientações de posicionamento e movimentação. Na segunda parte, enquanto os reservas faziam o mesmo trabalho com os auxiliares do técnico, os titulares treinaram as bolas paradas.
Costa Rica
O time da Costa Rica para enfrentar o Brasil terá uma mudança na lateral esquerda em relação à formação que perdeu para a Sérvia, na abertura do Grupo E da Copa da Rússia. "A única variação será Oviedo no lugar de Calvo. A estrutura será mantida, pensando em um jogo aberto", disse o técnico da Costa Rica, Óscar Ramírez. A Costa Rica terá Navas, Gamboa, Acosta, González, Duarte e Oviedo; Venegas, Borges, Guzmán e Ruiz; e Ureña.
Na entrevista, Ramírez disse que se conformaria com o empate, mas que gostaria de ver a Costa Rica com chances de vencer o Brasil. "Eles, às vezes, deixam o setor defensivo para buscar o contra-ataque, e isso pode nos dar o momento oportuno de ganhar", avaliou. O técnico adiantou que sua equipe vai marcar a seleção brasileira por zona, com atenção especial no atacante Neymar, que classificou como um jogador "habilidoso e com recursos espetaculares".
Ramírez elogiou a preparação da seleção brasileira e sinalizou que seu time não vai apelar às faltas violentas para conter os brasileiros. "Não gostaria que houvesse faltas duras ou outros problemas. Acho que existem outras formas, e os garotos sabem disso", disse. A seleção da Costa Rica também fez hoje reconhecimento de gramado, no Estádio Krestovsky.
A partida Brasil x Costa Rica está marcada para as 9h (horário de Brasília) desta sexta-feira, em São Petersburgo. O Brasil soma um ponto do empate em 1 x 1 com a Suíça, e a Costa Rica ainda não pontuou.
*Com informações da CBF e da Agência EFE
*texto editado às 18h46 para atualizar informações sobre o corte de Danilo
Fonte: Agência Brasil.
The news, reports, views and opinions of authors (or source) expressed are their own and do not necessarily represent the views of CRWE World.
**Disclaimer:The news, reports, views and opinions expressed by the Crowdfunding Platforms that are advertised at crweworld.com are their own and do not necessarily represent the views of CRWE World. Crown Equity Holdings Inc. has received $2,000.00 (two thousand dollars) in cash for 30 days of advertisement services for ChoiceTrade Holdings from Wallstreet Equities Ltd.