O secretário de Educação do município do Rio de Janeiro, César Benjamin, disse hoje (21) que a Secretaria Estadual de Segurança Pública vem descumprindo a instrução normativa que visa a proteger alunos de escolas municipais de operações policiais. Na manhã de ontem, o adolescente Marcus Vinicius da Silva, de 14 anos, foi baleado no Complexo da Maré, onde foi realizada uma operação da Polícia Civil. Segundo a família, ele estava indo para a escola quando foi atingido por tiros. Ele morreu na noite de ontem.
"Essa instrução não está sendo cumprida nas operações policiais mais recentes. Vamos nos reunir com a secretaria de segurança para rediscutir essa instrução e exigir que ela seja cumprida", disse o secretário.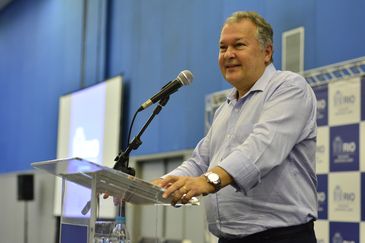 A instrução normativa foi publicada pela Secretaria de Segurança Pública em 15 de agosto do ano passado, após uma série de discussões com a Secretaria Municipal de Educação. O debate ganhou força após a morte da estudante Maria Eduarda, de 13 anos, dentro de uma escola de Acari, na zona norte, também durante uma operação policial.
Segundo o documento, agentes das polícias Civil e Militar devem evitar operações em horários de maior fluxo de entrada e saída de pessoas em áreas próximas a escolas, creches, postos de saúde e hospitais. Além disso, o texto prevê "o não baseamento de recursos operacionais nas entradas e interior de tais estabelecimentos, principalmente, entrada e saída de alunos nos estabelecimentos de ensino". A norma é assinada pelo então secretário estadual de Segurança, Roberto Sá.
César Benjamin afirma que mantém contato diário com a secretaria de Segurança Pública para evitar situações como a de ontem. Segundo ele, a operação fugiu do controle e foi um erro.
"Não quero crucificar as autoridades de segurança, mas elas erraram ontem. Com certeza, erraram", disse. "Mantenho pelo menos 15 contatos por dia com a Secretaria de Segurança. O que aconteceu ontem foi uma situação que saiu do controle por causa de uma operação mal planejada, com excesso de violência."
O secretário acompanhou a família na liberação do corpo de Marcus Vinicius no Instituto Médico-Legal (IML) e afirmou que a prefeitura vai buscar uma nova moradia para a mãe, o pai e a irmã do adolescente.
César Benjamin confirmou ainda que foi necessária uma negociação para que a ambulância que socorreu Marcus Vinicius deixasse a comunidade. Segundo ele, barreiras estabelecidas pela operação atrasaram a saída do veículo.
"Fiquei em contato direto com o secretário de Segurança solicitando a abertura das barreiras, e elas foram abertas", disse. "Houve uma perda de mais ou menos uma hora nessa negociação. Talvez essa hora tenha sido fatal".
A Agência Brasil procurou a Secretaria Estadual de Segurança Pública e a direção da Polícia Civil, mas não recebeu resposta até a publicação desta matéria.
Fonte: Agência Brasil.
The news, reports, views and opinions of authors (or source) expressed are their own and do not necessarily represent the views of CRWE World.