A manhã de hoje (22) foi sofrimento para os brasileiros, que precisaram esperar 90 minutos para gritar gol. Sacramentada a primeira vitória nesta Copa do Mundo, foi a vez de ver o desempenho dos Suíços contra os Sérvios. E a Suíça mostrou ter qualidades suficientes na partida de hoje. Saiu atrás no placar, mas venceu. Pelo grupo D, a Nigéria venceu a Islândia, para a alegria dos argentinos.
Brasil 2 x 0 Costa Rica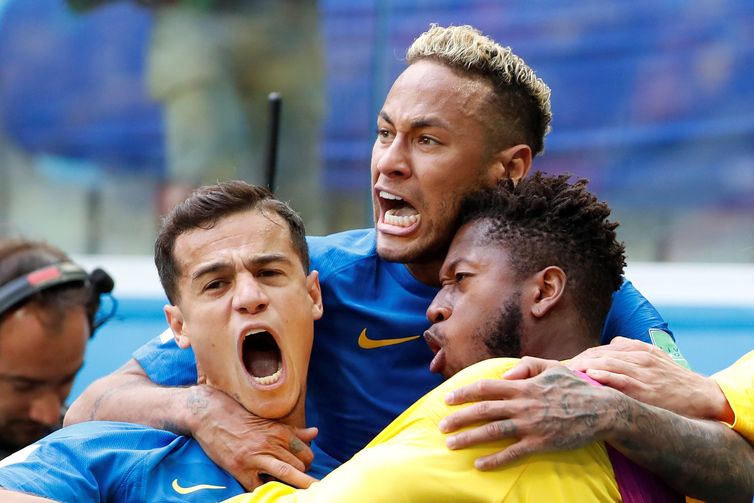 Não há unanimidade sobre o desempenho do Brasil, se jogou bem ou mal. O certo é que o treinador da Costa Rica, Óscar Ramírez, colocou nove dos 11 jogadores do seu time na defesa. O ferrolho caribenho estava montado para enfrentar os brasileiros.
O Brasil só animou a torcida no segundo tempo, com a entrada de Douglas Costa. Ele deu a mobilidade necessária para abrir os espaços e ajudou o restante do ataque aparecer. 
Mas o nervosismo era o maior dos adversários da seleção. Neymar errou um chute que não costuma perder, da entrada da área, e Casemiro contou com o azar ao cabecear à queima-roupa uma bola na trave. Após a cabeçada, o volante ficou se lamentando na grande área e sequer percebeu que a jogada continuava perto dele. Apesar das dificuldades, o time de Tite teve paciência. Não se desesperou cruzando bolas inúteis na área e – usando uma expressão da moda no futebol – "soube sofrer".
O sofrimento, aliás, ainda não acabou. A tomar pelo desempenho do Brasil nos dois primeiros jogos, a partida contra a Sérvia não será fácil. Ao menos, um empate já garante a classificação para as oitavas de final.
Suíça 2 x 1 Sérvia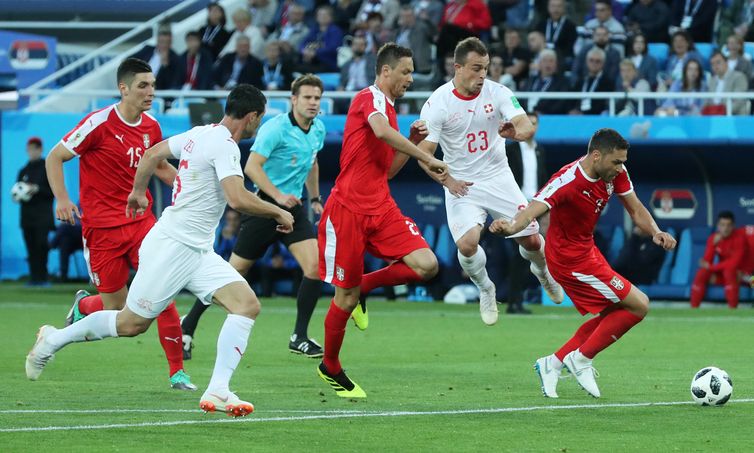 A Suíça que comemorou o empate com o Brasil não esteve em campo hoje. O que se viu foi um time ofensivo, ágil e perigoso. Nem o gol sofrido aos 4 minutos de jogo desesperou o time do técnico Vladmir Petkovic. A vitória, comandada pelo habilidoso Shaqiri, mostrou que a Suíça pode ficar um pouco mais de tempo na Rússia.
Assim como o Brasil, a Suíça vai às oitavas de final com um empate. Na última rodada enfrenta a Costa Rica. A postura do time costa-riquenho na última rodada será uma incógnita. Já eliminada, não se sabe se serão competitivos como foram hoje.
Já a Sérvia, que começou a rodada na liderança, ligou o sinal de alerta. Precisará vencer a seleção brasileira para se classificar.
De positivo no jogo de hoje, é possível destacar a atuação do centroavante Mitrovic. O camisa 9 explora bem seu 1,89m para ganhar quase todas as jogadas de cabeça. Foi assim que marcou contra a Suíça e é assim que poderá ameaçar a zaga brasileira, formada por Miranda (1,86m) e Thiago Silva (1,83m).
Nigéria 2 x 0 Islândia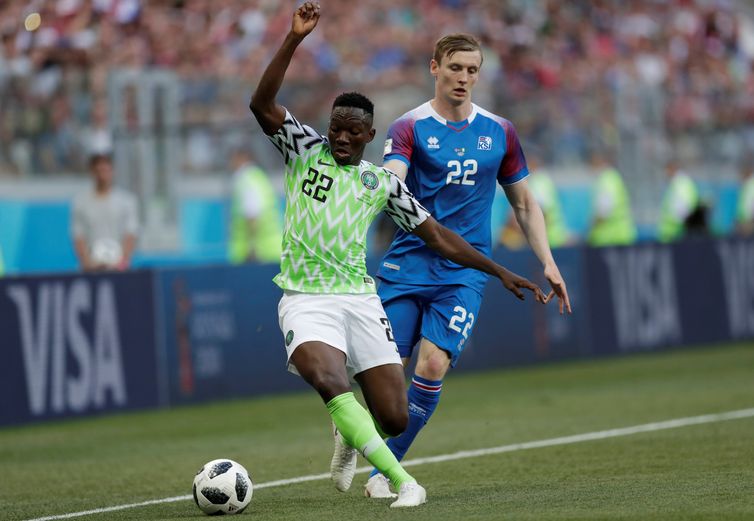 A vitória da Nigéria foi muito comemorada no país africano e também em Buenos Aires. Aos argentinos, restou torcer pelos nigerianos após o fiasco na partida de ontem, contra a Croácia. A vitória do time africano impediu a Islândia de passar a Argentina em pontos e garantir a classificação com um empate na última rodada.
Assim, o time de Messi precisará vencer, é claro, a própria Nigéria e torcer pela lógica: a líder Croácia não perder para a Islândia. Caso argentinos e islandeses vençam seus jogos, a classificação será do time que tiver melhor saldo de gols.
É possível, no entanto, que o tiro portenho saia pela culatra. O time nigeriano não é tão inocente quanto pareceu em sua estreia contra a Croácia. No jogo de hoje, a Islândia partiu para o ataque, mas sucumbiu à velocidade africana nos contra-ataques. A tendência é que esse artifício seja novamente explorado contra a defesa lenta da Argentina. Hoje, o atacante Musa foi o herói em Buenos Aires. Semana que vem poderá ser o vilão.
À Islândia resta vencer a Croácia, já classificada. Estreante em Copas do Mundo, os islandeses não fazem feio na Rússia. Apesar da derrota, jogaram buscando a vitória e querendo mais do que a fase de grupos. Chegam com chances de classificação, mas precisarão melhorar a pontaria, inclusive nos pênaltis. Na partida de hoje, G. Sigurdsson teve a chance de diminuir o placar e desperdiçou uma penalidade.
Fonte: Agência Brasil.
The news, reports, views and opinions of authors (or source) expressed are their own and do not necessarily represent the views of CRWE World.