O décimo dia de Copa do Mundo será crucial para Tunísia, Coreia do Sul e Alemanha. Os atuais campeões não querem repetir o fiasco espanhol em 2014. Na Copa realizada no Brasil, a Espanha, com o selo de campeão mundial na camisa, foi eliminada ainda na primeira fase. Para seguir na briga, os alemães terão que vencer a Suécia.
Hoje também é dia de ver a Bélgica. Um dos cotados a ir longe no torneio, o time de Hazard e Lukaku ainda não foram realmente testados na Copa. Após a vitória descomplicada contra o Panamá, enfrentarão a Tunísia hoje. A seleção africana mostrou qualidades defensivas suficientes para complicar um pouco mais a vida dos belgas. 
Bélgica x Tunísia – 9h, Moscou
Os belgas abrem o décimo dia da Copa do Mundo contra a Tunísia. Com um time ofensivamente muito habilidoso e perigoso, a Bélgica pode ficar muito próxima da vaga caso vença esta partida. Se vencer a Tunísia e no outro jogo do grupo, que ocorre amanhã (24), a Inglaterra vencer o Panamá, as duas seleções europeias garantem a vaga antecipadamente.
Para confirmar o favoritismo, a expectativa é que o técnico da Bélgica Roberto Martinez escale o mesmo time que venceu o Panamá na primeira rodada. Martinez elogiou o time africano e disse que os jogadores são polivalentes e podem surpreender. "A Tunísia evoluiu. Os jogadores têm surpreendido muitos times. Eles são flexíveis e provavelmente o time mais dinâmico que enfrentamos. Precisamos ser nós mesmos e fazer ainda melhor do que fizemos contra o Panamá".
Contra a Inglaterra, na primeira rodada, a Tunísia fez gol e mostrou valentia, sendo derrotada apenas nos últimos minutos do jogo. Se quiser se manter na disputa por uma classificação, o time do técnico Nabil Maaloul precisará pontuar.
"Claro que estamos mais pressionados depois do primeiro resultado. Não temos outro jeito, devemos vencer o jogo e a Bélgica; para mim, é o melhor time do grupo. Faremos algumas mudanças. Eles têm Hazard e seu meio campo é muito bom", disse Maaloul em coletiva de imprensa ontem (22).
México x Coreia do Sul – 12h, Rostov
A surpreendente vitória sobre a Alemanha deu ao México o protagonismo do grupo F. Depois de passarem pelo atual campeão mundial, os mexicanos enfrentam os sul-coreanos podendo ficar muito próximos da vaga às oitavas. O time terá como armas a velocidade de Lozano e "Chicharito" Hernandez.
O time asiático, por sua vez, precisa somar pontos e não pode pensar nos obstáculos. Sejam eles o time mexicano ou o forte calor que faz em Rostov. Não raro a temperatura é tema das coletivas pré-jogo, sobretudo quando seleções de países de clima frio jogam em dias quentes.
"O clima quente poderia ser um outro fator neste jogo, já que os mexicanos têm vantagem no que diz respeito a jogar sob um calor tão sufocante. Poderia ser um problema para nós, mas depois que o sol baixar isso não será um grande problema", disse o treinador sul-coreano Shin Taeyong.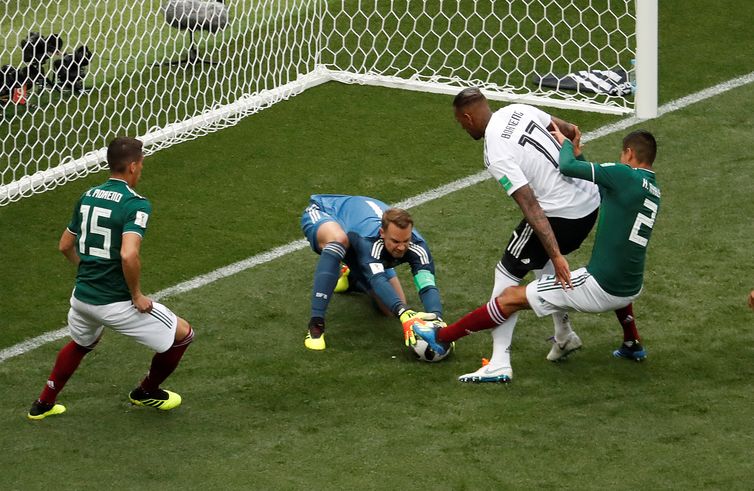 Alemanha x Suécia – 15h, Sochi
Antes da Copa do Mundo começar, a Alemanha era vista como a seleção a ser batida. Campeã da última Copa, jogando um futebol convincente e exuberante, a seleção do técnico Joachim Löw se vê em uma situação inesperada. Se perder, está fora.
A derrota para o México na primeira rodada colocou pressão nos alemães. O zagueiro Mats Hummels tratou de mostrar otimismo para a sequência do torneio. "Acreditamos que podemos dar a volta por cima. Sabemos que podemos fazer muito melhor", disse. O centroavante Mario Gómez elogiou a atuação dos mexicanos, mas defendeu o estilo ofensivo que deixou o time exposto a contra-ataques.
"Não existem muitos times capazes de expor nossas fraquezas como o México fez. Eles contra-atacaram com uma eficiência brutal que eu raramente havia visto. Foi um tiro de advertência para nós, mas não acredito que temos que mudar a identidade [tática] do time agora".
A Suécia chega para a partida com o conforto de já ter uma vitória na competição. O 1 x 0 contra a Coreia do Sul, no entanto, mostrou que os suecos não foram dominantes e tiveram dificuldades de se impor. Contra os alemães, a tendência é que os escandinavos apostem nos contra-ataques.
O treinador Janne Andersson procurou mostrar tranquilidade antes do jogo. "São por esses momentos que vivemos, pelos quais trabalhamos nossa carreira inteira. É divertido e excitante. Esperamos alcançar um [bom] resultado. É uma oportunidade fantástica para avançar [para as oitavas-de-final] já no segundo jogo".
Fonte: Agência Brasil.
The news, reports, views and opinions of authors (or source) expressed are their own and do not necessarily represent the views of CRWE World.