O México tenta hoje (23) contra a Coreia do Sul repetir o excelente desempenho da estreia na Copa do Mundo Rússia 2018, quando derrotou a atual campeão mundial, a Alemanha, por 1 a 0. As duas seleções estão jogando agora na Arena Rostov, em Rostov, pela segunda rodada do Grupo F. Os mexicanos são líderes com três pontos, ao lado da Suécia, que venceu os sul-coreanos por 1 a 0.
A equipe Mexicana é treinada Juan Carlos Osorio, conhecido do torcedor brasileiro por ter dirigido o time do São Paulo. Para Osório, é importante que os jogadores mexicanos esqueçam o resultado conseguido contra a seleção alemã e enfrentem os coreanos sem pensar no que aconteceu na primeira rodada.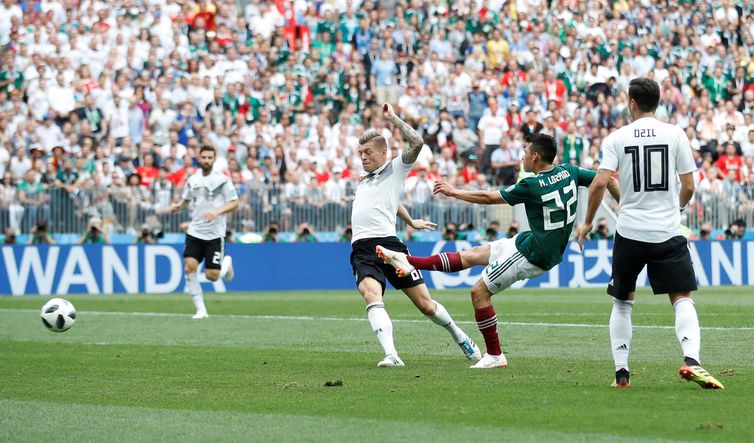 O treinador Tae-Young Shin, da Coreia do Sul, joga sem o seu lateral-esquerdo titular. Park Joo-ho, foi vetado para o jogo de hoje por causa de uma lesão na coxa direita. Ele foi substituído por Kim Min-Woo. Como perdeu na primeira rodada para a Suécia, Shin precisa vencer o México para conseguir os primeiros pontos na competição. O craque do time é Son Heung-Min, que joga no Tottenham da Inglaterra.
A Coreia do Sul está em campo com Cho Hyun-Woo; Lee Young, Jang Hyun-Soo, Kim Young-Gwon e Kim Min-Woo; Lee Jae-Sung, Ki Sung-yueng e Jung Woo-Young; Hwang Hee-Chan, Lee Seung-Woo e Son Heung-Min.
Osório escalou o México com Guillermo Ochoa; Carlos Salcedo, Hugo Ayala, Héctor Moreno e Jesús Gallardo; Héctor Herrera, Andrés Guardado, Miguel Layún e Carlos Vela; Hirving Lozano e Javier Chicharito Hernández
O sérvio Milorad Mazic é árbitro central. Ele tem como assistentes os compatriotas Milovan Ristic e Dalibor Djurdjevic.
Fonte: Agência Brasil.
The news, reports, views and opinions of authors (or source) expressed are their own and do not necessarily represent the views of CRWE World.