Pela segunda rodada do Grupo G da Copa do Mundo, Bélgica e Tunísia jogam neste momento na Arena Spartak, em Moscou. Depois de vencer o Panamá por 3 a 0, na primeira rodada, a seleção belga garante praticamente a sua classificação hoje (23) para a próxima fase da competição se derrotar a Tunísia. Os destaques belga são os jogadores Kevin De Bruyne, Eden Hazard e Romelu Lukaku.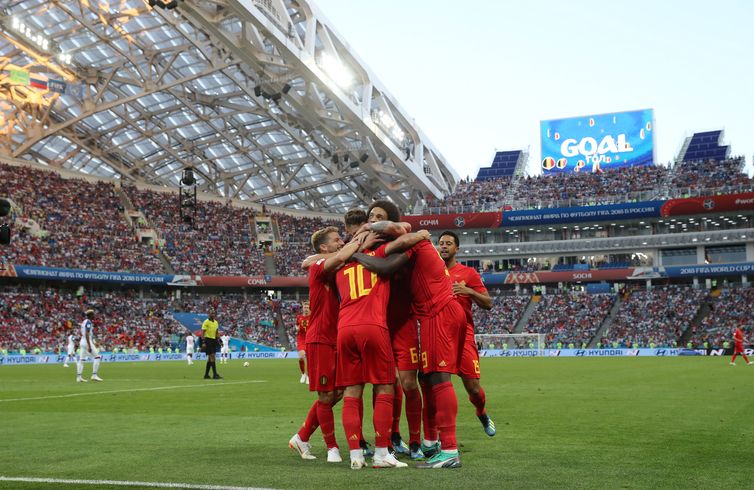 Para a equipe africana, só a vitória mantém as chances de ir para as oitavas de final. Na primeira rodada, a Tunísia fez um jogo duro contra a Inglaterra, mas acabou perdendo por 2 a 1, sofrendo um gol nos últimos minutos da partida.
O treinador da Bélgica Roberto Martínez escalou o time com: Thibaut Courtois, Toby Alternierend, Dedryck Boyata e Jan Vertonghen; Thomas Meunier, Axel Witsel, Kevin De Bruyne e Yannick Ferreira-Carrasco; Dries Mertens, Eden Hazard e Romelu Lukaku.
A Tunísia joga com: Ben Mustapha, Dylan Bronn, Syam Ben Youssef, Yassine Meriah e Ali Maàloul; Ellyes Skhiri, Fakhreddine Ben Youssef, Ferjani Sassi, Anice Badri e Naim Sliti; Wahbi Khazr. O time é comandado pelo técnico Nabil Maaloul.
A partida está sendo arbitrada por Jair Marrufo, dos Estados Unidos, tendo como assistentes Corey Rockwell, também dos Estados Unidos; e Juan Zumba, da Eslovênia.
Fonte: Agência Brasil.
The news, reports, views and opinions of authors (or source) expressed are their own and do not necessarily represent the views of CRWE World.