Independente do futuro de alemães e suecos nesta Copa, o confronto de hoje (23) entre eles foi histórico. A Alemanha virou o jogo – 2 x 1 – no último lance, em uma partida com a dose máxima de todos os contornos dramáticos que o futebol pode ter. O nome do jogo foi Toni Kroos. Ele fez o estádio Fisht, em Sochi, explodir em assombro e êxtase com um gol derradeiro.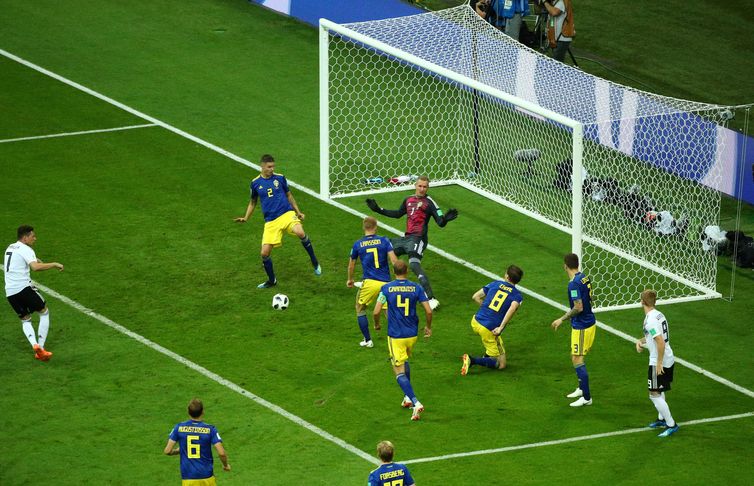 A Suécia se defendeu bem o jogo inteiro, puxou bons contra-ataques e abriu o placar. Com uma proposta bem definida de esperar a Alemanha em sua área, a seleção escandinava foi bem-sucedida quase o tempo todo. O abatimento dos suecos e da sua torcida após o apito final denunciou duro golpe sofrido após mais de 90 minutos de uma boa partida.
O jogo
Nos primeiros minutos a Alemanha jogou como um rolo compressor para cima da Suécia. Aos 2 minutos, Granqvist salvou um gol certo do alemão Marco Reus dentro da grande área. Reus pegou o rebote do goleiro, já batido no lance, e chutou de voleio, mas o zagueiro sueco se jogou na frente da bola, desviando o chute.
O domínio alemão era flagrante. Nos primeiros dez minutos de jogo, o time do técnico Joachim Löw trocou 122 passes, enquanto os suecos haviam passado a bola apenas seis vezes. A Alemanha continuou cercando com perigo a área do adversário, mas a Suécia tinha a oportunidade dos contra-ataques.
Na primeira investida sueca em velocidade, Forsberg caiu e reclamou de uma falta antes de entrar na área. Já a segunda foi mais perigosa. Berg entrou na área e, marcado por dois defensores, caiu antes de finalizar. Berg, todo restante do time sueco e grande parte da torcida pediram pênalti, mas o árbitro polonês Szymon Marciniak sequer consultou o assistente de vídeo.
A Suécia conseguiu resistir à pressão inicial dos alemães e foi fatal em um de seus ataques. Aos 30 minutos, chegou ao gol, com Toivonen. Ele recebeu um bom passe na grande área, matou no peito e deu um toque por cima do goleiro Neuer com muita categoria.
Aos 38 minutos, por muito pouco o empate alemão não aconteceu. Gündogan arriscou um chute de longe e o goleiro Olsen fez ótima defesa no canto. Müller não conseguiu aproveitar o rebote.
Segundo tempo
No segundo tempo, a Alemanha voltou a pressionar, assim como no primeiro tempo. Mas dessa vez, o gol saiu. Aos 2 minutos, Reus aproveitou o cruzamento de Mario Gómez e empatou a partida. Curiosamente, Mario Gómez, com 1,89, entrou no segundo tempo da partida para receber cruzamentos na área e não para fazê-los.
Foi o segundo tempo de um time só. A Alemanha pressionava, mas estava nervosa. A Suécia pouco subia ao ataque, satisfeita com o resultado. A expulsão de Boateng, após receber o segundo cartão amarelo, deixou a Alemanha com um a menos nos últimos 15 minutos.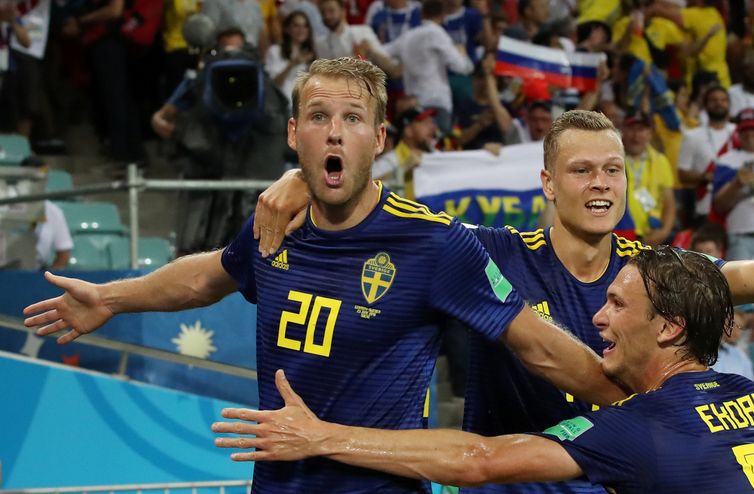 Aos 42 minutos, Gómez fez o que se esperava dele. Após cruzamento na área, o centroavante alemão cabeceou para o gol, mas o goleiro Olsen fez uma grande defesa. Aos 46, quase veio a virada. Brandt acertou um chute de fora da área e a bola explodiu no travessão. Parecia que os deuses do futebol eram suecos. Mas só parecia.
Quando tudo parecia decidido, aconteceu o improvável. Em cobrança de falta, pelo lado esquerdo da área sueca, no último lance da partida, Kroos acertou um lindo chute, no ângulo do gol de Olsen. Kroos chutou com espaço, sem obstáculos à frente. Os dois únicos homens que faziam a barreira sueca não foram suficientes para fechar o ângulo do chute.
Com a vitória, a Alemanha ressurge na competição. E pode se classificar às oitavas de final com uma vitória sobre a Coreia do Sul. Caso a Suécia vença o México, essas duas seleções, além da Alemanha, ficariam com 6 pontos e a definição dos classificados seria por critérios de desempate, como saldo de gols e confronto direto.
Alemanha e Coreia do Sul se enfrentam na quarta-feira (27), às 11h. Suecos e mexicanos jogam no mesmo dia e horário, em Ecaterimburgo.
Fonte: Agência Brasil.
The news, reports, views and opinions of authors (or source) expressed are their own and do not necessarily represent the views of CRWE World.