O nome de Felipe Baloy jamais será esquecido na história do futebol panamenho. Foi do zagueiro reserva a honra de marcar o primeiro gol do país em Copas do Mundo. Ele entrou em campo aos 23 minutos do segundo tempo contra a Inglaterra para fazer a alegria da torcida. Ao final da partida, Baloy foi o mais abraçado pelo time. E pouco importava que a Inglaterra tivesse marcado seis gols antes desse. Foi um final onde todos na arquibancada, independente do resultado, saíram satisfeitos.
Do outro lado da história, a Inglaterra jogou sem dificuldades, contra um time que deu espaços. O Panamá mudou a forma de jogar em relação à partida contra a Bélgica, quando se fechou toda na defesa, e tentou avançar mais ao ataque. Com isso, foi fácil para os ingleses golearem. O 6x1 de hoje foi a maior goleada registrada até agora neste mundial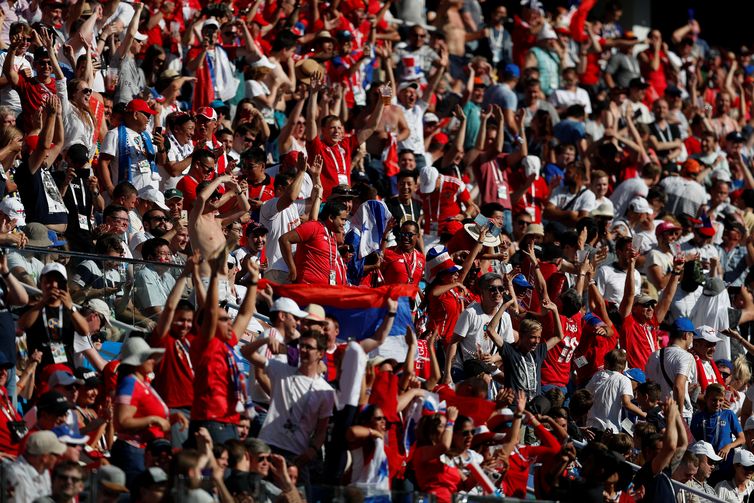 O inglês Harry Kane é o artilheiro da Copa até o momento, com cinco gols. Dos três gols que o centroavante inglês marcou hoje, dois foram em cobranças de pênalti e um foi desviando, ainda que sem querer, um chute do meio-campista Loftus-Cheek.
O jogo
A rede começou a balançar cedo em Nizhny Novgorod. Aos 8 minutos, Stones aproveitou a cobrança de escanteio e abriu o placar. Aos 21, Harry Kane marcou de pênalti após Lingard ser derrubado na área.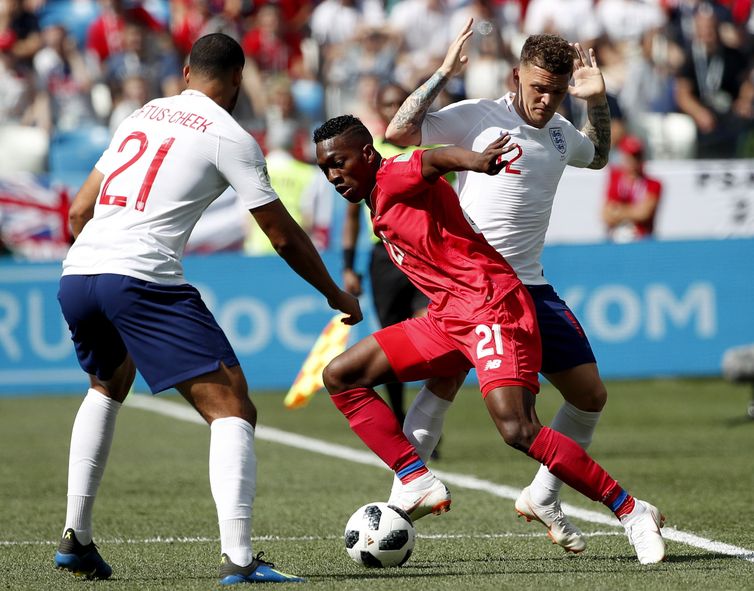 A Inglaterra jogava com facilidade. Não precisava forçar muito para ameaçar o gol de Penedo. E foi com relativa naturalidade que o terceiro gol veio. Lingard recebeu perto na área e acertou um chute perfeito, sem chances de defesa.
A goleada se materializou aos 39 minutos, novamente com o zagueiro Stones. O quarto gol saiu após uma jogada ensaiada, com a participação de Henderson, Kane e Sterling, que finalizou para a boa defesa de Penedo. Mas o zagueiro inglês pegou o rebote para marcar seu segundo gol no jogo.
O árbitro marcou mais um pênalti aos 45 minutos, após Stones ter sido agarrado na área. Kane fez uma repetição idêntica da primeira cobrança. Forte, no canto superior direito do goleiro. E o primeiro tempo terminou com 5 x 0 no placar.
Segundo tempo
Aos 16 minutos, veio o sexto gol. Loftus-Cheek chutou de longe, sem muito perigo, mas a bola desviou em Harry Kane no caminho e enganou o goleiro Penedo. Os panamenhos reclamaram de impedimento na jogada, mas nem o árbitro em campo nem o árbitro de vídeo anularam o gol.
Aos 20 minutos, a grande chance do Panamá fazer seu primeiro gol em uma Copa do Mundo. Murillo recebeu na área em velocidade e tentou tocar por cima de Pickford, mas o goleiro conseguiu desviar.
Aos 29, por uma questão de centímetros Torres não entrou para a história do futebol panamenho como o autor do primeiro gol do país em Copas. Após o cruzamento na área inglesa, o zagueiro concluiu para o gol, a bola passou perto da trave direita de Pickford, mas foi para fora. Era a segunda grande chance do Panamá marcar seu gol, que viria em seguida.
A glória foi para Baloy:  aos 32 minutos, o zagueiro aproveitou a falta cobrada dentro da área inglesa e se esticou todo para tocar para o gol. As arquibancadas imediatamente viraram uma festa caribenha. Parecia o gol da vitória, embora fosse apenas o gol de honra.
Com o resultado, Inglaterra e Bélgica estão classificadas para a segunda fase da Copa do Mundo, e se enfrentam para definir quem será o primeiro colocado do grupo. Tunísia e Panamá jogam para cumprir tabela, mas também por resultados históricos. O Panamá pode conquistar sua primeira vitória na história das Copas e a Tunísia quer voltar a vencer no torneio. A primeira e única vitória dos africanos foi na Copa de 1978, contra o México.
Fonte: Agência Brasil.
The news, reports, views and opinions of authors (or source) expressed are their own and do not necessarily represent the views of CRWE World.