Japão e Senegal fizeram um jogo movimentado hoje (24) em Ecaterimburgo, com quatro gols e muita disposição. O empate em 2 x 2 mostrou um Japão veloz, que jogou de igual para igual com um time mais alto e fisicamente mais forte. O empate foi justo e refletiu o que foi o jogo. Os momentos de superioridade se alternaram entre asiáticos e africanos em vários momentos do jogo
O resultado dá aos dois times a vantagem do empate na última rodada para garantirem a classificação. As duas seleções têm 4 pontos no grupo H. Independente do resultado entre Polônia e Colômbia, que jogam ainda hoje, senegaleses e japoneses continuarão nas duas primeiras colocações ao fim desta segunda rodada.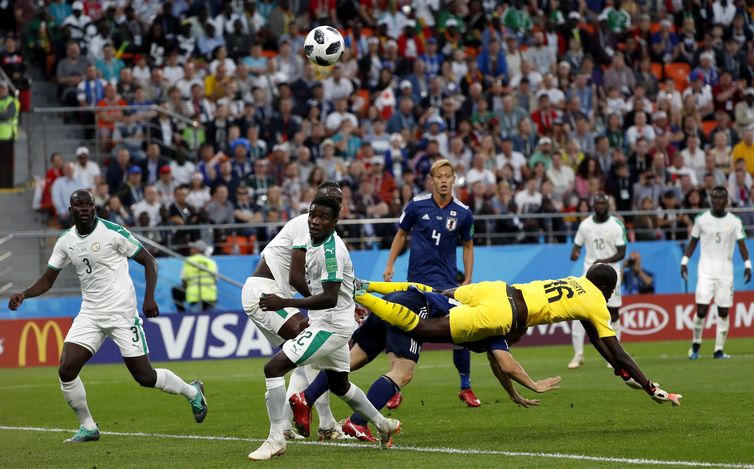 O jogo
Senegal começou o jogo pressionando, com mais volume de jogo e dando pouco espaço para os japoneses atacarem. Aos 11 minutos, os africanos chegaram ao primeiro gol, com Sadio Mané. Sabaly chutou já dentro da área e Kawashima espalmou. Mas Mané estava bem colocado, na frente do goleiro japonês. A bola rebatida por Kawashima bateu nas pernas do camisa 10 senegalês e entrou.
Após sofrer o gol, o Japão melhorou na partida, ficando com mais posse de bola e presença no campo adversário. E o empate veio aos 33 minutos. Nagatomo entrou na área e tocou para Inui, que acertou o canto do goleiro K. N'Diaye com um belo chute. Aos 38 minutos, o Senegal tentou responder com um ataque rápido. Niang chegou ao ataque com velocidade, acompanhado pela defesa japonesa. Ele bateu para o gol, mas Kawashima defendeu.
Segundo tempo
O Japão começou um pouco melhor a segunda etapa. E aos 14 minutos, por muito pouco não veio a virada japonesa. Shibazaki cruzou rasteiro dentro da pequena área para Osako, mas o atacante japonês furou na hora da conclusão. Pouco depois, Inui quase marcou seu segundo gol no jogo. Recebeu passe de calcanhar de Osako pela esquerda do ataque e deu um chute forte. A bola explodiu no travessão enquanto o goleiro senegalês só pode olhar.
Percebendo o perigo que rondava a área, o Senegal tratou de atacar. Sabaly, pela esquerda da área, cruzou para o meio, Niang ajeitou de calcanhar e Wagué, vindo pelo lado direito, fuzilou para o gol. Senegal 2 x 1 e festa africana na arquibancada.
Àquela altura da partida, o Japão não merecia a derrota. E a justiça, que nem sempre está presente no futebol, foi feita aos 32 minutos. Após cruzamento na área africana, o goleiro saiu mal do gol e a bola sobrou para Inui rente à linha de fundo. Ele cruzou rasteiro para Honda. O meio-campista veterano da seleção japonesa dominou e bateu para o gol, empatando o jogo.
Na última rodada da primeira fase o Japão enfrenta a Polônia em Volgogrado e Senegal joga contra a Colômbia em Samara. As duas partidas acontecerão na próxima quinta-feira (28) às 11h.
Fonte: Agência Brasil.
The news, reports, views and opinions of authors (or source) expressed are their own and do not necessarily represent the views of CRWE World.
**Disclaimer:The news, reports, views and opinions expressed by the Crowdfunding Platforms that are advertised at crweworld.com are their own and do not necessarily represent the views of CRWE World. Crown Equity Holdings Inc. has received $2,000.00 (two thousand dollars) in cash for 30 days of advertisement services for ChoiceTrade Holdings from Wallstreet Equities Ltd.