Único pentacampeão da Seleção Brasileira ainda em atividade, o zagueiro Lúcio sonha com uma final de Copa do Mundo entre Brasil e Argentina. "Seria a final dos sonhos, um jogo muito especial, pela rivalidade que tem", disse o jogador, em entrevista ao programa Conversa com Roseann Kennedy, na TV Brasil, que vai ao ar nesta segunda-feira (25), às 21h45,

No Mundial deste ano, porém, os argentinos não andam muito bem, ressaltou Lúcio. Para ele, a Argentina tem grandes jogadores, que, entretanto, não estão conseguindo formar uma grande seleção. O zagueiro lembrou que na Copa de 2014, no Brasil, os argentinos chegaram à final, e brincou: "ainda bem que a Alemanha ganhou".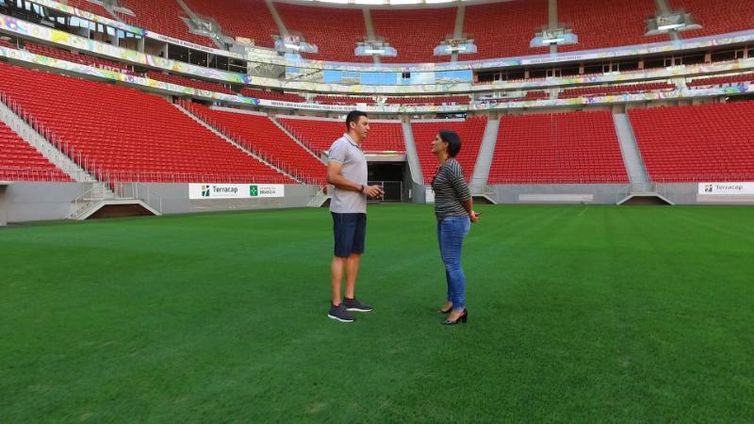 Disputar a final com a Alemanha também seria emocionante, acrescentou o zagueiro, desde que fosse com vitória brasileira. Situação bem diferente do que ele chamou de "tragédia dos 7x1".
Lúcio disse que agradece por não ter de carregar o peso daquela derrota no currículo. "Não diria que é um alívio [não ter participado daquela Copa], mas é claro que ninguém vai ficar contente sendo lembrado numa tragédia daquela, porque no futebol, dificilmente vai acontecer isso de novo. Agradeço a Deus por já ter participado de outras três edições e ter saído ileso."
Durante 11 anos, Lúcio vestiu a camisa 3 da seleção, participou de 106 jogos e fez cinco gols. Além da Copa do Mundo de 2002, o zagueiro conquistou a taça da Copa das Confederações em 2005 e 2009. Na última, era o capitão do time e marcou o gol da vitória, por 3x2, contra os Estados Unidos.  
Sobre a função de capitão, ele diz que não é somente somente dentro do campo e no treinamento. É preciso ter entrosamento, compreensão e o respeito dos colegas. "A parte de orientação dentro do campo é a parte mais fácil. O dia a dia é o mais difícil: unir o grupo e passar a motivação para a equipe chegar bem nos jogos."
O jogador ressaltou a importância do equilíbrio emocional para os jogadores, afirmando que, para jogar em um estádio com 80 mil pessoas, em uma Copa, com o mundo inteiro assistindo, é preciso ter a cabeça no lugar. "Tem de ter uma mente forte para ter tranquilidade e deixar fluir sua técnica, seu talento e seu dom dentro do campo."
Para Lúcio, o mais difícil de vestir a camisa da seleção é chegar lá. Hoje em dia, não só no Brasil, mas no mundo inteiro, o primeiro sonho de qualquer garoto é ser jogador de futebol e, depois jogar na seleção, enfatizou o zagueiro. Por isso, disse ele, ser escalado é o maior desafio.

"É um processo muito árduo, muito concorrido também. Depois, é dar continuidade, mostrar talento, é ter a responsabilidade e a consciência de que você representa uma nação, um país. Jogar na seleção brasileira, além da responsabilidade, também tem a alegria e o prazer de você estar realizando um sonho", acrescentou.
Além de ter jogado na seleção, Lúcio passou por grandes times e ganhou campeonatos em praticamente todos. Vestiu a camisa de grandes clubes brasileitos, como Internacional, Palmeiras e São Paulo, e europeus, como Internazionale de Milão e Bayern de Munique. Foi eleito melhor jogador do Campeonato Alemão de 2001-2002 e conquistou a Liga dos Campeões da Europa de 2010 e o Mundial Interclubes. Voltou para a terra natal, joga no Brasiliense e já pensa em se aposentar, mas avisa que, profissionalmente, pode pendurar a chuteira, mas, parar de jogar nunca.
Fonte: Agência Brasil.
The news, reports, views and opinions of authors (or source) expressed are their own and do not necessarily represent the views of CRWE World.