As seleções de Portugal e do Irã iniciaram a partida na Mordovia Arena, em Saransk, com muita disputa de bola no meio de campo e velocidade no ataque. A primeira jogada perigosa aconteceu aos três minutos, com Cristiano Ronaldo, que, pelo lado esquerdo da área iraniana, chutou forte para a defesa em dois tempos do goleiro Alireza Beiranvand.
Dois minutos depois, o ataque iraniano consegue uma jogada perigosa, com uma infiltração pelo lado direito. A bola chega dividida para o goleiro Rui Patrício, que faz uma defesa corajosa bloqueando o chute do atacante do Irã. Aos 11 minutos, o ataque do Irã escapa pela direita com Jahanbakhsh. Ele passa a bola para Amiri, que finaliza para fora.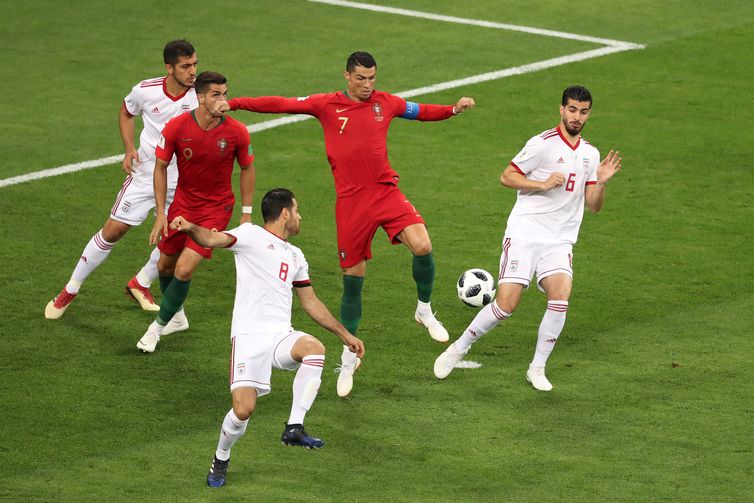 Na maior parte do tempo, as duas seleções tentam chegar ao gol em jogadas pelos lados do campo. Aos 17 minutos, Quaresma bate escanteio pelo lado esquerdo, William Carvalho ajeita a bola de cabeça pra Fonte, o zagueiro chuta da entrada da área, mas a bola é bloqueada por Hosseini.
O ataque do Irã responde com uma falta batida da entrada da área por Ramin, a bola passa da barreira de Portugal, mas sai ao do gol de Rui Patrício. O jogo segue igual, com as duas seleções trabalhando a bola até encontrar o melhor momento para ir ao ataque. Cristiano Ronaldo tem se movimentado por vários setores do ataque, procurando confundir a forte marcação da defesa iraniana.
Preocupado em marcar Cristiano Ronaldo, a defesa iraniana esquece livre Quaresma pelo lado direito. É nessa situação que, aos 44 minutos, ele recebe um passe de Adrian Silva. O atacante avança e, na entrada da área bate forte no canto direito do goleiro Beiranvand, que salta, mas não consegue evitar o primeiro gol de Portugal. Um minuto depois, o árbitro Enrique Cáceres apita o fim do primeiro tempo.
Fonte: Agência Brasil.
The news, reports, views and opinions of authors (or source) expressed are their own and do not necessarily represent the views of CRWE World.