A seleção do Uruguai não teve qualquer dificuldade para vencer a Rússia por 3 a 0,na Cosmos Arena, em Samara. Aos oito minutos de jogo, a Celeste Olímpica já colocava 1 a 0 no placar com o artilheiro Suárez. As duas equipes começaram o jogo em alta velocidade. Aos 8 minutos, em uma jogada de contra-ataque, depois de uma saída de bola errada da defesa russa, Betancur sofre falta na entrada da área. Suárez bate forte no canto do goleiro Akinfeev, que apenas olha a bola entrar.
Depois do gol, os russos se lançam ao ataque tentando o empate, deixando a defesa desguarnecida. Apesar de várias chances de gol, é o Uruguai que consegue fazer 2 a 0, aos 22 minutos. Após cruzamento na área, a defesa russa rebate e a bola sobra para Laxalt. Ele chuta, a bola desvia em Cheryshev, desloca o goleiro Akinfeev e entra no gol.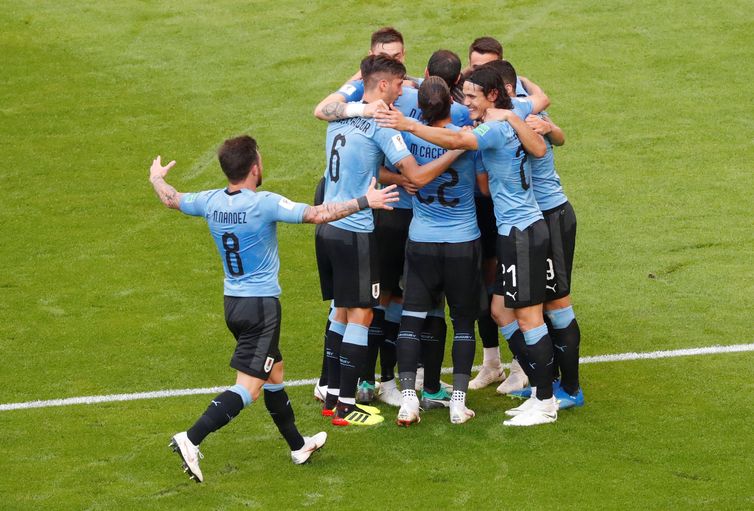 Aos 28 minutos, a seleção do Uruguai quase faz o terceiro gol, depois de Suárez e Betancur tabelarem pela direita, Betancur toca na saída de Akinfeev, que defende. A sobra fica com Cavani, mas, na hora de chutar para o gol, é bloqueado pelo zagueiro Zobin.
Aos 37 minutos, o lateral direito da Rússia, Smolnikov, recebe o segundo cartão amarelo e é expulso. Logo depois, o treinador Stanislav Cherchesov faz a primeira mudança na equipe russa. Ele tira Cheryshev e coloca o brasileiro naturalizado russo Mário Fernandes. A alteração não muda o ritmo da partida. O time uruguaio permanece com o domínio do jogo até o fim do primeiro tempo aos 46 minutos.
Segundo tempo
Com menos um jogador em campo, a seleção russa não consegue atacar a equipe uruguaia. Logo no primeiro minuto do segundo tempo, em jogada individual de Suárez, o atacante é derrubado na entrada da área. A falta é cobrada, mas a bola bate na barreira.
Aos 17 minutos, Tabaréz faz a primeira mudança no Uruguai: entra Arrascaeta e sai Bentancur. O time russo tenta aumentar as jogadas de ataque, mas sem muita objetividade. No contra-ataque, os sul-americanos chegam a todo momento com perigo ao gol da Rússia. Aos 27 minutos, nova mudança no Uruguai, entra Cristian Rodríguez e sai Nandez.
Completamente dominada em campo, a Rússia ainda tenta, em jogadas esporádicas, chegar ao gol uruguaio, mas sem sucesso. Aos 34 minutos, Suárez desce em velocidade pela esquerda, chega no bico da área, cruza para Cavani, o atacante não alcança a bola e perde mais uma chance de aumentar o placar.
Aos 39 minutos, a Rússia quase faz o seu gol. Smolov chega pela esquerda, dá um corte seco em Torreira, que fica no chão, chega à linha de fundo, cruza na direção da pequena área, mas Muslera intercepta a bola. Aos 45 minutos, finalmente Cavani consegue fazer o seu primeiro gol na Copa da Rússia. Depois de uma cabeçada de Godim, em jogada de escanteio, o goleiro russo rebate e a bola sobra para o atacante uruguaio que chuta para o gol, fazendo 3 a 0.
Aos 47 minutos, Cavani deixa o campo, entrando Maximiliano Gómez. A esta altura da partida, a torcida uruguaia faz a festa nas arquibancadas da Cosmos Arena. Dois minutos depois o árbitro senegalês Malang Diedhiou apita determinando o fim da partida.
Arábia Saudita vence Egito
No outro jogo do grupo A, na Volgograd Arena, em Volgogradskaya, a seleção da Arábia Saudita derrotou o Egito por 2 a 1, ficando com a terceira colocação. O craque Mohamed Salah chegou a abrir o placar, fazendo o seu segundo gol na Copa, mas o time saudita reagiu e conseguiu virar o resultado.
Os gols da Arábia saudita foram marcados por  Salman Al Faraj, no primeiro tempo, e Salem AlDawsari na etapa final. O gol do egito foi Salah aos 21 minutos de jogo. Com o resultado, o Egito deixa a Copa da Rússia sem nehuma vitória e em último ligar no Grupo A.
Fonte: Agência Brasil.
The news, reports, views and opinions of authors (or source) expressed are their own and do not necessarily represent the views of CRWE World.