Quem esperava que o Marrocos, já sem chances de classificação, faria um jogo desinteressado contra a Espanha se enganou. Os marroquinos mostraram mais uma vez um time consistente, perigoso e técnico. A torcida marroquina, maioria no estádio, comemorou dois gols e sentiu a vitória contra a favorita Espanha até os 45 minutos do segundo tempo.
Mesmo perdendo por 2 x 1, a Espanha se classificaria, mas Iago Aspas, que entrou no segundo tempo, salvou a honra da sua seleção com um gol de letra. O gol só foi validado após intervenção do VAR, o árbitro de vídeo. Não fosse a tecnologia, muito provavelmente os marroquinos estariam ainda em festa.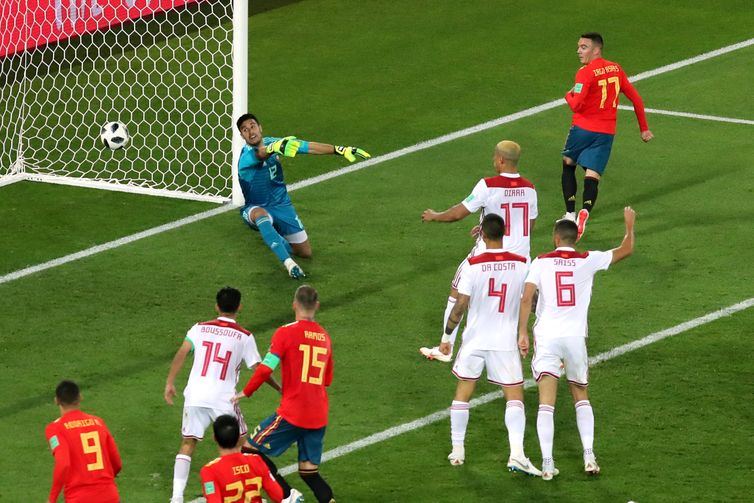 Assim como contra o Irã, a Espanha mostrou dificuldades em finalizar seus ataques. Domina as ações no campo do adversário, tem posse de bola esmagadora, mas não consegue fazer o gol facilmente. E de quebra, deu espaços de contra-ataque para o adversário. Diego Costa, centroavante espanhol, pouco fez de marcante na partida. Bem marcado, ficou isolado, sem oportunidade de chutar ao gol.
O jogo
A partida começou como se esperava, a Espanha no ataque e Marrocos se defendendo com todo os jogadores. A diferença é que os marroquinos não jogavam apenas para não tomar gol. Com boas válvulas de escape, sobretudo pela direita, com Amrabat, o Marrocos evitava os chutões desesperados. Saía tocando a bola e buscando espaços para ameaçar os favoritos.
E foi com esse senso de oportunismo que os africanos surpreenderam a todos no estádio. Aos 13 minutos, Iniesta e Sergio Ramos não se entenderam sobre quem deveria ficar com a bola. Boutaib aproveitou a desatenção e roubou a bola dos dois, os últimos homens da defesa. O atacante correu livre para, cara a cara com De Gea, tocar por baixo das pernas do goleiro espanhol e abrir o placar. Marrocos queria se despedir do mundial deixando uma boa impressão.
Após o gol, a torcida marroquina se animou no estádio em Kaliningrado. Durante uma troca de passes do time africano, chegou a gritar olé. Os marroquinos aproveitavam o momento de glória enquanto podiam. E puderam por pouco tempo.
Aos 19 minutos, a Espanha fez boa troca de passes e Iniesta entrou na área adversária pela esquerda. O maestro do time ibérico tocou para o meio da pequena área, encontrando Isco. O meio-campista dominou e chutou forte, estufando a rede de El Kjoui, que nada pode fazer.
A Espanha procurou um domínio maior na partida, subindo suas linhas de defesa. Foi assim que Marrocos quase marcou seu segundo gol. Boutaib recebeu cobrança de lateral já à frente da defesa e avançou para a área. Foi um desespero para os zagueiros alcançarem o marroquino, que foi atrapalhado na hora do chute e parou no goleiro De Gea.
A Espanha continuou dominando a partida, mas a defesa marroquina era eficiente. No final do primeiro tempo, o ferrolho africano quase foi aberto. Iniesta chegou novamente pela esquerda e cruzou rasteiro para o meio. Embolado com os zagueiros adversários, Diego Costa não conseguiu tocar para o gol.
Segundo tempo
No segundo tempo, o roteiro da partida não mudou. Espanha no ataque e Marrocos se defendendo com eficiência. Apesar disso, Marrocos e Espanha tiveram uma chance clara cada um nos primeiros 15 minutos. Amrabat acertou o travessão em um belo chute de longe. Pouco depois, Isco cabeceou e venceu o goleiro marroquino, mas Saiss apareceu e evitou o gol em cima da linha, cortando de cabeça.
Aos 35 minutos, um novo momento de glória marroquina incendiou o estádio. Após cobrança de escanteio, En-Nesyri subiu mais alto que a defesa e cabeceou no ângulo do goleiro. Marrocos fez o segundo gol, e a Espanha com apenas um. De Gea pouco trabalhou no jogo, mas ainda assim teve que buscar duas bolas dentro do seu gol.
Paciente, a Espanha continuava tentando mesmo sem ameaçar. Quando o jogo já estava nos acréscimos, a Espanha chegou ao empate com Iago Aspas. Após cobrança rápida de escanteio, com a defesa desatenta, ele recebeu um cruzamento na pequena área e tocou de letra para o gol. O juiz marcou impedimento, mas após revisão da arbitragem de vídeo confirmou o gol.
A mudança na decisão revoltou os marroquinos. Alguns integrantes da comissão técnica pediram para o time sair de campo, mas o jogo continuou pelos poucos minutos que restavam até o apito final.
Com o empate, Espanha terminou a primeira fase como líder do grupo B, uma vez que Portugal também empatou seu jogo. Marrocos terminou em último, mas mostrou futebol para ir mais longe. O sorriso de orgulho dos torcedores africanos após a partida são prova disso.
Fonte: Agência Brasil.
The news, reports, views and opinions of authors (or source) expressed are their own and do not necessarily represent the views of CRWE World.