A busca pela verdade sobre a morte do filho é o que sustenta Bruna da Silva, mãe de Marcus Vinícius da Silva, de 14 anos. O adolescente morreu depois de ser baleado durante uma operação no Complexo da Maré, zona norte do Rio, na quarta-feira passada (20). "Não existe o oculto que Deus não revele. Deus vai revelar". Bruna espera que o depoimento de uma testemunha na Delegacia de Homicídios (DH) ajude no esclarecimento da morte do adolescente.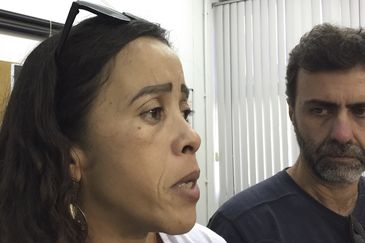 "Eu tenho uma testemunha que estava com o meu filho na hora e o socorreu. É também um jovem de 16 anos. Ele era estudante na escola do meu filho", disse.
Bruna contou que ao sair de casa, o filho passou na casa do amigo para irem juntos para a escola. No caminho, diante do intenso movimento na comunidade por causa da operação, os dois resolveram voltar para a casa e Marcus Vinícius foi atingido. A mãe reafirmou a conversa que teve com o adolescente no hospital, quando ele afirmou que o tiro que o atingiu teria partido de um veículo blindado da polícia.
O advogado João Tancredo de Bruna disse que tanto o depoimento da sua cliente como o da testemunha mostram que o menino foi ferido por um integrante da Polícia. "Nós levamos a Bruna para prestar depoimento e também uma testemunha presencial. Com isso a gente chegou à conclusão fácil de que foi um tiro disparado de um blindado da CORE. Fica muito clara a responsabilidade do estado", observou, acrescentando que vai entrar com uma ação de indenização do estado em favor da família.
Bruna acredita que a repercussão do caso, inclusive no exterior, deve pressionar para o esclarecimento do assassinato. "Calaram meu filho, mas abriram a boca do mundo inteiro. É muita gente comigo".
Notícias falsas
Hoje à tarde, acompanhada do advogado João Tancredo, Bruna se reuniu com o deputado estadual Marcelo Freixo (Psol), presidente da Comissão de Direitos Humanos da Assembleia Legislativa do estado do Rio de Janeiro (Alerj). O encontro foi no gabinete do parlamentar e ficou acertado que a Comissão vai encaminhar um pedido ao Facebook para retirar postagens que acusam o jovem de envolvimento com o tráfico.
"Essas pessoas que estão falando mal do meu filho, nunca viram Marcus Vinícius da Silva na vida. Não conhecem a mim, não conhecem o pai. Ninguém vai falar mal do meu filho que estuda desde os 4 anos de idade", disse Bruna ao reafirmar: "são mentiras, são calúnias e essas pessoas têm que pagar de um jeito ou de outro", completou.
O deputado Marcelo Freixo lembrou que a ação será semelhante a que ocorreu quando começaram a ser divulgadas notas falsas sobre a vereadora Marielle Franco, assassinada em 14 de março. "Para tirar do Facebook todas as acusações criminosas e covardes contra uma criança de 14 anos que perdeu sua vida indo para a escola. Não é possível que tentem matá-lo novamente. É um procedimento muito parecido com o que aconteceu com Marielle. No caso da Marielle a gente conseguiu tirar do ar notícias falsas. Em outras redes a gente também vai tentar através da delegacia", afirmou Freixo.
Além disso, segundo Freixo, a Comissão de Direitos Humanos vai providenciar o pedido de atendimento psicológico para toda a família de Marcus Vinícius e para o adolescente de 16 anos, que é testemunha.
Luto
Bruna disse que ainda não sentiu o luto pela morte do filho, porque a necessidade agora é mostrar a imagem correta do menino criado com dificuldade em uma comunidade que frequentemente enfrenta a violência causada por intensos tiroteios, mas, ainda assim, fez questão de falar com carinho do lugar onde mora e do apoio que tem recebido.
"A minha comunidade é quente. É calorosa. Foi ela que me apoiou e me abraçou. Ela que me beijou quando eu cheguei lá com o meu filho já alvejado no hospital. Ela é doce e não precisa de operação truculenta desse jeito não."
A Delegacia de Homicídios da Capital abriu inquérito para apurar as circunstâncias da morte de Marcus Vinicius e disse que todos os protocolos de investigação serão adotados "rigorosamente".
Fonte: Agência Brasil.
The news, reports, views and opinions of authors (or source) expressed are their own and do not necessarily represent the views of CRWE World.