Em um grupo com Espanha e Portugal, não se esperava nada do Marrocos. A última Copa que a  seleção africana participou foi na França em 1998. Em 2018, 20 anos depois, o resultado foi o mesmo: queda na primeira fase. Mas Marrocos jogou bem as três partidas. Marrocos sofreu derrotas duras, mas continuou concentrada e jogando com qualidade e regularidade, mesmo hoje (25), quando estava já matematicamente desclassificada. 
Contra o Irã, o Marrocos mostrou mais poder ofensivo, mas perdeu com um gol contra no último lance. 
Pela segunda rodada, a equipe marroquina dominou Portugal  durante a maior parte do jogo. A salvação da equipe portuguesa foi o gol de Cristiano Ronaldo no início do jogo. 
Contra a Espanha, hoje (25), Marrocos despediu-se da Copa. Comparando com os dois jogos anteriores, mudou o estilo. Não procurava dominar as ações contra uma seleção conhecida por ditar o ritmo das partidas. Se defendeu com eficiência quase o tempo inteiro e fazia o máximo para evitar os famosos chutões para afastar o perigo da defesa. 
O time africano tentava todas as formas de sair da defesa conduzindo a bola, com calma, para fazer a ligação com o ataque. Essa tática normalmente é usada pelas grandes seleções do mundo, como Espanha, Brasil, Alemanha e Bélgica, que procuram iniciar as jogadas de ataque ainda na defesa. Seleções eliminadas, como Arábia Saudita, Costa Rica e Panamá, por exemplo, afastam a bola com um chute forte para frente com muito mais frequência. 
Nesta segunda, Marrocos atacou com eficiência e marcou dois gols e a vitória espanhola ocorreu nos acréscimos. Em uma rara desatenção da defesa, que não percebeu que o escanteio foi cobrado com velocidade, deixaram Iago Aspas livre para marcar.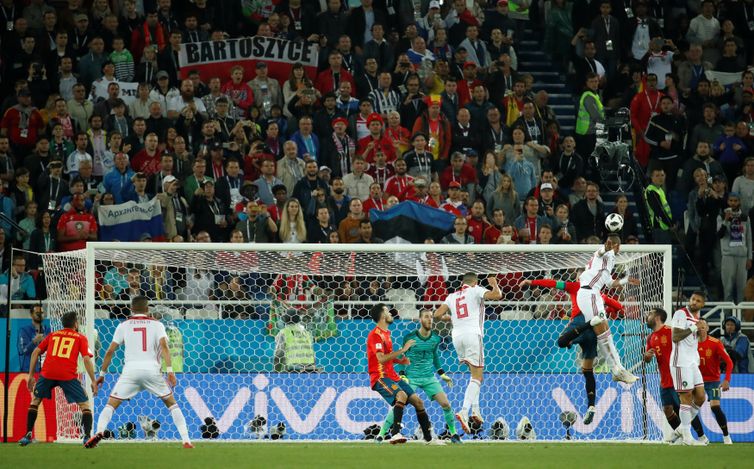 Fonte: Agência Brasil.
The news, reports, views and opinions of authors (or source) expressed are their own and do not necessarily represent the views of CRWE World.