Após o Ministério Público Federal (MPF) em Brasília denunciar hoje (25) à Justiça o empresário Joesley Batista, um dos donos da empresa JBS e ex-executivo do Grupo J&F, e o ex-procurador da República Marcello Miller pelo crime de corrupção, o ministro da Secretaria de Governo, Carlos Marun, disse esperar que "as investigações prossigam".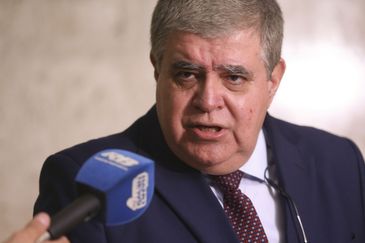 "Eu tenho convicção que mais gente da antiga cúpula da Procuradoria-Geral da República deve explicações e se as investigações se aprofundarem provavelmente também serão denunciados", disse Marun.
De acordo com a denúncia, na gestão do ex-procurador da República Rodrigo Janot, Marcello Miller atuou em favor da J&F durante o processo de assinatura do acordo de delação. Segundo a acusação, documentos trocados entre Miller e integrantes do escritório de advocacia que o contratou comprovariam o "jogo duplo" no caso.
Para Marun, na antiga gestão da PGR, existiu "total apatia" do Ministério Público em relação à "evidente participação ilegal e indevida" do ex-procurador Marcello Miller no episódio.
Perguntado sobre o ex-procurador-geral, Rodrigo Janot, Marun disse ter convicção de que ele já sabia o que estava ocorrendo dentro da PGR em relação aos atos praticados por Marcello Miller.
A defesa do ex-procurador sustentou no processo que ele "nunca atuou como intermediário entre o grupo J&F ou qualquer empresa e o procurador-geral da República Rodrigo Janot ou qualquer outro membro do Ministério Público Federal".
A Agência Brasil não conseguiu contato com o ex-procurador Rodrigo Janot até a publicação da matéria.
Fonte: Agência Brasil.
The news, reports, views and opinions of authors (or source) expressed are their own and do not necessarily represent the views of CRWE World.