Em viagem oficial ao Brasil, o vice-presidente dos Estados Unidos, Mike Pence, visitará, além de Brasília, a capital do Amazonas, Manaus, nesta quarta-feira (27). Está prevista uma visita de Pence a um abrigo de imigrantes venezuelanos que buscam melhores condições de vida no Brasil.
Cerca de 200 venezuelanos vivem atualmente em dois abrigos administrados pela prefeitura de Manaus. Um desses espaços, no bairro Coroado, chegou a receber 300 estrangeiros.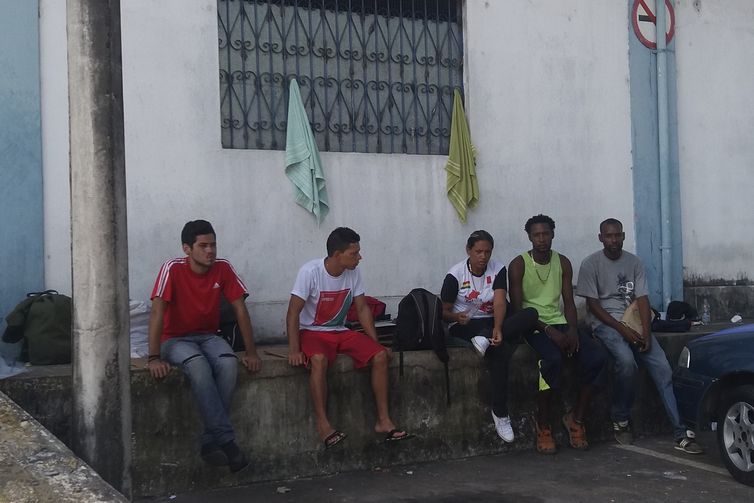 Nesses locais, os imigrantes têm acesso a políticas públicas, à documentação e a aulas de português. De acordo com o governo amazonense, há venezuelanos empregados, mas, em muitos casos, o trabalho é informal, o que dificulta um levantamento preciso.

O governo do Amazonas confirma que ainda há venezuelanos nas ruas e os que são encontrados nessas condições são encaminhados aos abrigos. Não há uma estimativa de quantos vivem no estado atualmente, de acordo com a diretora do Departamento de Proteção Social Especial da Secretaria de Estado de Assistência Social, Julieta Morais.

"Nós temos recebido muitos venezuelanos de forma espontânea. São aqueles que não passam pelo controle da Polícia Federal, nem pelos serviços de acolhimento em Roraima. E eles estão chegando aqui e estão se espalhando pelos municípios também. A gente não tem controle. Estamos nos organizando para fazer um levantamento dessa população que tem chegado. Mas seria uma mostra. Não temos como contabilizar quem chega de carona, de moto ou a pé". 
Alguns venezuelanos, no entanto, continuam nas ruas, mas são hoje um número bem menor. "Em alguns pontos ainda vejo venezuelanos, na Arena Amadeu Teixeira e alguns na Rodoviária. Mas são bem poucos. Eu acho que foram para abrigos da prefeitura ou para municípios próximos, como Itacoatiara, que dá para ir a pé", conta Sebastião Romero, motorista na cidade há mais de 20 anos.

Um dos principais pontos de concentração de venezuelanos na capital amazonense, a rodoviária atualmente abriga 12 imigrantes que chegaram de Roraima na última sexta-feira (22). O local, no ano passado, praticamente havia se tornado um acampamento, onde eles viviam em condições precárias. Uma articulação entre os governos federal, estadual e municipal possibilitou a transferência dos estrangeiros para um abrigo.
A professora venezuelana Elimar Bello, de 39 anos, faz parte do grupo que está dormindo na rodoviária. Ela conta que passou mais de 20 dias em Boa Vista, onde o fluxo migratório é intenso e, por isso, decidiu tentar uma oportunidade de qualificação e trabalho em Manaus. Foram 12 dias de caminhada entre as duas capitais debaixo de sol e chuva.

"É uma constante luta. Saí do país por causa da situação econômica que estamos atravessando. Não é fácil ser um profissional e não ter melhor qualidade de vida para ajudar a família e os filhos com o mais essencial." Elimar quer uma moradia e um trabalho a fim de conseguir trazer para o Brasil os três filhos que ficaram na Venezuela.
Gregori Ruiz, de 23 anos, que chegou no mesmo grupo da professora, tem a mesma esperança. "A vida na Venezuela está muito difícil. Nós precisamos de trabalho para ajudar nossa família na Venezuela. Como cozinheiro, pedreiro, mecânico, borracharia, pintura. Em Roraima já tem muito venezuelano e já não querem mais nos dar trabalho", conta.
Fonte: Agência Brasil.
The news, reports, views and opinions of authors (or source) expressed are their own and do not necessarily represent the views of CRWE World.