O empate era bom tanto para França quanto para Dinamarca. Classificava os escandinavos e garantiria a primeira posição aos franceses, que já entraram em campo classificados. E, assim, deu-se o primeiro 0 x 0 desta Copa do Mundo. Na outra partida do grupo, que acontecia simultaneamente, a Austrália precisava vencer e torcer por uma derrota da Dinamarca. Mas os "socceroos" nem sua parte fizeram. Foram derrotados – 2 x 0 - pelo Peru, que já estava eliminado.
Com isso, os dinamarqueses, provavelmente já informados do resultado que se consolidava na outra partida, se mostraram ainda mais satisfeitos com o empate. A França era ligeiramente mais ofensiva, mas agrediu a área adversária com certa preguiça.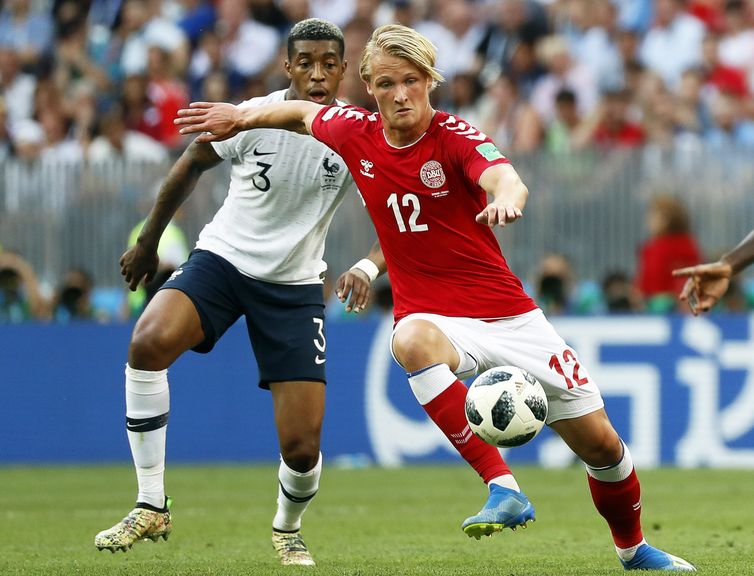 A França entrou com vários reservas em campo, mas começou o jogo buscando a vitória. Foi mais ofensiva, pressionou o adversário, mas os dinamarqueses se defenderam bem. Após os minutos iniciais, a França diminuiu o ritmo. O jogo se concentrou mais próximo ao meio de campo, com pouca ação dentro da grande área dos goleiros.
Sem sustos
No segundo tempo, a partida continuou morna, com poucos sustos para os goleiros. Enquanto o goleiro reserva Mandanda, escalado para o lugar de Lloris, praticamente assistia ao jogo de dentro de campo, o goleiro Schmeichel teve um pouco mais de trabalho com Fekhir.
O francês quase ameaçou o 0 x 0 com um chute na rede pelo lado de fora. Depois, ele quase marcou em um bom chute no canto, obrigando o goleiro a se esticar todo para fazer a defesa.
Aos 30 minutos do segundo tempo, a Dinamarca já tocava a bola em seu campo de defesa, sem nenhuma objetividade. Os dinamarqueses gastavam o tempo e irritavam a torcida, que queria ver gols.
No apito final, o resultado foi bom para ambos. Classificados, aguardam a definição do grupo D. Nele, a Croácia já está garantida e definirá apenas se passa em primeiro ou em segundo para as oitavas de final.
Todas as outras seleções do grupo – Argentina, Islândia e Nigéria – ainda têm chances de passar para a próxima fase da Copa do Mundo, na Rússia.
Fonte: Agência Brasil.
The news, reports, views and opinions of authors (or source) expressed are their own and do not necessarily represent the views of CRWE World.