O vice-presidente dos Estados Unidos, Mike Pence, agradeceu nesta terça-feira (26) ao governo brasileiro pelo acolhimento de mais de 50 mil venezuelanos que emigraram para o Brasil nos últimos anos para fugir da grave crise econômica no país vizinho. Na primeira visita de alto nível de um representante do governo Donald Trump ao Brasil, o presidente Michel Temer também ouviu apelos para que mais ações sejam tomadas contra o governo de Nicolás Maduro.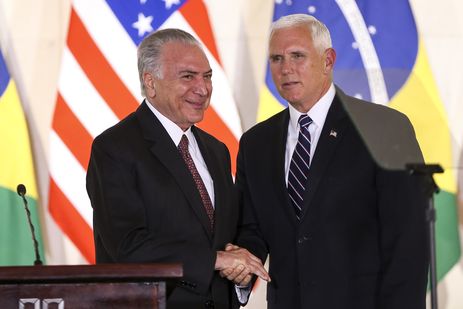 "O Brasil liderou esforços para expulsar a Venezuela do Mercosul, uniu-se aos EUA para suspender a Venezuela da OEA [Organização dos Estados Americanos]. Agora, chegou a hora de agir com mais firmeza, e os EUA pedem ao Brasil e às outras nações mais atitudes contra o regime de Maduro", disse Pence, sem especificar quais seriam essas medidas.

Em boa parte dos 10 minutos de seu discurso, o vice-presidente norte-americano fez duras críticas ao governo de Nicolás Maduro, a quem responsabilizou pela "destruição da democracia" e pela construção de "uma ditadura brutal" na Venezuela. Pence fez referência elogiosa à decisão de ontem (25) da União Europeia, que aplicou sanções econômicas a 11 funcionários do alto-escalão do governo venezuelano, incluindo a vice-presidente Delcí Rodríguez. 
Para o presidente Michel Temer, Brasil e Estados Unidos "convergem quanto à urgência em restabelecer-se a plena normalidade democrática" na Venezuela e falou sobre os esforços do governo para lidar com as consequências da crise migratória fo país. 
"Ambos lamentamos a crise humanitária que atravessa a Venezuela. Falei dos venezuelanos que buscam melhores condições de vida no Brasil e sobre nosso empenho em recebê-los com dignidade", disse, citando as instalações montadas pelo governo federal para acolher os imigrantes do país sul-americano que entram em território brasileiro.

Amanhã (27), segundo e último dia de sua visita oficial ao Brasil, Mike Pence visitará, em Manaus, um abrigo para venezuelanos montado pelo governo brasileiro.   
Divergências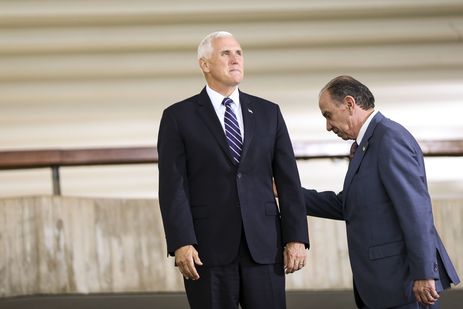 Após o encontro de Temer com Pence, o ministro das Relações Exteriores, Aloysio Nunes Ferreira, disse que a posição dos EUA sobre a Venezuela não coincide totalmente com a do Brasil. "Somos contra qualquer iniciativa unilateral em matéria de sanções. Para nós, o tema da Venezuela está colocado onde deveria estar colocado: na OEA, a Organização dos Estados Americanos", afirmou.
Fonte: Agência Brasil.
The news, reports, views and opinions of authors (or source) expressed are their own and do not necessarily represent the views of CRWE World.