Como todos os jogos da Argentina na Copa do Mundo da Rússia até agora, foi sofrido. A seleção liderada por Messi passou sufoco, fez o gol da vitória no final da partida e venceu a Nigéria por 2 x 1. O camisa 10 não jogou bem, mas fez o necessário. Começou a partida assumindo a responsabilidade e marcou o primeiro gol do jogo. Ficou sumido durante todo o segundo tempo, mas assumiu a responsabilidade no final, quando o time precisava segurar a vitória.
A Nigéria não mereceu vencer. Fez o gol em um pênalti feito por Mascherano e pouco produziu depois disso. No único bom contra-ataque do time no jogo, o centroavante nigeriano perdeu a oportunidade de fazer o gol da classificação.
A Argentina avança às oitavas jogando com vontade, raça, mas sem organização tática, além de uma defesa insegura. Enfrentam a França no próximo sábado (30) e este será o maior desafio até agora para as duas seleções. A França, que passou de fase sem sustos, não foi testada até agora.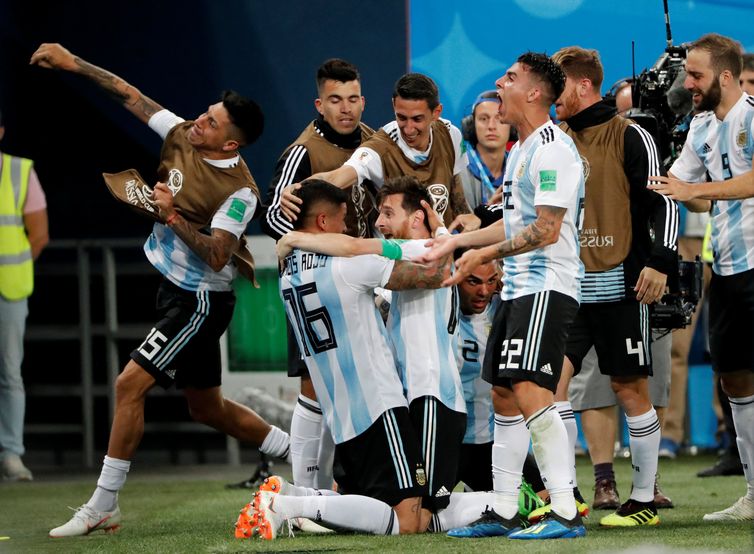 O jogo
A Argentina ditou o ritmo da partida no início do primeiro tempo. Foi o período do jogo em que Messi mais apareceu. Mas a defesa nigeriana, que montou uma linha de cinco jogadores na frente da área, marcava bem. Aos 13 minutos, finalmente ele desencantou. O 10 da Argentina recebeu um ótimo lançamento de Banega ainda do campo de defesa. Messi dominou já ganhando na velocidade dos zagueiros e bateu cruzado, marcando seu primeiro gol na Copa.
Depois do gol, a Argentina diminui o ritmo. Só ameaçou novamente aos 31 minutos. Di Maria recebeu um bom passe, também de Banega, e sofreu falta quando se aproximava livre da área. Messi cobrou a falta e a bola explodiu na trave esquerda de Uzoho.
Com o resultado favorável, a Argentina começou o segundo tempo morna. Não atacava com vontade e deixava a Nigéria jogar. Só que os africanos também não ameaçavam o gol de Armani, que não tinha trabalho no jogo.
Com mais presença no campo de ataque, a Nigéria conseguiu um escanteio aos 3 minutos. Mascherano, que vinha fazendo uma partida muito ruim, agarrou Balogun dentro da área durante a cobrança do escanteio. O juiz viu e deu o pênalti, para desespero do time sul-americano. Moses cobrou a penalidade com frieza e empatou. Nigéria 1 x 1 Argentina.
Os argentinos sentiram o gol de empate e tiveram um período em que nada dava certo no jogo. Erravam passes, não conseguiam dominar bolas recebidas. A Nigéria aproveitava os contra-ataques. Aos 29 minutos, em um contra-ataque em velocidade, a bola foi cruzada para Ighalo. Rojo cortou parcialmente e o atacante nigeriano chutou com perigo para fora.
Quando finalmente a Argentina conseguiu chegar na área, aos 34 minutos, Higuaín desperdiçou. A resposta veio quatro minutos depois. Ighalo recebeu dentro da área, na frente de Armani e o goleiro argentino fez boa defesa.
Quando tudo parecia perdido e as arquibancadas tinham um aspecto de velório, a Argentina conseguiu seu gol salvador. Mercado cruzou na área e Rojo pegou de primeira para fazer explodir em festa o estádio, pintado de azul e branco.
A Nigéria ainda tentou seu gol de empate, mas sem qualquer eficiência. Aproveitando o desespero africano, o time argentino teve mais posse da bola e conseguiu gastar o tempo. Ao final da partida, os jogadores fizeram uma grande festa, em uma mistura de alegria com alívio. Com o resultado, a Argentina se classificou em segundo do grupo e enfrenta a França nas oitavas-de-final.
Fonte: Agência Brasil.
The news, reports, views and opinions of authors (or source) expressed are their own and do not necessarily represent the views of CRWE World.