O Ministério da Justiça, por meio do Departamento de Proteção e Defesa do Consumidor (DPDC), notificou as distribuidoras Petrobrás, Ipiranga, Raízen, Alesat, Ciapetro, Royal Fic e Zema a esclarecer por que não repassaram integralmente o desconto garantido pelo governo federal sobre ao preço do diesel. A medida foi anunciada no final de maio em uma negociação entre governo e caminhoneiros para encerrar uma paralisação da categoria que durou 11 dias em diversas estradas brasileiras.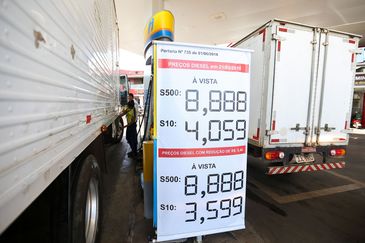 As distribuidoras terão 10 dias para fornecer esclarecimentos à Secretaria Nacional do Consumidor. As empresas ainda terão que apresentar as notas fiscais de venda do diesel em cada estado brasileiro, em datas determinadas. Caso as distribuidoras não respondam aos questionamentos no prazo estipulado, a Senacon poderá instaurar processo administrativo contra as empresas e aplicar multa que pode alcançar o valor de R$ 9 milhões.
Segundo Ministério, as denúncias foram encaminhadas pelos postos de combustíveis à ouvidoria da pasta. Ao todo, 98 notificações informaram que as distribuidoras não estavam repassando o desconto. A expectativa do governo era garantir um abatimento de R$ 0,46 no valor do diesel.
Fonte: Agência Brasil.
The news, reports, views and opinions of authors (or source) expressed are their own and do not necessarily represent the views of CRWE World.