O vice-presidente dos Estados Unidos, Mike Pence, chega a Manaus na manhã de hoje (27) para acompanhar a situação dos imigrantes venezuelanos. O primeiro compromisso é a visita à Casa de Acolhida Santa Catarina – centro humanitário administrado pela Cáritas Arquidiocesana da capital amazonense, com o apoio do Alto Comissariado das Nações Unidas para os Refugiados (Acnur). Em discurso nessa terça-feira (26) em Brasília ao lado do presidente Michel Temer, Mike Pence elogiou e agradeceu os esforços brasileiros para ajudar a população do país vizinho.
No abrigo Santa Catarina estão acolhidos 79 imigrantes venezuelanos que chegaram ao estado em maio deste ano pelo processo de interiorização do governo federal. A igreja mantém ainda outros quatro abrigos e atende quase 200 estrangeiros em todos os espaços.
Já a prefeitura de Manaus administra dois abrigos destinados exclusivamente aos indígenas venezuelanos warao, onde estão atualmente cerca de 200 deles. Uma das exigências para permanecer no local é não pedir esmolas, por isso, eles já quase não são vistos nas ruas da cidade com essa prática.
Nas casas de acolhida de Manaus, os imigrantes recebem assistência de saúde, social e ajuda com documentação para que regularizem a situação no Brasil e consigam trabalho. Além disso, as crianças são encaminhadas para as escolas. Atualmente, há 36 matriculadas na rede pública de ensino.
Fluxo Migratório
O fluxo imigratório na capital amazonense começou em dezembro de 2016. A resposta rápida dos governos estadual e municipal contribuiu para que a situação não ficasse tão precária como em Roraima e ainda rendeu ao Amazonas e à cidade de Manaus o reconhecimento do Acnur pelas ações de acolhimento.
"As duas autoridades de uma maneira muito pronta e muito coordenada responderam rapidamente às necessidades dos venezuelanos que chegaram aqui em Manaus. Tanto a prefeitura quanto o governo do estado adotaram medidas rápidas de resposta no sentido de garantir o abrigamento das pessoas e também alimentação e outros serviços essenciais", explicou o porta-voz do Acnur no país, Luiz Fernando Godinho.
Segundo Godinho, o Acnur tem estado em contato direto com as autoridades estaduais e municipais para permitir o acolhimento da população venezuelana, tanto indígena quanto não indígena. "Procuramos as autoridades, apresentamos a elas o problema e discutimos algumas soluções, por exemplo, a identificação de espaços para abrigamento, oferta de serviços nesses abrigos e também o apoio para a melhoria dos espaços. Temos o papel de fazer essa ligação das autoridades com a população em necessidade para promover esse ambiente de proteção".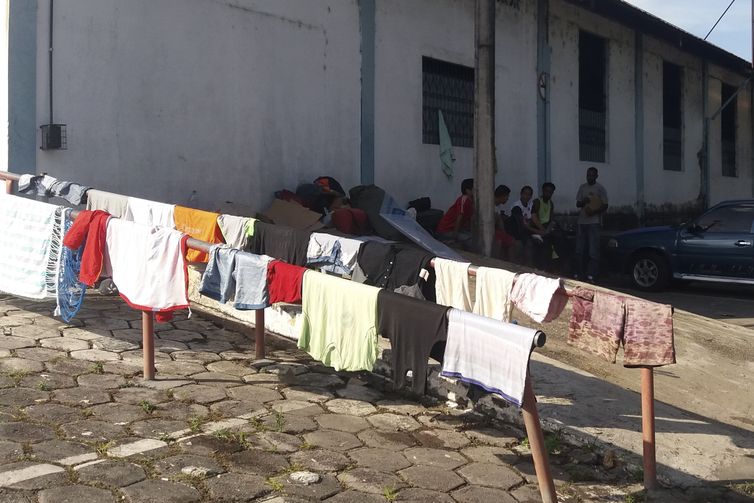 A prefeitura de Manaus se prepara para coordenar um terceiro abrigo que vai receber mais 180 venezuelanos não indígenas pelo processo de interiorização. De acordo com a subsecretária operacional da Secretaria Municipal da Mulher, Assistência Social e Direitos Humanos, Jane Mara Silva de Moraes, o espaço no bairro Coroado, que foi ocupado inicialmente pelos indígenas warao, passa por reforma com o apoio do Acnur, e as obras devem ser concluídas em julho.
"[O local] era um redário e agora a gente está aproveitando esse espaço colocando divisórias para separar em quartos pra receber inicialmente 180 pessoas, mas temos capacidade para 200. A proposta de permanência deles é de três meses. Nesse período, queremos verificar como vamos trabalhar, se eles vão permanecer em Manaus, se vão para outros estados, a colocação no mercado do trabalho. Vamos fazer um levantamento de perfil", informou a subsecretária.
Após a passagem pelo abrigo Santa Catarina, o vice-presidente americano deve fazer um sobrevoo na Zona Franca de Manaus e para ver as belezas naturais do Amazonas, como o encontro das águas dos rios Negro e Solimões. Não há previsão de que Mike Pence fale com a imprensa.
Fonte: Agência Brasil.
The news, reports, views and opinions of authors (or source) expressed are their own and do not necessarily represent the views of CRWE World.