Assim que a bola rolou no gramado do Estádio Central, em Ekaterimburgo, o juiz Argentino Néstor Pitana deu cartão amarelo para Gallardo, do México, por falta violenta em um atacante da Suécia, aos 13 segundos.O cartão amarelo foi o mais dado a um jogador na história da Copa do Mundo, segundo a Federação Internacional de Futebol (Fifa). O time sueco está melhor em campo e quase fez o primeiro gol, aos cinco minutos, em uma jogada de Forsberg, que arriscou chute forte no gol, obrigando Ochoa a fazer uma grande defesa.
As duas seleções trabalham mais com jogadas no meio de campo. A equipe mexicana, com a vantagem do empate, ficou com seus jogadores concentrados em sua defesa, esperando a oportunidade de uma jogada de contra-ataque.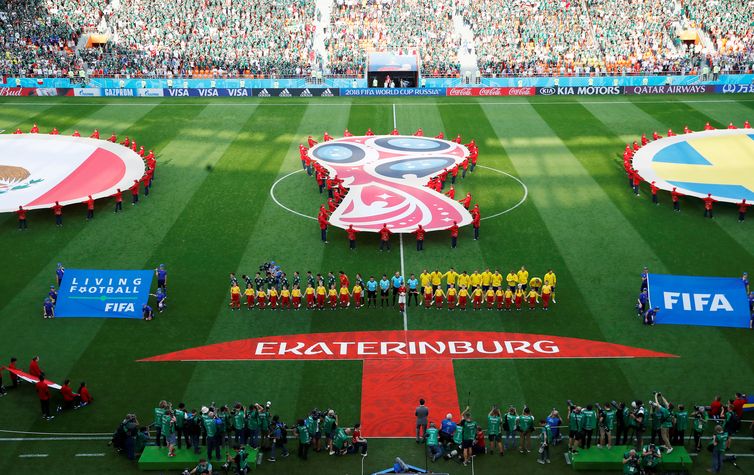 Mas é a Suécia, com sua postura mais ofensiva, que tentou mais o gol. Na cobrança de um escanteio, aos 11 minutos, Granqvist ganhou a bola de cabeça, que sobrou para Berg. Ele tentou surpreender Ochoa com um chute dentro da pequena área, mas a bola saiu pela linha de fundo.
A maior parte das jogadas da Suécia aconteceu pelo alto, numa tentativa de levar vantagem em função da baixa estatura dos zagueiros mexicanos. Em mais um cruzamento pelo alto para área do México, Forsberg chegou de frente para Ochoa e chutou por cima do gol.
A partir dos 25 minutos, o México começou a equilibrar o jogo, melhorando a movimentação dos jogadores de meio de campo. É justamente em uma jogada por aquele setor do gramado, que o meia Larson cometeu falta dura em Guardado e recebeu cartão amarelo.
Em novo ataque sueco, aos 30 minutos, o goleiro mexicano evitou o primeiro gol da Suécia, em um escanteio em que a bola sobrou para Berg, que chutou para uma grande defesa de Ochoa. Dois minutos depois, o time sueco tentou novamente o gol com Claesson, que chutou para fora.
O panorama do jogo não muda: a Suécia no ataque e o México se defendendo, esperando uma oportunidade para contra-atacar. Aos 38 minutos, finalmente a equipe mexicana chegou no gol sueco com Vela, que recebeu uma bola pela direita, chutou forte para fora, distante do gol de Olsen.
O árbitro Néstor Pistana apitou o fim do primeiro tempo aos 47 minutos, logo depois de mais uma tentativa de gol da Suécia com Berg, que chutou a bola para fora do gol de Ochoa.
Fonte: Agência Brasil.
The news, reports, views and opinions of authors (or source) expressed are their own and do not necessarily represent the views of CRWE World.