A Alemanha perdeu para a Coreia do Sul e está fora da Copa do Mundo. Os sul-coreanos exploraram os contra-ataques e conseguiram a vitória por 2 x 0 nos acréscimos da partida. A Alemanha ficou mais tempo com a bola, trocou muitos passes no campo de ataque, mas não foi objetiva o suficiente para merecer a vitória.
A Coreia também foi eliminada, mesmo com a vitória. Mas, após o apito final, os seus jogadores comemoraram muito o resultado. Se abraçaram e choraram, com a sensação de terem vencido um campeonato à parte.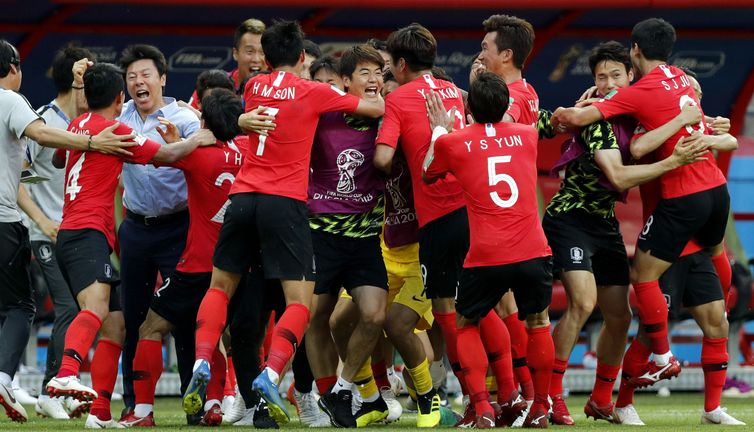 Pressão da Alemanha
O primeiro tempo, como se esperava, foi de uma Alemanha pressionando os coreanos e buscando o gol. O ataque alemão, no entanto, não mostrou criatividade ou habilidade para furar a defesa asiática. O sistema defensivo coreano é veloz, mas não é alto ou forte fisicamente. A Alemanha não soube explorar bolas aéreas ou chutes à distância.
Os alemães tentavam chegar na área coreana tocando a bola e os lances terminavam em um bate-rebate confuso, que finalizava com um chutão dos coreanos para longe. O centroavante Werner, que substituiu Thomas Müller hoje, pouco fez no primeiro tempo. Para desespero maior do torcedor germânico, o goleiro Neuer não passava segurança.
Em uma cobrança de falta da Coreia do Sul, ele falhou em uma defesa fácil. Errou ao tentar encaixar a bola e quase deixou a bola nos pés do adversário.
Alemanha melhora na etapa final
No segundo tempo, a Alemanha melhorou. E só não abriu o placar aos 2 minutos porque o goleiro H W Jo fez uma defesa milagrosa em uma cabeçada certeira de Goretzka.
Enquanto isso, a Coreia tinha os contra-ataques, mas esbarrava em sua própria falta de categoria para abrir o placar. Aos 20 minutos, Moon entrou na área driblando e teve a chance de bater para o gol, mas tentou um drible a mais e foi desarmado.
Enquanto a Alemanha sofria para abrir o placar, a Suécia fazia 3 x 0 no México no outro jogo do grupo. O resultado da outra partida obrigava a Alemanha a vencer de qualquer maneira. Coincidência ou não, os alemães passaram a encontrar mais dificuldades para abrir o placar.
E a cada contra-ataque asiático, ficavam dois ou três defensores alemães contra os rápidos coreanos. A sorte da Alemanha residia na total falta de habilidade da Coreia do Sul para conseguir um simples drible e sair cara a cara com o goleiro Neuer.
A pouca sorte alemã, no entanto, acabou nos 46 minutos do segundo tempo. Em cobrança de escanteio, a bola sobrou para Young-Gwon, frente a frente com Neuer, abrir o placar. Havia uma dúvida a respeito da posição do coreano, mas o árbitro de vídeo confirmou o gol: 1 x 0. A Alemanha entrou em desespero.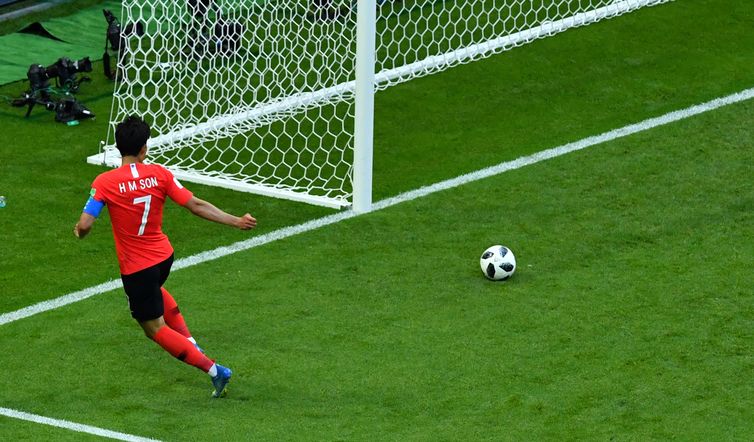 Perdendo o jogo, a Alemanha foi toda para o ataque. Inclusive o goleiro Neuer. E foi justamente a atitude do goleiro alemão que enterrou definitivamente as chances de seguir na Copa.
O goleiro alemão perdeu a bola no campo de ataque. Um passe longo deixou Son Heung-min livre para marcar o segundo gol, sem ninguém para impedi-lo: 2 x 0.
O apito final foi um choque de realidade. A Alemanha terminou a fase de grupos em último lugar do seu grupo e volta para casa.
A seleção alemã que se viu nesta Copa não é sequer um rascunho do time campeão em 2014. Faltaram criatividade, inspiração e o sangue frio que fez do futebol alemão tão respeitado nos últimos anos.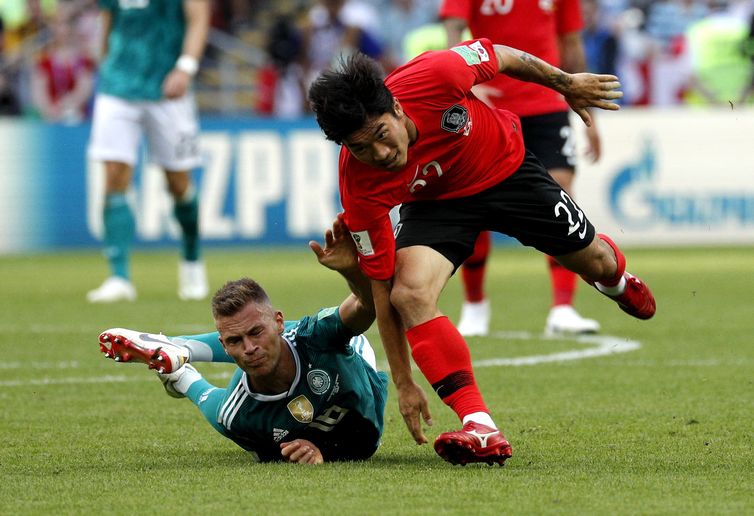 O time que foi à Rússia ainda tem muitos jogadores campeões do mundo, inclusive o treinador, mas em nenhum momento se viu o brilho da seleção que goleou impiedosamente o Brasil há quatro anos: 7 x 1, em pleno Mineirão.
Nem a vitória contra a Suécia, conquistada no último lance, foi capaz de esconder o futebol pobre praticado pelos alemães na Rússia.
A eliminação da Alemanha mantém de pé a superstição segundo a qual toda seleção que se sagra campeã da Copa das Confederações, realizada um ano antes do Mundial, não consegue vencer a Copa do Mundo seguinte.
Fonte: Agência Brasil.
The news, reports, views and opinions of authors (or source) expressed are their own and do not necessarily represent the views of CRWE World.