Bem diferente da seleção que derrotou a Alemanha por 1 a 0, na primeira rodada do Grupo F, a equipe mexicana, recuada para garantir o empate que lhe garantiria a classificação, acabou perdendo para a Suécia por 3 a 0. Mas, apesar da derrota, a classificação veio porque, no outro jogo do grupo, a Coreia do Sul surpreendeu a poderosa Alemanha com uma vitória por 2 a 0. O resultado tirou da competição, ainda na fase de grupo, a atual campeã do mundo.
Assim que a bola rolou no gramado do Estádio Central, em Ekaterimburgo, o juiz Argentino Néstor Pitana deu cartão amarelo para Gallardo, do México, por falta violenta em um atacante da Suécia, aos 11 segundos. O time sueco melhor em campo e quase fez o primeiro gol, aos cinco minutos, em uma jogada de Forsberg, que arriscou um chute forte no gol, obrigando Ochoa a fazer uma grande defesa.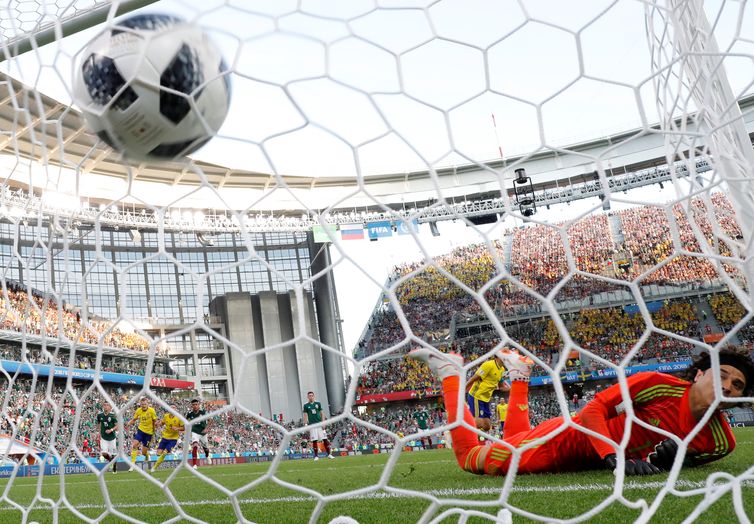 As duas seleções trabalham mais com jogadas no meio de campo. A equipe mexicana, com a vantagem do empate, fica com seus jogadores concentrados em sua defesa, esperando a oportunidade de uma jogada de contra-ataque.
Mas é a Suécia, com sua postura mais ofensiva, que tentou mais o gol. Na cobrança de um escanteio, aos 11 minutos, Granqvist ganhou a bola de cabeça, que sobrou para Berg. Ele surpreendeu Ochoa com um chute dentro da pequena área, mas a bola sai pela linha de fundo.
A maior parte das jogadas da Suécia aconteceu pelo alto, numa tentativa de levar vantagem em função da baixa estatura dos zagueiros mexicanos. Em mais um cruzamento pelo alto para área do México, Forsberg chegou de frente para Ochoa e chutou por cima do gol.
A partir dos 25 minutos, o México começou a equilibrar o jogo, melhorando a movimentação dos jogadores de meio de campo. É justamente em uma jogada por aquele setor do gramado, que o meia Larson cometeu falta dura em Guardado e recebe cartão amarelo.
Em novo ataque sueco, aos 30 minutos, o goleiro mexicano evita o primeiro da Suécia, em um escanteio em que a bola sobrou para Berg, que chutou para uma grande defesa de Ochoa. Dois minutos depois, o time sueco tenta novamente o gol com Claesson, que chutou para fora.
O panorama do jogo não mudiu: a Suécia no ataque e o México se defendendo, esperando uma oportunidade para contra-atacar. Aos 38 minutos, finalmente a equipe mexicana chegou aoo gol sueco com Vela, que recebeu uma bola pela direita, chutou forte para fora da meta de Olsen.
O árbitro Néstor Pistana apitou o fim do primeiro tempo aos 47 minutos, logo depois de mais uma tentativa de gol da Suécia com Ber, que chutou a bola para fora do gol de Ochoa.
Segundo Tempo
O Jogo reinicia no segundo tempo com a Suécia no ataque, inclusive pressionando a saída de bola mexicana. A pressão surte efeito. Aos quatro minutos, o ataque sueco avançou pela direita e cruza para o meio da área do México, Claesson errou o chute, mas a bola sobrou para Augustinsson, que chutou para balançar a rede do gol de Ochoa, fazendo 1 a 0.
O gol mudou a postura defensiva do México, que passou a buscar mais as jogadas de ataque. Mas foi a Suécia que continuou pressionando. Em mais uma jogada ofensiva, Augustinsson é derrubado na área e o árbitro Néstor Pistana não tem dúvida em marcar o pênalti. O zagueiro Granqvist cobra e fez 2 a 0 para a Suécia, aos 16 minutos.
Após o segundo gol da Suécia, o time mexicano se lançou todo para frente, tentando fazer um gol. Mas foi a Suécia que mais uma vez chegou. Em um lance infeliz de Álvarez, depois de uma lateral lançado na área mexicana, o zagueiro desvia a bola para o seu próprio gol. Suécia 3 a 0, aos 28 minutos.
A seleção mexicana não desiste de buscar o seu gol. Aos 35 minutos, teve a sua grande chance de marcar. Numa bola cruzada Chicharito desvia de cabeça na pequena área, mas erra o gol.
O jogo prossegue sem que as duas seleções busquem jogadas de ataque. Pois o resultado do jogo da Alemanha e Coreia do Sul, 2 a 0 para a Coreia naquele momento, classificava a seleção mexicana. O árbitro argentino apita o fim da partida, mas os jogadores do México aguardavam, no gramado, o término do jogo entre alemães e coreanos. Quando isso acontece, os mexicanos se abraçam e comemoram a classificação para a próxima fase da Copa.
Fonte: Agência Brasil.
The news, reports, views and opinions of authors (or source) expressed are their own and do not necessarily represent the views of CRWE World.