Em sua melhor atuação na Copa, até agora, a seleção brasileira venceu a Sérvia por 2 x 0 em Moscou. Com a vantagem do empate para se classificar, o Brasil teve paciência para tocar a bola, arriscar pouco e não ceder contra-ataques ao adversário. A defesa brasileira saiu-se bem contra os atacantes sérvios que, embora mais altos e fortes, tiveram poucas chances de gol.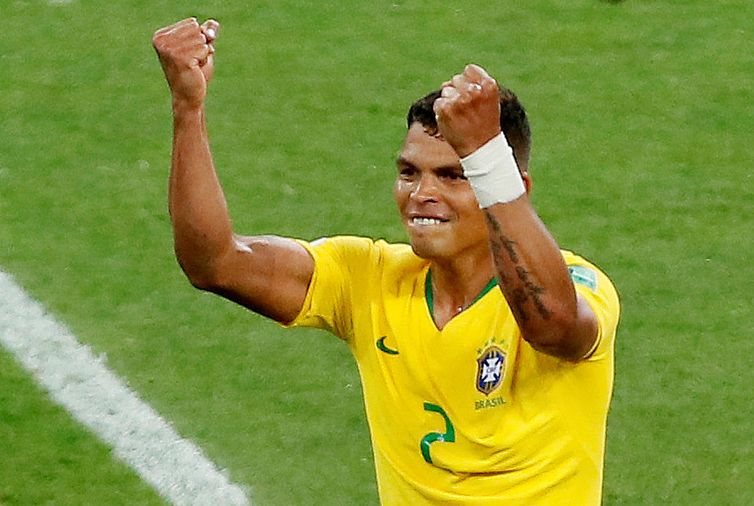 Foi uma vitória sem sustos, em que o "jogo seguro" prevaleceu sobre o "jogo bonito". Com gols de Paulinho e Thiago Silva, o Brasil soube se defender bem e aproveitar as falhas da defesa sérvia.
Na entrevista após a partida, Thiago Silva afirmou que a seleção teve paciência e aplicação durante o jogo e "soube sofrer".

"Desde o primeiro jogo até aqui, tivemos dificuldades em alguns momentos. O mais importante foi que a equipe soube sofrer. O outro lado também tem qualidades." O Brasil não foi para cima da Sérvia, buscando o gol o mais rápido possível, como alguns poderiam esperar. Neymar usou pouco seu repertório de dribles e fez um jogo mais voltado para o coletivo.
O jogo
Aos 7 minutos do primeiro tempo, o lateral Marcelo sentiu uma lesão e pediu para ser substituído. O lateral é um dos líderes do time em campo e lamentou muito a saída precoce do jogo. Com Felipe Luís em seu lugar, o Brasil continuou jogando muito pelo lado esquerdo. Neymar jogava próximo do lateral substituto, trocando muitos passes.
A seleção abusou dos passes para o lado e inversões de jogo. Com o empate a seu favor, a seleção esperava a marcação sérvia abrir espaços naturalmente. Enquanto isso não acontecia, o Brasil trocava passes pacientemente de um lado para o outro. Essa postura da seleção chegou a irritar a torcida, que, em alguns momentos, vaiou a falta de objetividade do time. No primeiro tempo, foram 255 passes do time brasileiro contra 138 dos sérvios.
A Sérvia apostava em jogadas pelo alto com os atacantes aproveitando a vantagem da boa estatur para escorar bolas para os que vinham de trás. Entretanto, eles erraram muitos passes, principalmente na entrada da área brasileira. As jogadas mais perigosas do time europeu eram em cobranças de escanteio, mas o goleiro Alisson neutralizava as bolas aéreas com um soco.
Aos 24 minutos, finalmente o Brasil chegou com perigo à área. Neymar entrou tabelando com Gabriel Jesus e bateu cruzado, mas Stojkovic fez a defesa. Aos 29 minutos, outra boa chance: Neymar aproveitou que a defesa da Sérvia estava adiantada e deu um bom passe para Gabriel Jesus. Sem impedimento no lance, este entrou na área e bateu para o gol, mas a defesa cortou para escanteio.
Aos 35 minutos, o Brasil abriu o placar. Philippe Coutinho recebeu na intermediária do ataque e viu Paulinho entrando pela defesa com velocidade. Coutinho fez um bom passe por cima e encontrou o volante brasileiro, que deu um toque sutil na saída do goleiro. O gol foi no melhor estilo da seleção que Tite comandou nas eliminatórias, com Paulinho participando do ataque como elemento surpresa.
Após o gol, a Sérvia tentou ter mais posse de bola, enquanto o Brasil continuou trocando passes de um lado para o outro, com calma.
Segundo tempo
Aos 10 minutos, a Sérvia assustou a defesa brasileira. O jogador de número  22 cruzou na área e Miranda afastou com um chute para trás, por cima do próprio gol.
Na cobrança de escanteio, o Brasil conseguiu roubar a bola e sair em velocidade no contra-ataque. Coutinho tocou para Neymar, que entrou na área e chutou, mas o goleiro defendeu. Foi uma das poucas jogadas de contra-ataque em velocidade do Brasil no jogo.
Aos 15 minutos, quase o empate sérvio. Após cruzamento à meia altura na área, o goleiro Alisson socou mal a bola, em cima de Mitrovic. A bola bateu no centroavante e só não entrou porque Thiago Silva salvou. O lance animou a Sérvia, que começou a chegar com perigo na área pela primeira vez com consistência. Aos 19 minutos, Mitrovic aproveitou um bom cruzamento pela direita e cabeceou firme, mas no meio do gol. Alisson defendeu com tranquilidade.
Quando a torcida sérvia se animava nas arquibancadas, o Brasil marcou o segundo gol. E na especialidade do adversário. Em cobrança de escanteio, Miranda neutralizou o marcador e Thiago Silva subiu para ampliar. O segundo gol deu mais tranquilidade aos brasileiros e deixou o time sérvio mais desajustado na defesa. Com isso, ofereceu mais espaços para o toque de bola brasileiro, que continuava paciente. Nos últimos minutos, com a Sérvia já abatida em campo, o Brasil teve  chance de ampliar o placar duas vezes, ambas com Neymar, mas o camisa 10 parou no goleiro Stojkovic.
Oitavas de final
Com a vítória de hoje e o empate entre Costa Rica e Suíça, o Brasil termina a fase de grupos em primeiro lugar e enfrenta o México nas oitavas de final. A partida entre brasileiros e mexicanos será na próxima segunda-feira (2), às 11h, em Samara.

Primeira colocada no F, a Suécia enfrentará a Suíça, segunda colocada no Grupo E, do Brasil, também no sábado. O jogo será às 11h, em São Petersburgo.

O texto foi ampliado às 17h40
Fonte: Agência Brasil.
The news, reports, views and opinions of authors (or source) expressed are their own and do not necessarily represent the views of CRWE World.