A Seleção da Suíça empatou com a Costa Rica em 2 a 2 no Estádio de Níjni Novgorod, em Nizhegorodskaya. O resultado classifica o time suíço em segundo lugar no Grupo E. A primeira colocação ficou com Brasil que venceu a Sérvia por 2 a 0, em Moscou.
O jogo em Níjni Novgorod começou movimentado, com a seleção suíça buscando o ataque e a Costa Rica mais plantada na defesa. Foi nesse ritmo que o gol saiu aos 30 minutos do primeiro tempo, numa jogada em que Embolo passou para Dzemaili, que chutou forte sem chance para Navas.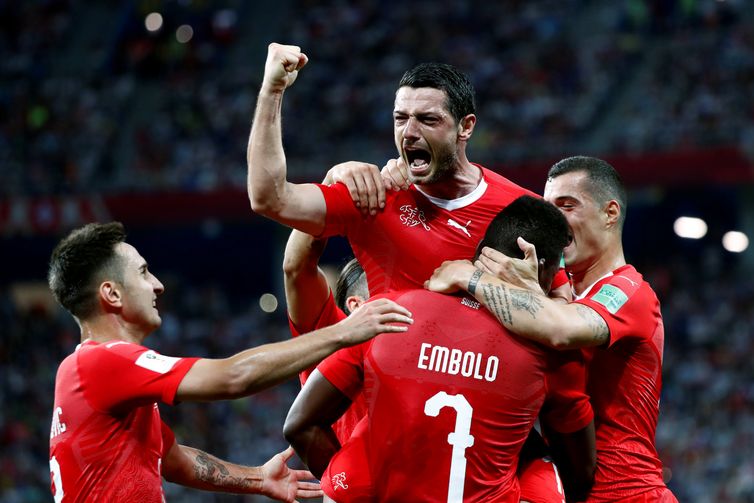 Depois do gol, a Costa Rica foi mais para frente e passou a ameaçar o gol defendido por Stephan Lichtsteiner. A partida continuou assim até o juiz francês Clement Turpin apitar o fim do primeiro tempo.
No segundo tempo, a Costa Rica passou a ousar mais no ataque, partindo sempre em velocidade em direção ao gol da Suíça. E foi nesse ritmo que conseguiu empatar aos 10 minutos, com o zagueiro Waston, ao completar de cabeça um escanteio cobrado na área do time suíço.
O empate fez com a Suíça saísse mais de sua defesa a fim de buscar o segundo gol, que aconteceu aos 42 minutos, feito pelo atacante Drmic!, que havia entrado no lugar de Gavranovic. A Costa Rica empatou nos minutos finais: Bryan Ruiz cobrou penâlti, mas a bola bateu na trave, depois na cabeça do goleiro suíço Yann Sommer e entrou no gol.  
Texto alterado às 17h31 para corrigir informação da vitória da Suíça sobre a Costa Rica. O jogo terminou empatado em 2 a 2.
Fonte: Agência Brasil.
The news, reports, views and opinions of authors (or source) expressed are their own and do not necessarily represent the views of CRWE World.